Washington is Building 21st Century Infrastructure
Using smart transportation investment strategies to address Washington state's growing pains
By Gov. Jay Inslee
America's economy has bounced back from the recession, and there's no place where that is clearer than here in Washington state. We're the largest per-capita exporter in the United States and we're experiencing some of the strongest job growth and in-migration in the nation with more than 250,000 new jobs in the past four years. We've added almost 2 million Washingtonians over the last decade and we're expecting another 1 million over the next four years.
That growth is great news for our economy, yet it's causing growing pains in our transportation infrastructure, particularly in the populous Puget Sound region that surrounds Seattle.
We can't afford to be victims of our own success or to take our economic prosperity for granted. Maintaining Washington's competitive job growth and quality of life means we need to find ways to move more people and goods more efficiently.
That's why one of my top priorities from day one as governor was to pass a new transportation investment package—a package that not only improves our roads and freeways, but promotes forward-looking strategies to build a 21st century transportation system that demonstrates we're innovative and smart about how we use taxpayer dollars.
Together with a bipartisan team of legislative leaders, we delivered a historic $16 billion package last year that sets the stage for much-needed improvements throughout our state to boost safety and cut travel times for commuters and families and to help businesses transport their products reliably to storefronts and ports.
Some of these projects are impressive feats of engineering, such as our record-setting floating bridge across Lake Washington. Some projects address long-overdue improvements to frustrating chokepoints along busy freeway corridors. Others focus on much needed maintenance to our current system, with more than $1 billion in new funding for day-to-day maintenance and safety improvements, including replacing expansion joints along Interstate 5 and making structural upgrades to our bridges. These projects are critical to keeping our roadways safe and avoiding unanticipated high-cost, high-disruption projects.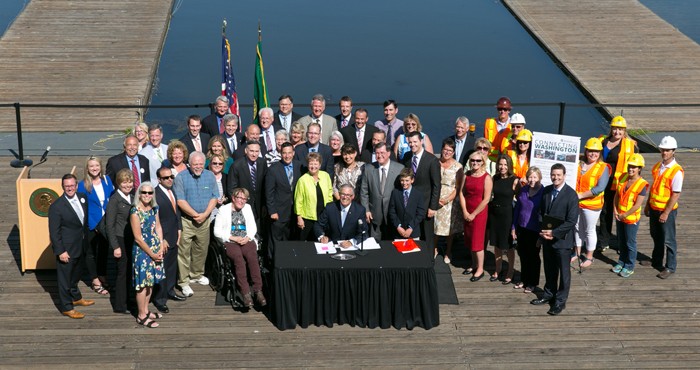 But simply adding or replacing asphalt won't solve our congestion and mobility challenges. One key strategy for adding capacity and reliability in our transportation system includes new options to absorb the growing numbers of commuters on our roads. Our package includes unprecedented new investments in regional transit systems that ensure commuters, seniors, and lower-income Washingtonians have reliable and convenient commuting choices. In addition to authorizing several billion dollars of funding for bus rapid transit, light rail, and other transit infrastructure, we're working closely with cities, counties, transit agencies and others to develop tailored options for communities with people who want to walk, bike, ride share, or carpool.
Washington isn't just committed to improving our roads. We strive to improve our planning and oversight systems. As we move into this new phase of planning and construction, the Washington State Department of Transportation (WSDOT) is implementing "practical solutions." This innovative approach brings greater strategic and data-driven planning to infrastructure projects that better help us achieve our transportation goals without overspending or shifting traffic elsewhere. The cost savings help us stretch our dollars so we can invest even more in preservation work and other important projects.
Finally, though many of these projects won't break ground for a while, we know there are small investments we can make now to provide near-term traffic relief. For example, WSDOT is deservedly recognized for its incident response teams (IRTs) that clear collisions and blockages quickly and help keep drivers moving safely. Every minute a lane is blocked becomes four minutes of added congestion. WSDOT estimates our IRTs help save drivers more than $65 million a year in lost time and fuel. These IRTs are a relatively small investment but make a huge impact, so this year we've added 10 more of them to patrol our roads.
Our $16 billion investment is the biggest in Washington's history, and we're committed to making smart use of every dollar. Our investments, smart strategies, and innovative thinking will help make sure we're meeting the needs of commerce and the ever-growing number of people and businesses that choose to call Washington home.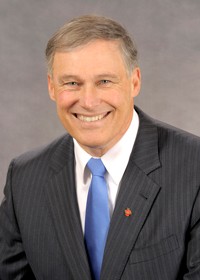 Governor Jay Inslee is a fifth generation Washingtonian and grew up in the Puget Sound area.
Inslee was elected to Congress in 1998 where he served until 2012.
He now serves as Washington's 23rd governor.
For more information on Washington, visit access.wa.gov.