Vegas Revitalizes Infrastructure
Las Vegas City Manager, Scott Adams, details what projects are underway to beautify and improve efficiency of this desert City
By Las Vegas City Manager Scott Adams
The City of Las Vegas, Nevada, actively works to maintain and improve infrastructure, including streets, flood control, parks, lighting, and energy systems. We have been a pioneer in utilizing solar technology and new lighting systems to reduce our energy costs, and are proud to say we save millions of dollars in energy costs each year. City facilities now are 100 percent powered by renewable energy sources.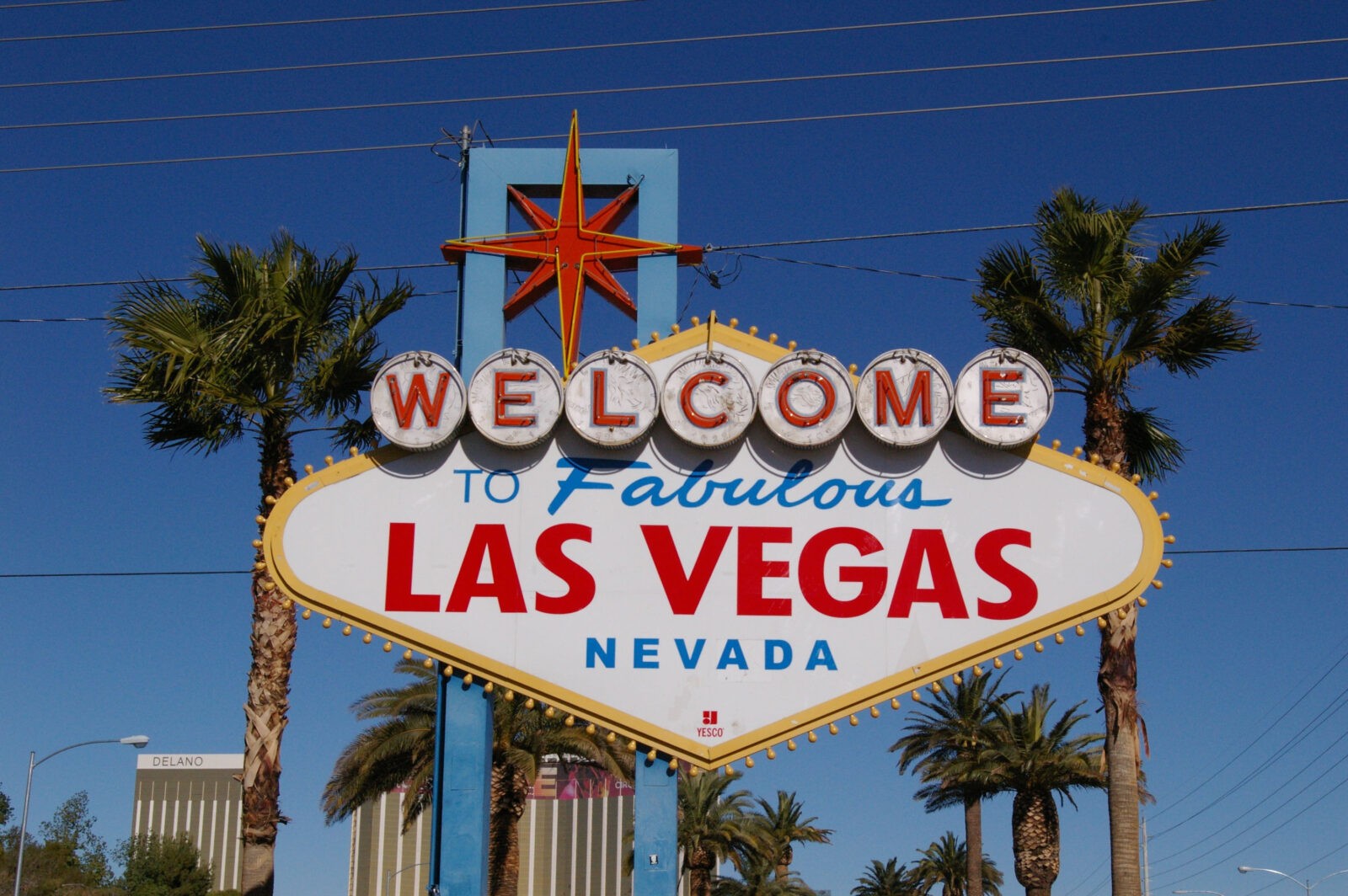 In addition, the city's water pollution control facilities are recognized as a NACWA Platinum 20 award recipient, recognizing 20 years of 100 percent discharge permit compliance — something very few facilities have achieved nationally. The award reflects the hard work of a dedicated team and benefits that come from timely infrastructure investments and facility upgrades.
While we have many projects every year, the following three show what we are doing downtown, in flood control, and our parks.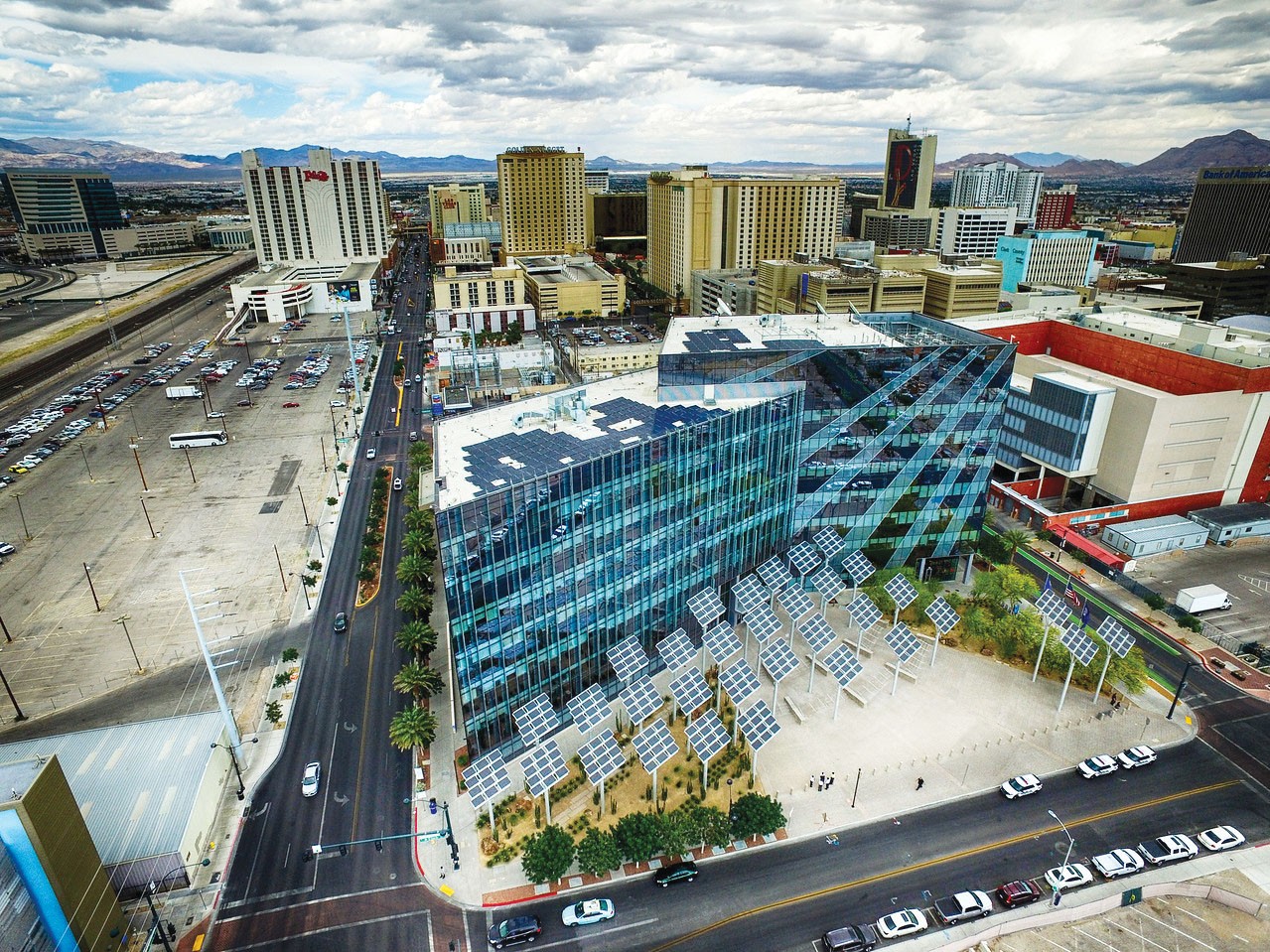 Main-Commerce Couplet
The two-way, north/south streets of Main and Commerce have been reworked and changed to a one-way couplet. These primarily commercial streets are among the oldest in Las Vegas. We are working a five-year plan to beautify the downtown corridors, making downtown an inviting, vibrant place where people are drawn to live, visit, shop, eat, come together for fun, and own businesses that draw in tourists and residents alike. Main and Commerce now are sustainable, accessible, and walkable "complete streets" which all new features such as:
Upgraded/replaced underground utilities (power, water, natural gas, communications) and storm drains
Bike lanes
Decorative LED street lights
15-foot ADA-compliant sidewalks
Trees along the entire corridor
Full-depth pavement and improved signage
Signalized intersections with decorative paver designs and crosswalks, and bulb-out crosswalks that improve pedestrian safety
Rapid-flash beacons at key crossings to increase driver awareness of pedestrians.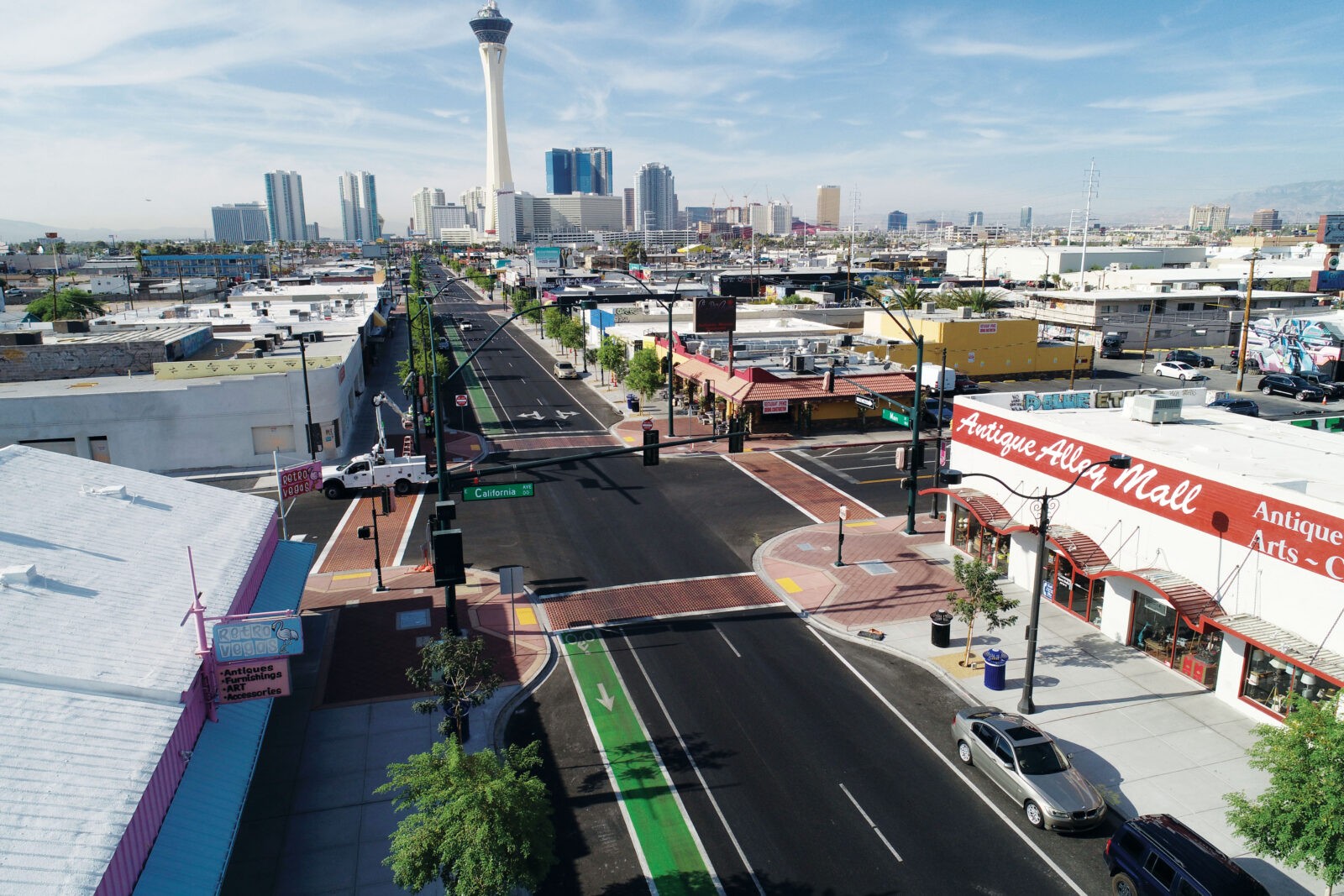 Public art projects bookend the streets: The "Radial Symmetry" street sculpture to the north and a Las Vegas showgirls welcome plaza on the south. Festoon lighting highlights the shopping and restaurant districts.
The $52 million project, funded by the City of Las Vegas and Fuel Revenue Index tax funds that were managed by the Regional Transportation Commission of Southern Nevada, was built by Contractor Las Vegas Paving Corporation while maintaining 24-hour access to businesses and residents. We minimized public annoyance with weekly stakeholder field meetings and progress information emails, as well as door-to- door visits and a 24-hour phone number for concerns.
The result has been improved safety, existing businesses sprucing up their properties, new retail and restaurant businesses moving in to previously vacant buildings, and new construction on previously vacant land.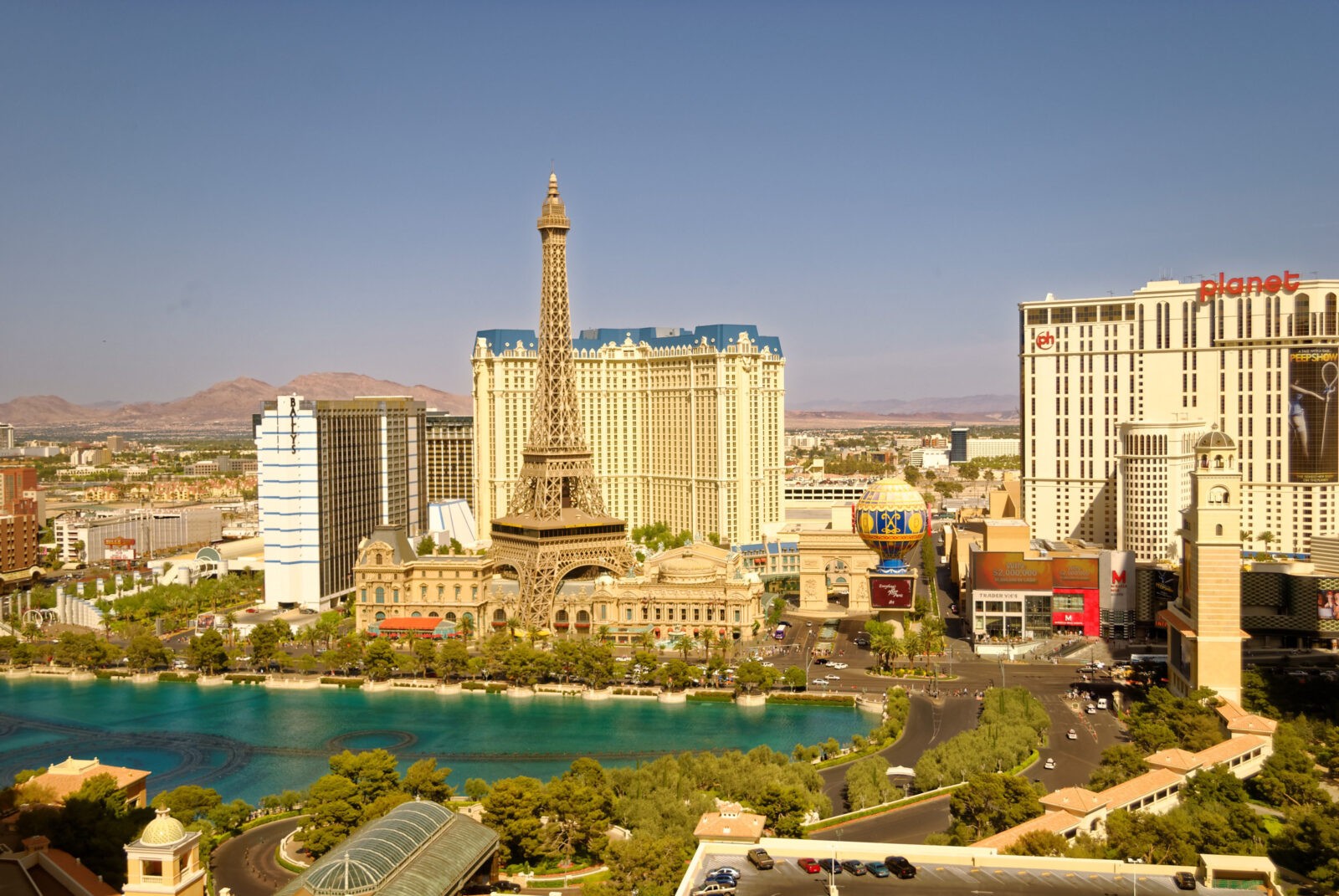 Brent Lane Drainage System & Trail
Despite the national perception that Las Vegas has a very dry climate, we do, in fact, experience flooding. Since 1985, the Clark County Regional Flood Control District has worked on a comprehensive master plan to fund, coordinate construction of, and maintain regional flood control facilities, efforts that the city is a partner in.
Rainwater drains eastward into Lake Mead. When it rains heavily in the surrounding mountains, those streets without storm drains can become rushing rivers, just like the many washes that cover the valley floor. To address this, the project installed huge storm drains under streets throughout the city.
We also created a trail that links to the existing trail system in the 2,040-acre Floyd Lamb Park at Tule Springs.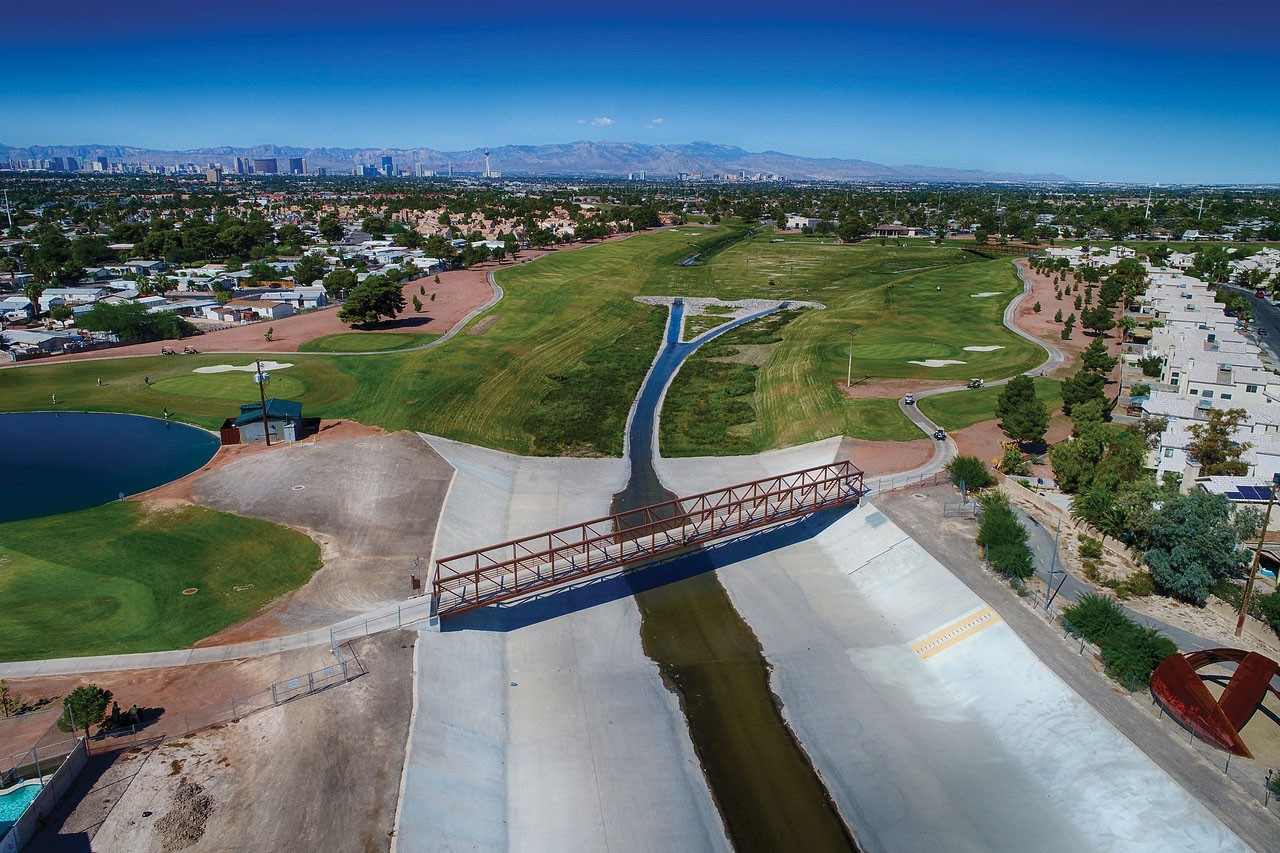 The Clark County Regional Flood Control District provided funding for this project's flood control facilities. Funds for the trail came from proceeds of the Southern Nevada Public Land Management Act land sales, and trail amenities were provided by a State Division of Parks Recreational Trail Programs Grant. The total cost for the project was $4,397,114.
Bob Baskin Park Renovation
After 40 years, the beloved, six-acre neighborhood Bob Baskin Park needed updating, but the residents were concerned about keeping the amenities they had. The challenge was to improve the infrastructure, without losing the features they loved. Town halls to get neighborhood input were well attended. The resulting concept sought to preserve the history and enhance the features of the neighborhood park.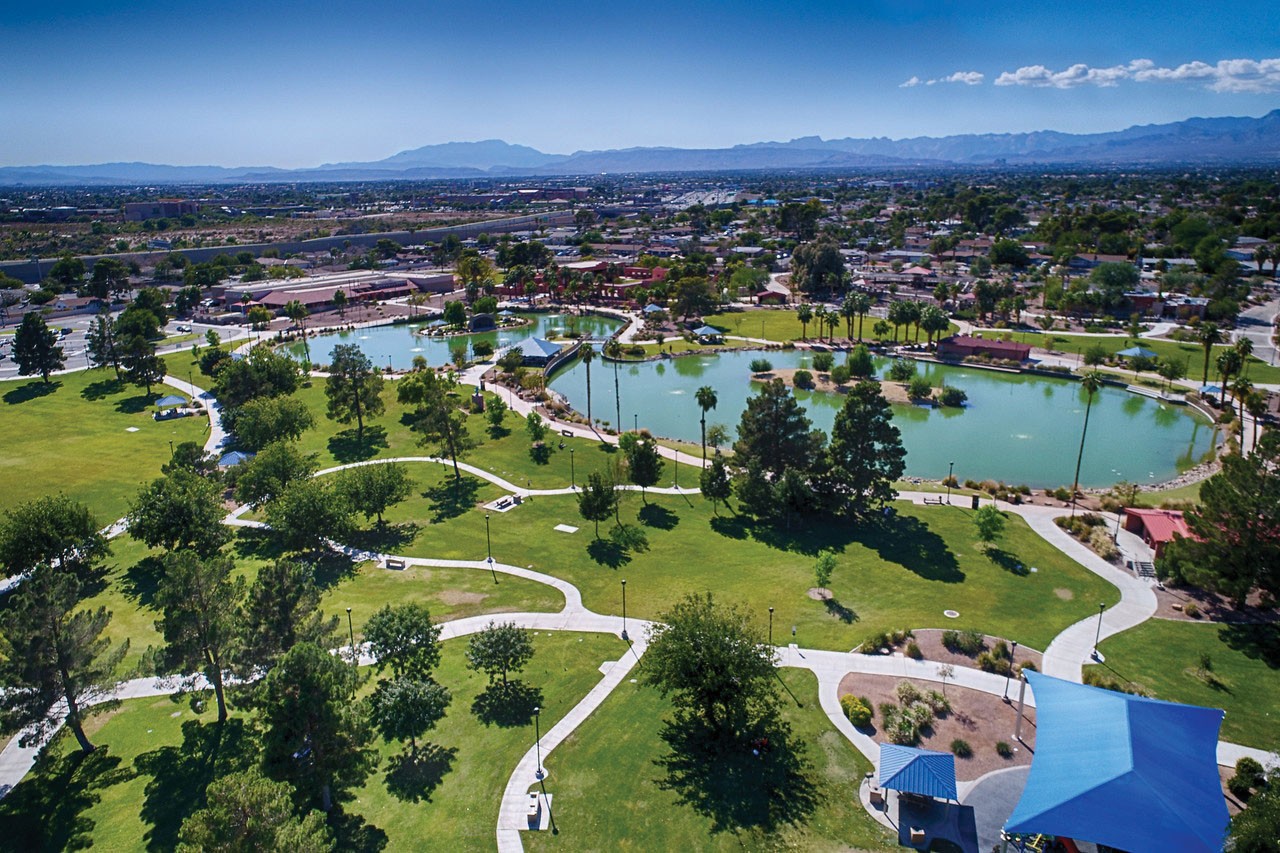 Large healthy trees that shaded the walking trail and surrounded the park were pruned, fertilized and protected, although that made construction much more challenging. Park monuments, rose gardens, and murals were saved, too. In the rehabilitation, improvements that were made included:
Removing entry planters to open up the entrance and adding seating walls at the corners. This entrance also allows park maintenance access.
Rebuilding the restroom building.
Salvaging the existing playground equipment and adding new play features and an improved safety surface. The much-loved whale and turtle from the original spray pool were saved, refurbished, and returned to the park.
Adding a second playground with kinetic play equipment for ages five to 12.
Replacing the old splash pad and adding new benches and surround fencing.
Removing the green concrete and asphalt walking path and adjacent grass and replacing them with a re-routed, 1/3-mile walking loop that has a resilient surface and new LED lighting.
Replanting the surrounding open space behind the track with the next generation of trees.
Saving the neighborhood memory plaques along the path and putting them back in the new landscape.
Replacing the irrigation and grass in the existing turf area after soil enhancement and renovating the picnic tables.
Adding a new shade steel arbor and benches, and a second exercise station and new exercise equipment.
Sprucing up group shelters with picnic tables, and adding new fabric shade canopies to playground areas.
Adding LED park lighting with motion sensors and barbecue grills.
Proving new sidewalks and additional landscaping for the original four tennis courts and racquetball/handball courts.
Park bonds funded the $3.9 million park reconstruction by JNJ Construction Company that began in January 2018. The neighborhood celebrated the park's reopening in October 2018 with refreshments and a movie in the park. The best news, though, is that the park is well used and the residents are happy.
Scott Adams is the City Manager of Las Vegas. For more information, please visit lasvegasnevada.gov.