USACE Works to Restore Puerto Rico
The U.S. Army Corps of Engineers (USACE) works to strengthen America's security by building and maintaining infrastructure and providing military facilities where service members train, work, and live. There are roughly 37,000 civilians and soldiers delivering engineering services in more than 130 countries worldwide.
Most recently, USACE has announced that their efforts in Puerto Rico have helped to restore 90 percent of the power to its people.
Since Hurricane Maria and Irma hit Puerto Rico in September 2017, a joint effort from USACE, Federal Emergency Management Agency (FEMA), the utility industry, and Puerto Rico Electric Power Authority (PREPA) have helped to restore reliable power to the people of Puerto Rico.
To date, USACE partnerships with PREPA and the utility industry have restored power to 90.19 percent of customers, which is roughly 1,328,490 million clients, according to www.army.mil.
"Alongside our restoration partners from FEMA, PREPA and the utility industry, we remain focused on restoring power to the Puerto Rican people—90 percent restoration of the devastated grid is a notable milestone and a long way from the 20 percent start point—but our efforts continue on the work remaining," said Col. Jason Kirk, USACE Power- Restoration Task Force lead.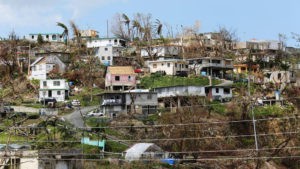 While restoring power is a large effort, shelter is another leading need because the hurricanes left many Puerto Rico homeowners with wrecked roofs. Seeing as repairs to these roofs can take time, these homeowners can have plastic sheeting installed over the damaged area by USACE contractors, in a program provided by the FEMA called Operation Blue Roof.
"There are many unique challenges here, but with more than 50 percent of the work complete we're committed to finishing the work and are always looking for ways to increase the rate of blue roof installations each day," said Mike Feldmann, mission manager for the Blue Roof program.
And as of January 9, USACE has reported collecting 2 million cubic yards of debris from Puerto Rico. This number exceeds the halfway mark in the collecting of debris tasked to The Corps after the hurricanes, which was 3.9 million.
"We've reached a significant milestone in helping Puerto Ricans return to their normal way of life," said Jasmine Smith, debris mission manager. "You're seeing less piles ready for pick-up, less debris along the roads. You can see the progress, and you'll continue to see it as we're collecting almost 40,000 cubic yards every day."
The Corps are also cleaning sites contaminated with hazardous, toxic or radioactive waste and material in an effort to sustain the environment.
For more information, visit http://www.army.mil.