USACE Takes On Missouri River Stormwater
The USACE responded to levee breaches along the Missouri River after a bomb cyclone caused major flooding in Iowa and surrounding areas
By Brianna Fries
Photo Credits: USACE Omaha District and the Western Contracting Corp.
Imagine waking up one morning and finding that your valley home has become a lakefront property – but instead of a lake it is just floodwater. Or imagine trying to go to work and discovering that you need a paddle boat rather than a car to do so.
Due to extreme weather in multiple areas of the United States, these kinds of situations have become a reality. Thankfully, organizations such as the U.S. Army Corps of Engineers (USACE) are on call to help address these problems and get citizens' lives back to normal. One prime example of the incredible work the USACE does is the way that their Omaha District has been tackling stormwater management and flood risk reduction by addressing breaches and flooding from the Missouri River levees in the state of Iowa.
How it Happened
Back in March, a bomb cyclone storm descended on the Missouri River Basin region and dumped up to two-and-a-quarter inches of rain onto an already heavy snowpack for two straight days. This rainwater was added to a snowpack that was already holding three or more inches of water in Nebraska and Iowa, with even more being held in Eastern South Dakota. Needless to say, this was a lot of water that had to go somewhere.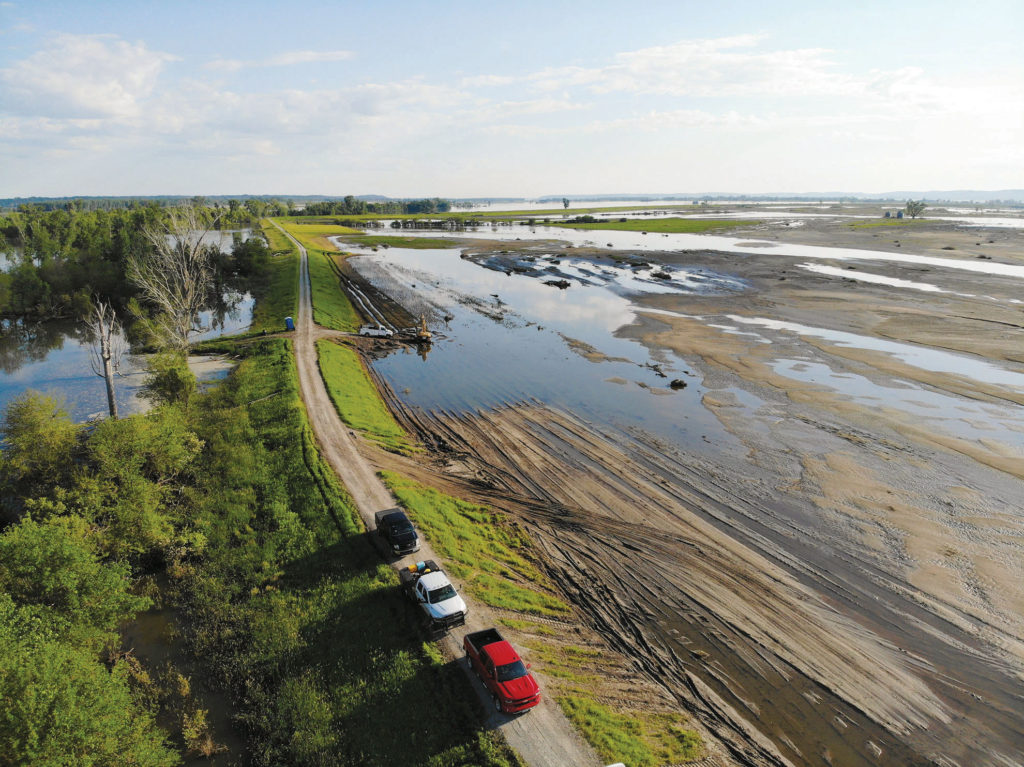 Dams and storage reservoirs could only do so much. What came next was widespread unregulated flows across western Iowa, western Nebraska, and eastern South Dakota in areas not controlled by dams.
"Waters from this flood event came from unregulated tributaries that enter the Missouri River below the large main stem storage reservoirs," explained a spokesperson for the USACE Omaha District. "Forty-five river gauges set new records; five on the Missouri River and 40 on its tributaries. The Corps of Engineers took the highly unusual step of stopping all releases from Fort Randall Dam in South Dakota, to help mitigate the damage."
Unfortunately, despite everyone's best efforts, there was devastating flooding in multiple areas, overtopping and breaching the Missouri River levees south of Omaha. When all was said and done, the levee systems for both the Missouri River and Platte River were severely compromised.
With the river levees breached and flooding affecting residents in the area, it goes without saying that the USACE had to act fast. Thankfully, that is exactly what they did.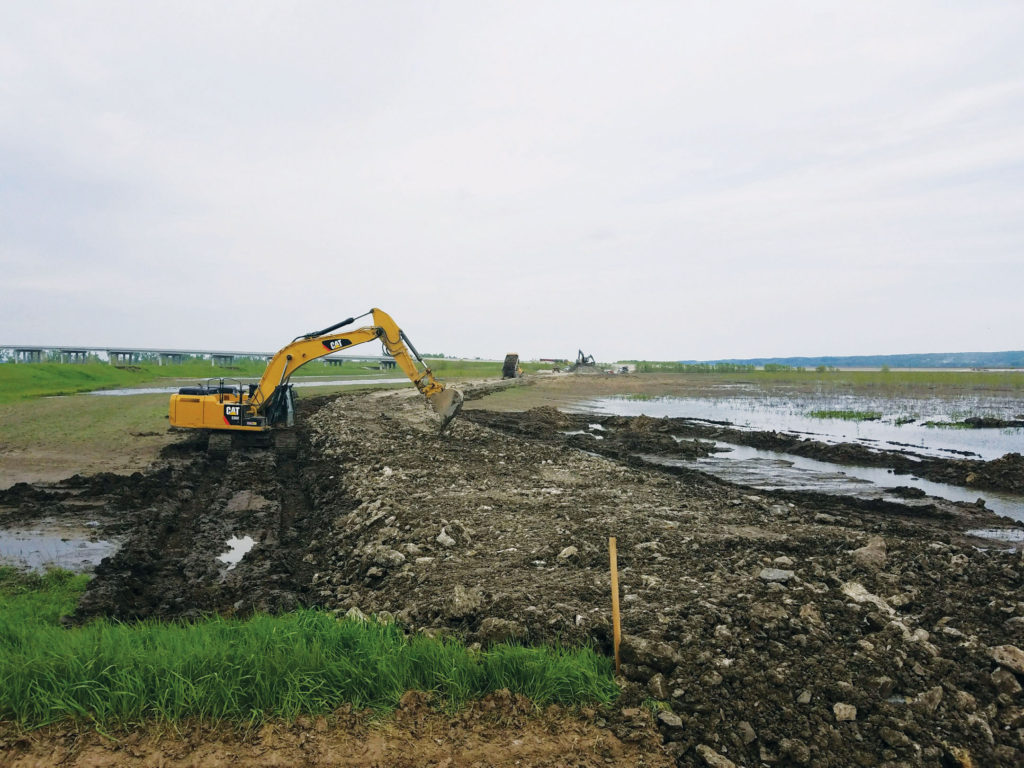 Facing the Floodwaters
There are two major projects that the USACE Omaha District put into place to deal with the effects of the levee breaches and, ultimately, to restore the levees to an improved state.
The first project was the initial repair for one of the seven breaches along levee L575. This was the second of the four priority breaches to be closed and the first of the four to be contracted due to its importance. The second project was the repair of two out of the three breeches on Levee L611- 614, which was identified as one of four priority breaches to be closed to protect vital infrastructure.
Beginning between early May and late April, the goals for these projects included the providence of flood risk management to the initial repair location, assessing the physical damage left behind once the floodwaters receded, and designing and constructing levee rehabilitation to the authorized level of flood risk management. To accomplish these goals, USACE Omaha District brought in the Western Contracting Corp. to take on the project contracts.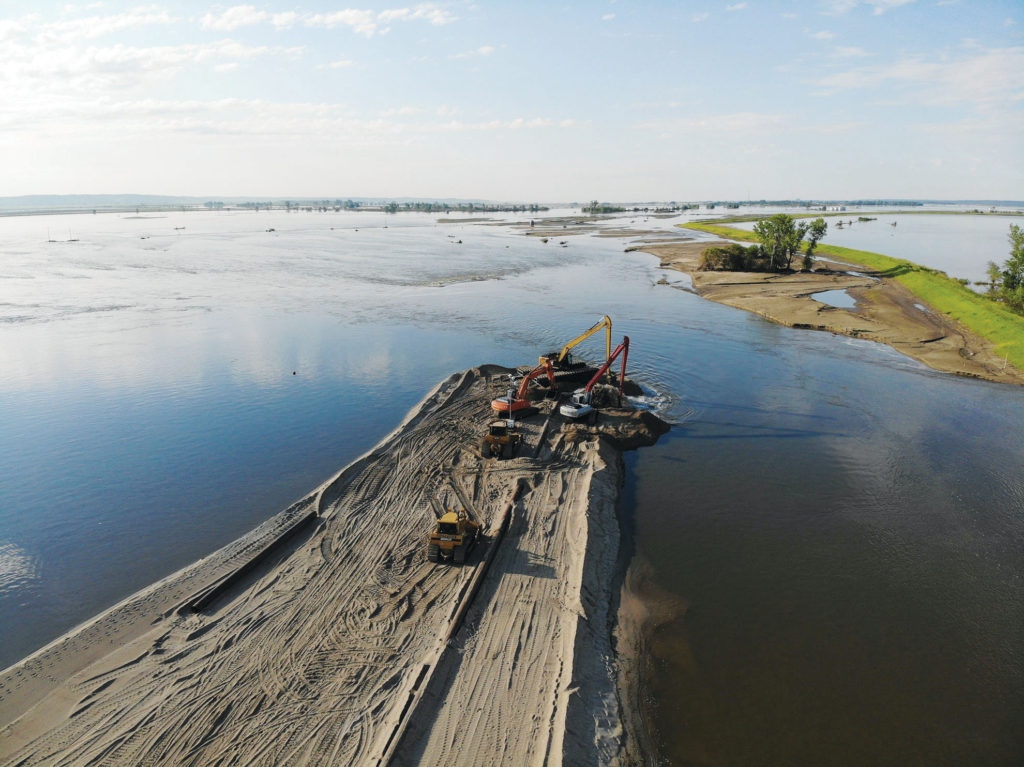 Funding for the L575 and L611-614 breaches was provided through the Flood Control and Coastal Emergencies program (a federal program), and offered a total of $7.5 million for the first project and $6.2 million for the second.
As can be expected, both of these levee repair projects came with their fair share of challenges. These included an inability to access the levees to complete damage assessments through March and April, and the added complication of a secondary flood. What is more, debris on the river caused blockage on the dredge pumps used by the contractors that would otherwise be removing sediment from the river.
Thankfully, these and other challenges did not stop the USACE Omaha District from getting the job done.
Said Brendan Kight, PE, USACE Area Engineer, in regards to the L575 breach: "Our USACE and contractor team fought through tough challenges, such as high water and floating debris in the river, to close this critical breach and provide some protection to those affected. This is a great milestone for the L575 levee system as we continue to repair the system and restore protection."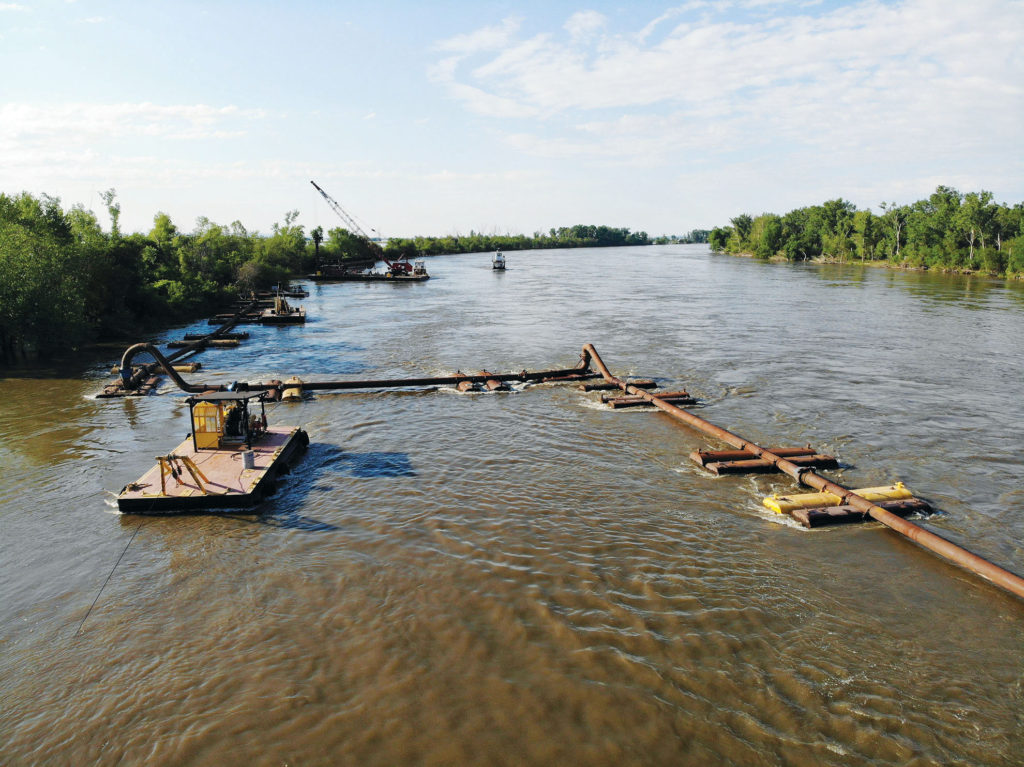 Triumphs and Takeaways
The USACE Omaha District overcame the challenges that faced them and worked 24 hours a day, seven days a week to accomplish the tasks that needed to be done. Both the L575 and the L611- 614 breaches are expected to be fully addressed and closed by July of this year.
When discussing the quick turnaround on these projects, the USACE's spokesperson commented that, "The Corps' ability to coordinate with other federal, state, local and tribal organizations, as well as levee sponsors and associated stakeholders in a quick and efficient manner have allowed for timely awarding of contracts, swift construction start times, and efficient use of labor and other resources. Repair of levees in the Public Law 84-99 program is an essential mission of the Army Corps of Engineers."
The job does not end here, though. There are more than 40 additional levee breaches that need some form of repair along these rivers. The USACE is already working hard on these and expects to have an interim level of closure completed on them by March of next year. Full repair is expected in later years, as there are over 300 miles of damaged levees to address.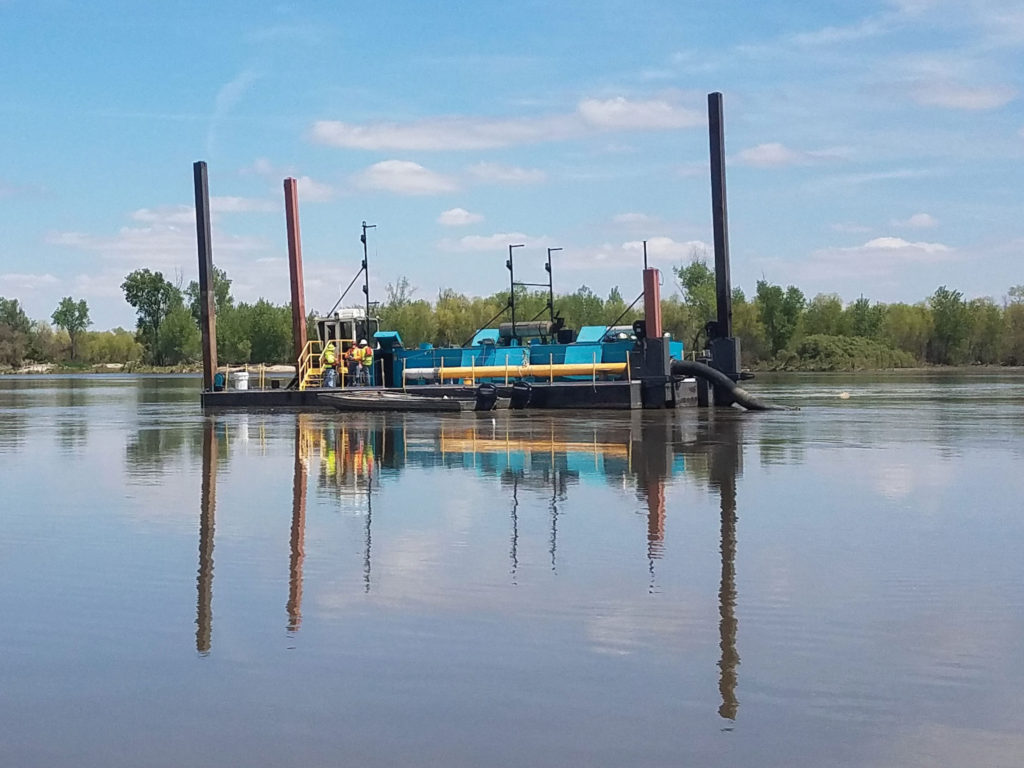 Along with their quick and efficient project assessment and accomplishment, the USACE will be performing periodic inspections and providing a comprehensive report to levee sponsors so they may ascertain what might be needed in terms of operations and maintenance of their levee.
These impressively handled projects are just a taste of what the USACE does to help aid in floodwater and stormwater management throughout the country, along with their work in other areas of infrastructure.
Brianna Fries is the Editor for American Infrastructure Magazine. She can be reached at brianna@penpubinc.com