Transforming the Transportation Industry
Clean Energy is pushing the needle toward a more resilient, sustainable future with renewable natural gas
By Brian Alvarado
With global warming and the health of our earth and its citizens in full focus due to the pandemic, anything our industry can do to contribute to our well-being is more important than ever.
For Newport Beach-based Clean Energy, helping the transportation industry cut back on carbon emissions is one of its most important goals. The company was founded in 1997 by the late T. Boone Pickens and current company President and CEO Andrew J. Littlefair on the premise that natural gas for transportation was an, abundant, domestic and clean source of energy.
We have tremendous excitement about the continued growth of the RNG segment within the greater natural gas transportation industry." –Chad Lindholm, vice president of Clean Energy
The company is the exclusive provider of Redeem renewable gas (RNG), providing natural gas for hundreds of fleets in the refuse, airport, transit and heavy-duty trucking industries. According to Clean Energy Vice President Chad Lindholm, RNG can provide up to a 250% reduction in lifecycle greenhouse gas emissions when compared to conventional diesel or gasoline.
"Also known as biomethane, RNG can be derived from many abundant and renewable sources, including decomposing organic waste in landfills, wastewater treatment and agriculture," Lindholm said. "It is then distributed through the natural gas pipeline system, making it available for use in the natural gas vehicle market."
Many companies throughout the U.S. utilize Clean Energy's products. An early adopter of RNG as a transportation fuel solution is the solid waste industry. In particular, Waste Management and Republic Services operate over a combined 13,00 natural gas trucks.
Most recently, the company struck a deal with UPS to purchase 170 million gallons of RNG through 2026, making the transaction the largest commitment for use of RNG to date by any company in the U.S. Other companies include Enterprise, The Parking Spot, Big Blue Bus, Park N Fly and several major airports across the country.
With 550 fueling stations across the U.S. and Canada, Clean Energy is able to provide reliable and convenient services for light-, medium- and heavy-duty fleets.
Zero Now Program
Clean Energy boasts the Zero Now program, which buys down the cost of a natural gas truck so it is equal to a diesel truck, while offering a guaranteed fuel discount for the duration of the agreement.
"The program is a first of its kind in the industry and we have received tremendous interest from fleets across the county, resulting in several hundred truck orders to date," Lindholm said.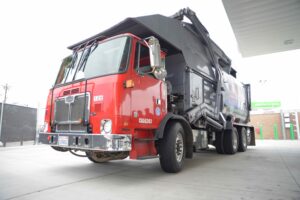 One company among the first fleets taking delivery is one of the nation's largest leading bulk carriers, Kenan Advantage Group. It added new near-zero trucks to its fleet through the program.
"Clean Energy's Zero Now is a win-win. It has provided us with an opportunity to bring the cost of a natural gas truck at parity with a diesel truck while offering a guaranteed fuel discount for five years," said Bruce Blaise, president and CEO of Kenan Advantage Group.
By removing the fiscal roadblocks of making the switch to natural gas vehicles, Clean Energy is helping the industry make the decision that much easier for companies who might be on the cusp.
Putting Up With the Pandemic
Like many industries around the nation, the pandemic has shined a light on the importance of health and safety. While many businesses were forced to close, Clean Energy continued to operate as an essential business through the lockdown.
"We want to be sure everyone is safe and can function well under the current circumstances, whether it is technicians on the front line or employees based in one of our offices," Lindholm said. "This has enabled us to fulfill our commitment to our customers with reliable and consistent fueling services."
Additionally, the company has been able to utilize technology to cater to both its employees and its customers. Clean Energy has implemented a cloud strategy for the company to hold all of its applications. This provides flexibility for its workforce, leveraging Microsoft solutions to seamlessly connect and collaborate with customers, co-workers and peers.
Adopt-A-Port
Clean Energy has worked with a variety of companies across the United States in working toward a more sustainable future. One partnership that stands out is Clean Energy's Adopt-a-Port initiative with Chevron.
With Adopt-a-Port, Chevron is providing funding to supply RNG to Clean Energy stations near the ports of Los Angeles and Long Beach to reduce emissions.
"Chevron's funding will allow truck operators to subsidize the cost of buying new RNG-powered trucks," Lindholm said. "Clean Energy will manage the program, including offering fueling services for qualified truck operators."
According to Clean Energy, truck operators and both their import and export customers will help local communities by reducing smog-forming NOx emissions by 98%, in comparison to diesel trucks while also getting rid of climate pollutants.
2025 Goal
As our country continues to work its way through the pandemic and toward a resilient future, Clean Energy remains a leader in the journey to a more sustainable world.
"We have tremendous excitement about the continued growth of the RNG segment within the greater natural gas transportation industry," Lindholm said. "Clean Energy is dedicated to providing our customers with a pathway to carbon-free transportation by offering fueling solutions available today that will lead to a cleaner environment through a zero-carbon economy for future generations."
One goal the team at Clean Energy is committed to is providing all its customers with 100% zero-carbon, RNG by the year 2025. Additionally, the company is aiming to reduce its internal carbon footprint by 25% by 2025.
Brian Alvarado is the editor of American Infrastructure Magazine. He can be reached at brian@builder.media.