The Signing Of The Bipartisan Infrastructure Law was Historic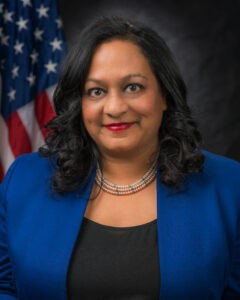 Our work is just getting started
By Radhika Fox
The Bipartisan Infrastructure Law recognizes how essential water is to public health, our economy, community well-being and so much more. From the moment we wake up in the morning and brew a cup of coffee to the moment before bed when we brush our teeth, water is an irreplaceable part of our daily life.
As I witnessed the signing, I knew the Bipartisan Infrastructure Law would deliver big things for water and at a critical moment too. The nation's water infrastructure is decades old, with some systems tracing their construction back a century. Over the past 30 years, the federal government's investment in water infrastructure has plummeted, leaving us with pipes, water plants and pumps at the end of their lifespans. 
Water utilities are stuck between a rock and a hard place. Cities desperately need to upgrade infrastructure but doing that alone could lead to rate increases and make water inaccessible for our most vulnerable neighbors. 
A water main breaks every two minutes in this country, and our infrastructure is straining under the impacts of the climate crisis as droughts, floods and major weather events become increasingly common. Investment is needed, not only for aging water plants but to remove the harmful lead pipes that run from our streets to our homes to deliver drinking water. 
Outdated and overworked water infrastructure puts our communities at risk. It compromises the health of the American people, threatens our security and keeps us stuck in the past—unable to meet the demands of a changing world. 
These problems are multiplied in the many communities—from rural America to urban centers and in-between—where infrastructure investment never came.  
The Bipartisan Infrastructure Law was informed by all of these challenges, and its signing was a message that now is the time for action. Now is water's moment. 
I left the White House with renewed commitment, because our work at the Environmental Protection Agency's (EPA) Office of Water was just beginning. The Bipartisan Infrastructure Law is the single largest investment the federal government has ever made in water with $50 billion to protect treasured water bodies, remove lead pipes, address emerging contaminants and invest in the nation's drinking water and wastewater infrastructure. 
Most of the Bipartisan Infrastructure Law funding for water will be invested through the State Revolving Funds (SRF). The SRF programs have been around for decades and have invested over $200 billion since 1988. They are powerful tools for infrastructure investment. 
Now the Bipartisan Infrastructure Law has supercharged the SRFs with an infusion of money and removing barriers that have left many communities out of the picture. 
Through the Law, $43 billion will go to the SRFs over five years. EPA has already announced the estimated allotments for the first year. We will invest about $8 billion per year through the SRFs—and that is on top of the base SRF investments that will continue. 
What makes Bipartisan Infrastructure Law funding truly a game changer is that nearly half of the SRF funding can go to communities as grants and forgivable loans. Communities that have struggled to compete for loans will have a chance to secure much-needed funding for their water systems. 
This is where we must come together and seize the opportunity to do better by working together. 
EPA's implementation memo will detail how the agency will collaborate with states, tribes and territories to achieve what Administrator Regan recently articulated as priorities in a letter to governors. While more information will be released soon, priorities include: targeting resources to disadvantaged communities, making rapid progress on lead-free water for all and tackling forever chemicals.
Now more than ever, we have an opportunity to bend the arc of these investments to address the challenges the most vulnerable among us face. Our implementation memo will help state partners get the maximum impact from their investments while tackling the nation's most urgent water challenges.  
My message to states and local communities is that you are not alone. EPA will be with you every step of the way and the first one we will take together will be detailed in this memo. 
All of this work is in the hope that, decades from today, our grandchildren will drink tap water without fearing what's in it. Future generations will fish in local water bodies and grill their catch for dinner. Our water infrastructure will be resilient in the face of a changing climate. 
Together, we can make this future a reality. Let's get started. 
Radhika Fox is the Assistant Administrator for the U.S. Environmental Protection Agency's Office of Water