The AI Interview: Daniel Parker, Indianapolis Public Works Director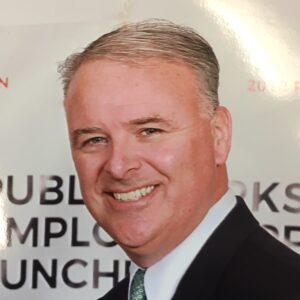 Parker gives an update on how Indianapolis has approached public works in recent months in regards to funding, delivery time and future goals. 
American Infrastructure: How did Indianapolis manage to work on projects during the pandemic?
Daniel Parker: The number one thing we wanted to accomplish during the early days of the pandemic was to make sure that we could deliver on projects that we had committed to the public to do. We had done our last round of bond financing in 2019. We wanted to make sure that we were able to deliver those projects, so we used a lot of bond financing. 
We accelerated the spending of bond funds to make sure that we delivered every single project, just because we didn't know what the revenue situation would be. Obviously with the pandemic, gas tax revenue, which is the primary driver of our transportation budget, was significantly impacted. We did not cancel one project during the pandemic because it shifted to spend bond proceeds instead of projects being paid with annual gas tax revenues. 
The real impact for us was really with our operations division — the folks who do the O&M on streets, channels, levies, etc. These crews were really impacted. They had to show up everyday because they're an essential department of the city. But we had to really transform the way they worked. We moved them to multiple shifts. Typically a crew, like a road crew, would have six people on a vehicle. Obviously, we moved away from that and we had no more than two people in a vehicle at a time. We had multiple vehicles and a crew doing work.
So it impacted our productivity, but it did keep the crews safe. We were impacted early in our O&M and early in the pandemic. But the numbers of positive COVID tests went down as we did the mitigation on multiple shifts — less people in the garages at the same time and putting less people in each vehicle. 
AI: The governor recently announced lifting some of the COVID restrictions, including the easement of mask mandates for city facilities. How will the Indy Public Works Department continue to ensure the health of the city's non-vaccinated citizens.
DP: In Indiana, the governor allowed counties to have more restrictive things than the state. So the Marion County Department has taken a more conservative approach in terms of easing restrictions. We have on our City Council agenda the lifting of the mask mandate, which is obviously several months after the governor lifted the state mask mandate. In Indianapolis, we still have business restrictions that are going to be eased somewhat.
We work in conjunction with the Marion County Health Department in terms of COVID protocols. In Indianapolis, we're still not yet to 50% vaccination, so we're still going to continue our business practices of not getting back to normal activity with our crews in terms of having six people in vehicles — they're still going to be spread out. We are going to lift the mask mandate for those that are vaccinated, and hopefully that'll encourage others to get vaccinated.
AI: The recent ASCE Report Card and the President's state-by-state breakdown of infrastructure needs all stated that Indiana was in need of  some repairs and updates. What is the Indy Public Works Department doing to try and meet some of those needs within the city?
DP: We can talk about this for an hour. If the state got the grade that the President announced, I'd hate to see the grade that the city got. We have unique challenges in Indianapolis that we can get in to. We are a city that's 400 square miles. We have 8,000 lane miles of streets. That is very unique amongst American cities. We also have a tax structure that is built against us in terms of how road funding is dispersed in the state of Indiana.
We've been working on an assessment on what our overall needs are and what we should be spending per year. I think a lot of folks think about the infrastructure packages that are being talked about in Washington, and there's a lot of things that are one-time funding. Well, cities like Indianapolis need a year-over-year increase in annual capital project funding, particularly on the transportation side.
What we've been doing on our own is working with our partners at the general assembly at the state to talk through these issues. How do we increase the amount of money that's spent by Indianapolis per year, number one. Number two, identifying for the legislature and others what is that actual need number in terms of taking care of all the things that we own. We've been producing inventories in terms of all the assets that we own and what is the actual cost of replacement for some of those infrastructure items on a yearly basis, what should we be taking care of.
The last one is one that we've done for years. Our city county council here in the city county required the public works department to annually submit our capital plans to the council. Prior to this administration, it was never done. We've done it five years in a row and we provide the council a four year outlook on where we're going with funding. It's our way of being able to show transparency in terms of  how much money we have available, what we're going to spend and what other projects are programmed so residents know when a project is coming, but people will also know there's only a finite budget and we can't do everything.
A few years back, we initiated a $400 million capital plan on road infrastructure. We had about a $240 million capital plan for stormwater infrastructure. By submitting these to the council and letting them be vetted, we've been able to let people know, look, this is the amount of money we have and this isn't enough, we know it doesn't take care of every project.
The other thing that we've done, and it's very important is we've been collecting data on what needs to be replaced. Obviously we do our biennial analysis of all of our bridges in the county. We have about 590 bridges that we're responsible for, so we use that to project which bridges go into our program. We also use a biennial pavement condition index to drive decisions on which major streets are reconstructed and go into that capital program. 
It's really a nice way for us to give transparency on how much money we have available. It sets expectations for residents. And the final thing is it allows folks to know that we don't have an unlimited budget and that we can't do everything.
Also one of the biggest challenges for us in terms of the last few years — Indianapolis has about 4,000 lane miles of what we describe as major thoroughfares, and we have focused a lot of the dollars the last few years on those major streets. Back in 2018, we had what I refer to as "Pothole-mageddon." 
We had a major freeze-thaw cycle in that winter where it was 77 degrees one day in the winter, and a week later it was -12 degrees. We have the way-up-and-down, with precipitation in between.
We've invested so much in major thoroughfares, that our residential streets have lagged. We have an additional appropriation of $25 million that we're adding to our program targeted specifically for residential streets that we've been working with each of the 25 council members in terms of targeting those dollars to residential streets that have low PCI numbers as well.
It's not going to solve all of the challenges with residential streets for us, but it's a start. And the way we're able to do that, is with the arrival of Rescue Plan dollars, Indianapolis, like most cities, was tucking money away into savings accounts last year for the expected drop in revenue, which we fully expect next year. It's a tax situation in Indiana that's unique. Our income taxes that come to the city are actually delayed a year. So 2020 taxes, we will not receive those in the city budget until 2022. It was good for us, because we saved a bunch of money last year, not knowing if Congress was going to help us. 
So then, when the Rescue Plan dollars became available, the dollars that we stocked away in our savings we were able to dedicate to this residential street program. Not direct Rescue Plan money going to streets, but because of the Rescue Plan, we were able to let loose some of these dollars to invest in something I can say that neighborhoods were clamoring for. 
AI: What are some noteworthy projects that the department has done or plans to do?
DP: A lot of the stuff that's in our four-year capital plan, a lot of them are what you would describe as "non-sexy" projects, like road construction. We do have quite a few that we've received federally through our NPO to build — one of which we completed a bridge over 38th Street. It's a major East-West arterial here in the city. Our busiest trail in the city was at grade with that street. It's a six-lane road. Great project help funded by the NPO with federal aid.
We've been doing a lot of bridge projects, but the other project that I would highlight is in  downtown Indianapolis. If you've ever been to Indy, we have Monument Circle right in the heart of the city. It connects the Indianapolis City-County Building to the State Capitol. And that corridor is Market Street. We're in the first phase of a complete reconstruction of Market Street in downtown. It's an $8 million project literally taking the street down to Mother Earth, and completely rebuilding it from the ground up. Some of our downtown streets have not had major reconstruction like this in decades. So we're doing that project — that's also a federally funded project. 
But we're also doing a project in conjunction with our transit agency on Delaware Street downtown, where we've taken up the old trolley tracks that are underneath the streets here by rebuilding Delaware Street for IndyGo. Our transit agency is going to be rolling out what's called their Super Stops for their expanded transit service. That goes in connection with their BRT lines that they are constructing. The second BRT line in Indianapolis will be under construction come fall, and we'll take two years to build. We've got a lot of noteworthy projects going on, but those are just a few of them.
The number one thing we wanted to accomplish during the early days of the pandemic was to make sure that we could deliver on projects that we had committed to the public to do."
AI: What are some of the ways that the department has been securing funding for these projects?
DP: I'm different from most directors of public works where I'm not an engineer. I just figure out how we can get more money. I mean money is the challenge for every city's public works department. Obviously trying to maximize the federal aid that we have available through our NPO. Starting in 2024, we're going to be doing it in exchange with our state Department of Transportation, where we're going to be receiving state aid, instead of federal aid to give us a little more flexibility to get those projects designed and delivered in a more timely manner. So, we're maximizing our federal funding through the NPO.
We're actively engaged in applying for grant funds in Washington. Indianapolis doesn't do well in grant programs and it might be because we're not a swing state, and we're not a swing congressional district — I don't know. But we're trying to get more dollars that way, and we're hopeful that the infrastructure package that the President proposed gets through. We see a lot in there that could be transformative to some things here in Indianapolis. 
For instance, we have a lot of one-way streets that were designed that way in the 50s as suburban areas developed to allow suburban residents to pass through the urban core faster. We see some things in the infrastructure package that would be worthwhile to get one-way streets converted back to two-way streets because most of these places are really neighborhoods, and they deserve to be neighborhood streets.
The state transportation department — INDOT — has a program for cities and counties to apply for funding from INDOT on a 50/50 basis. We decided to take some of our gas tax revenue and put it out to neighborhoods, community development corps, nonprofits, that if they provided 50% of the dollars available for a project, the DPW would match that and move that project up our priority list. It's in essence to leverage dollars from various community groups for projects that maybe we haven't even thought of. Annually, we allocate about $4 million, and to-date we've leveraged about $10 million in private funds to build projects across the city. 
We built a bike path for a school corporation. They put up 50% of the funds, and we put up 50% of the funds for a bike path that connected three schools and a city park. We've had even homeowners associations apply for funds to get some of their streets repaved. We've had nonprofit groups apply to have sidewalks rebuilt in their areas. So, it's a way for community groups to bring their projects to us, instead of the other way around. That's just another way for us to get money in.
AI: What are some infrastructure challenges that are unique to the city?
DP: Indianapolis is unique in terms of the size. 400 square miles — there's not that many American cities that are that large with the amount of mileage that we have. But what's interesting is that about 166,000 people a day travel into Indianapolis to work. I mentioned the tax inequities. In Indiana, income tax is paid to the county live in, not the county work-in.
Indianapolis has to build a transportation network that can handle not just our population, but all the folks who drive in on a daily basis, and not all of them use the interstate highway system. Obviously that entails us having to talk to our legislators to get this issue on the front burner of that annual need that we need to be providing, because Indianapolis are not just Indianapolis, they're streets that are used by the entire region.
I told you we have 8,400 lane miles, what's interesting is that the gas tax formula from the state — and this hasn't changed ever, so this isn't a criticism of the current state government or the current state legislature — streets in Indianapolis get dollars based on a centerline mile. That's basically the middle of the street. It doesn't matter how wide it is, it doesn't matter how much traffic on it, it's the center of the street.
In essence, we've received money for 3,300 centerline miles, but we have 8,400 lane miles. That's the inequity of all these folks who travel in, we don't know get credit for them. The interesting thing about it is a rural county road in Indiana gets the same amount of money as a six-lane Keystone Avenue that carries 54,000 vehicles a day.
When we talk about inequities that have been built into the tax system against urban cities like Indianapolis. It's not just the federal government, it's with formulas through the system that deprive us of the ability to take care of the transportation network that's already been built. Folks in Indianapolis always ask me, "why don't we build more sidewalks, why don't we build more trails, why don't we have complete streets on every street?" And it's because we don't have enough money to take care of what we have now, let alone build everything that everyone wants.
That's the challenge. Our legislature has been great working with us on our stormwater side. We have a very unique funding mechanism that the state legislature created for us to try and help combat climate change. Climate change for Indianapolis means more water. We're in a part of the country where rising creeks and rivers are really our climate challenge. We have a lot of low-lying areas in the city that we need to build more flood protection for.
The state legislature gave us a mechanism a few years back: TIF district. It's in essence a flood-controlled TIF district. What it allows us to do, is what we noticed is in floodplain areas in the city, those parcels in the floodplain are undervalued based on all the property around them. So what it allows us to do is create a TIF district around that floodplain and propose flood control measures that can get that land out of the floodplain, and lift that artificial cap that's on the value of the land.
That's one of those unique, innovative funding mechanisms where we can try to get more dollars into our capital programs.
AI: As massive infrastructure plans are being debated by government leaders, how would the passage of an infrastructure funding plan help the city of Indianapolis?
DP: I think it would be incredibly transformative for Indianapolis, not the least of which because some of the plans in the president's plan actually call for more expanded service for train service out of Indianapolis. For us, because we have to focus so much on reconstruction of our network, it would allow us to start to deliver some of the projects that people are clamoring for.
For as much as folks complain about potholes and crumbling nature of our streets, which is a huge problem, when you go into neighborhoods, what they want to hear is, "we want more trail construction, we want more bike infrastructure, we want more sidewalks." And the ability to infuse dollars into our budgets to get these transformative projects done in cities would be huge.
We have a tremendous need on reconstruction, but a lot of the times, those projects aren't adding bike lanes, they're not adding a protected bike path or sidewalk. But that's what we really need — the combination. Bike and path infrastructure is just as important as auto.
AI: In 2019, the city announced the Thrive Indianapolis plan, aimed at making a healthier and equitable environment. How has the Indianapolis Public Works Department helped achieve those goals? 
DP: The number one thing is the Office of Sustainability here in the city is on point for Thrive. They're located here within DPW. We provide the funding to make sure that office is able to get done the goals of the Thrive plan. 
A couple of things I'd like to point out. First, we had sold our sanitary district a few years back prior to this administration. The city sold the sanitary district to a public trust here in Indy that ran our natural gas service. And so with that, we lost some assets related to street sweeping. So that public trust was providing street sweeping and the department was doing a little street sweeping program, but it was becoming a big problem and it was really highlighted in our stormwater management district. 
It was highlighted as an early goal of the Thrive plan, which was to bring back a comprehensive county-wide street sweeping program. We started that back up in 2019 and we've been building out the capacity. It's been really focused on our downtown and combined sewer area first. Starting this year, we're going to be building that out to the boundaries of the city. It's one of those things where 5,700 tons of debris is taken off of the roads, and that's significant in terms of quality of life and also helping keep the pavement last longer. 
Another huge program that we've done is utilizing some of our parking meter revenue to try to get in front of the homeless issue. Indianapolis, like other cities, had been dealing with homelessness. It really spiked during the pandemic. We used some of the parking meter revenue to employ the homeless and those that panhandle to go out and pick up litter in some of the places that are high-volumes of littering in the city. That program has seen about 246 people participate. About 132 of those have transitioned into full-time jobs. We also make sure we contract this with an organization called Keys to Work. They provide wrap-around services in terms of training and life skills to strive to get folks off the street and into a full-time job.
The other thing that I would highlight that's part of the Thrive plan is adding bike lanes and building trails through our NPO and through some of those partnership programs. 11 miles of trails and 11 miles of bike lanes. We're moving in the right direction on providing people with alternative areas. In the future, we're going to have a bigger build out of our bike share program. When scooters came to Indy, we tagged them with a fee that they have to pay for each scooter that's rented. So those dollars that we collect from the scooters actually go back into buying bikes for young kids that don't have the ability to, or building bike infrastructure across the city. We're trying as best as we can with the limited dollars we have to put it in the right places.
AI: What are some of the Indy Public Works Department's goals for the rest of the year?
DP: We have about a $167 million capital program, both transportation and stormwater this year. The number one thing is to deliver on that. The other major goal for us is that I've talked about a lot of capital, and obviously the discussions in Washington and our conversations with the general assembly have really been about getting more capital dollars in to build and rebuild the infrastructure here in the city.
The other really big thing that we're doing this year, — it's been an ongoing effort for the last four years — is to build our capacity on the O&M side. So, really infusing dollars into the right equipment for our operations division.
When I first became director in 2017, the average age of our snow fleet was 15 years old. So that means, the average snow truck that we used in winter operations dated to 2002. Our oldest dated to 1989. 
The good news is now in 2021, the oldest truck in our fleet is now 15 years old. So, we've been investing in equipment. And back in the 90s, when tax revenue for the city started to go down, everything was outsourced and not maintained internally. In 2018, we reconstituted a more street-maintenance side. So, taking care of those small scale projects that aren't necessarily a capital project, but the strip patching of streets, the crack sealing and the taking care of infrastructure so that we can get a longer life out of the pavement we have down. We started investing in that a few years ago, and we continue to do that this year. 
DPW needs to be a 24-hour a day operation. We started a full second shift last year and we're building that out again this year. We're doing a lot of things on the O&M side that are just as important as the capital side. I think a lot of times, people get infatuated with the building of stuff, but if you don't care of it, it falls apart. We feel like we have to do both.
AI: Is there anything we didn't go over that you'd like to touch on?
DP: A lot of times when people talk about infrastructure, they always talk about the transportation side. Our stormwater side has been doing great work as well. We've been able to maximize. We're going to be undertaking a big project to further build out our levy system in Indianapolis. We have 44 miles of levees.
The final thing that I'd say is to talk about the non-sexy side of public works. We've been reinvesting in our solid waste division, but I can tell you that if there's something more important than road construction, it's picking people's trash up everyday. Like most cities across the country, we saw a 12% increase in residential trash service because people were throwing things away at home instead of their office. But we've been reinvesting in moving towards leasing our equipment for our solid waste vehicles. And for the first time in seven years, we're going to be building out a new facility for our solid waste employees, so that they have a place where we can park our new vehicles under a roof and most folks can have a modern facility to report to everyday.
The other thing is DPW here in Indy is in charge of the fleet services for all of Indianapolis. This challenge of moving the fleet to being more economical and environmentally friendly is a challenge and one that we're undertaking to move our fleet by 2030 to more sustainable options.