The AI Interview: Anthony Kane, CEO, Institute of Sustainable Infrastructure
 Executive introduces us to ISI and shares his insight on what sustainable infrastructure really is.
American Infrastructure: For our readers who might not already know, talk about what the institute for sustainable infrastructure is and what it hopes to accomplish.
Anthony Kane: We're a 501T3 non-profit, which means we're a research and education organization. But really, we're created with the mission of advancing the cause of sustainable infrastructure. Now, an important part of our history is we were created by a collaboration of some large and important organizations — the American Society of Civil Engineers, which represents all the licensed civil engineers in the US; the American Public Works Association, which represents a lot of the public works department and essentially large infrastructure owners throughout the US and Canada; and then the American Council of Engineering Companies, and they represent the engineering consulting companies that often support infrastructure owners and designing and developing new infrastructure. So they got together and created the ISI (Institute for Sustainable Infrastructure), and then we partnered with this program for sustainable infrastructure at Harvard University to create ENVISION, which is our sustainable infrastructure rating system. So as part of our mission, the very first step on "how do we advance sustainable infrastructure," is needing to create a common definition on what sustainable infrastructure is. We measure it, right? Because if we can't measure something, we can't improve it. So that's kind of what ENVISION is, a way of creating a common, shared definition around what we are really talking about when we're talking about sustainable infrastructure, and how we make decisions about how we make our communities more or less sustainable. You can't reinvent the wheel every time. A tool like ENVISION creates that kind of common language, common framework, common starting point for all of us to build on.
I think, again as you move into sustainability, it's very complex. It involves environmental and economic things. There are tradeoffs, you can't do everything. So what happens if to benefit the community, you need to have a negative impact on the environment, or to benefit the environment you maybe have to have a slightly higher cost, a negative economic impact? To weigh those decisions, that's where a tool like ENVISION comes in, because you can see all of the different impacts, pluses and minuses, to make decisions on what's the best path.
AI: What types of resources can members expect to receive upon joining the ISI?
AK: ENVISION is entirely free. You don't even have to be a member of ISI. You just can go on, create a free account and download it. That's part of our mission is to put this information out there. ENVISION and a lot of the tools are completely free. And then with our members, which include a large number of infrastructure owners, public agencies, government agencies, cities and departments, different authorities and then also a large number of engineering construction companies as well as universities and other nonprofits and associations. There, the membership is more about receiving discounted rates on some of our training options, educational resources, things like that. We do provide a large amount of educational resources for free, but for example, our credential, the ENVISION sustainability professional, that training does have a cost. And a large part of our membership, we're really a hub for the industry. ENVISION was created by the industry, so the membership is just where they gather to share their thoughts and direct the future of the tool.
AI: Does ISI hold any traditional trade shows or events every year?
AK: Sort of, yes. We have an upcoming virtual conference, which we started doing. The history of it is that we used to collaborate with Harvard University and they would have a workshop, or some symposium that were all in-person at Harvard, and then when COVID started we had to switch it. Those in-person events turned into virtual events and then everyone loved them, and we thought, "well let's keep them virtual." This November 17th and 18th will be our second annual virtual conference — a 2-day conference where it's all about ENVISION and sustainable infrastructure and what's going on in the industry.
AI: There's a big infrastructure bill going to a vote on Sept. 27. What are some key elements of the bill that you think will help bolster the current state of our nation's infrastructure?
AK: Well, you know you've probably heard from other sources this is a big step forward and one of the largest investments in infrastructure in a very long time — I've heard 70 years or so, depends on probably how you count. But one important point is even though I think they're saying about $1 trillion, again it depends on whether you're counting new spending.
So while it seems like a large price tag, the American Society of Civil Engineers every few years issues a report card on the state of our nation's infrastructure. For a long time we've been in the D's. They've just released their new one this past year, and we're at a C-. I think everyone can see and experience with their own eyes that we have a lot of aging infrastructure. The ASCE estimate is that if we wanted to bring all of our infrastructure up to a state of good repair, not even cutting state of the art, cutting edge, just a state of good repair, it would take about $4 trillion. So I think what we're seeing is an incredible investment. It will really be transformative, but it's not a cure all. This is us cancelling 25% of the problem, which is great. I assume this money is also going to be matched at the local level, where a lot of the infrastructure is going to be owned and developed, so that's great. It may stimulate more investment on top of it. This covers a good chunk of the problem, but it doesn't solve the problem. I think they do a really great job at hitting a variety of different areas of infrastructure from roads to power, freight, and so some of this may be more in detail but I'm a big supporter of how they divide it up.
AI: Give me some examples of what would be considered "sustainable infrastructure."
AK: Well, it's all of the above. Our system includes 64 different indicators. So that's the challenge, is that it's not a silver bullet solution, where all of these one type of things are sustainable and all of these other things aren't sustainable but it's more how we're approaching the situation. To me, sustainability is a mindset. It's recognizing that we can exist in a world of complex, social, environmental and economic systems. And when you talk about resilience, what we're really saying is those systems are constantly changing, and when you think about infrastructure that we're going to build and it's going to be around for 50 years. You need to take a long term view on what is the impact to the environment or what is the environment to the community over 50 years. What's the autonomy going to be like or what is the community going to be like in 50 years, what is the environment going to be like in 50 years, and if we're not taking that long term view, we're not being sustainable. So to me that's a little bit more but it can be challenging because it's not necessarily to say solar panels are good and wind farms are bad, or wind farms are good and solar panels are bad, but how are we moving to a long term view. That being said, obviously renewable energy sources, non-fossil fuel sources, and lower fossil fuel sources is the way to go on the energy track. But we also deal with projects and water and waste, and water treatment, and solid waste, environmental remediation. We have to cover the whole spectrum
AI: Are there any upcoming sustainable projects involving ISI that you are particularly excited about or maybe something worth mentioning.
AK: Well, we're very excited because just at the end of last year the California high-speed rail project completed certification under the ENVISION team and did an incredible job, and that's the largest infrastructure project in the country. We're really excited, and they have a very forward thinking view. They calculated carbon emissions, then looked at the impact, how much carbon they would be saving. They looked at carbon sequestration using renewable energy to power these electric trains. They took a really important view at the communities that they would be impacting, and how they would be impacting the communities, and how they engage with them so that the trains would be economic drivers. It's just really a great story of a large complex piece of infrastructure really trying to take a sensitive approach of how they would develop it going forward so that's a real highlight. But there's also really fun small projects. There's the Historic Fourth Ward in Atlanta, Georgia, which was a brown sealed remediation site, which means it was contaminated, it was a derelict site, flooding issues, and the initial thought was well it's flooding issues, lets go ahead and put in some concrete pipes, direct the storm water away. But that really didn't get at the underlying conditions of this kind of blighted spot in the city, and so when they engaged and worked with the neighborhood, and saw the neighbors really wanted a park. So what they created was a beautiful, but functional stormwater remediation and retention pond, but when you see photos of it, it's a gorgeous park with a lake and I think that is the kind of infrastructure of the future — infrastructure that isn't sort of relegated to the periphery of the ground, or view that's kind of a dirty nasty thing that we've got to tuck away. Whenever we look at infrastructure as an asset to the city and to the community, we can develop stormwater infrastructure and also beautiful parks.
AI: Taking a look at ISI, what are some goals that the institute has for the near future?
AK: We've been around almost 10 years, so in the early days it was all about proving to people that things like sustainable infrastructure matter and that there were tools available. And of course in our industry it's a risk averse industry for a lot of good reasons. When you're saying "hey you should do something differently," they usually want to say "well show us, show me an example," right? So for the first few years it was about getting those examples, but just last year we crossed 100 projects verified, and $100 billion worth of infrastructure that ENVISION has been applied to. So our mission now is really to get that message out, right? Sustainability is more important than ever. People I think are on board now with sustainability. We have an administration that supports and recognizes the issues that we're trying to tackle in terms of climate change, equity and social justice and the environment. So now I think people are like "how do we do this?" Our big mission is to get the message out that tools like ENVISION exist. We've been around 10 years, have a long and proven track record now and so we're feeling very confident that we can help support communities. And I think now we're really looking forward to engaging with the federal government. I'm trying to be politically correct here, we didn't see a lot of value in the last 4 years in engaging at the federal level, so we targeted mostly local government, and really when it comes to infrastructure, local government is where it's at anyway. Now I think there is an opportunity to engage at the federal level, at the very least build awareness as this legislation comes through and as the federal government starts funding infrastructure they can be aware that the local government has these tools at their disposal to develop sustainable projects.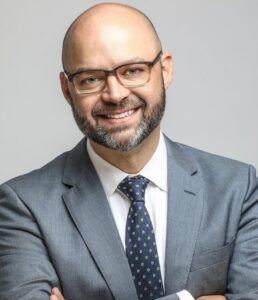 Anthony Kane is the CEO of the Institute of Sustainable Infrastructure.