Taking Advantage of a Flood of New Infrastructure Funding
Flooding doesn't affect communities equally, so mitigation funds must be spread equitably
By Erin Aleman
In the United States, 99 percent of counties experienced at least one flooding event in the last 25 years, according to the Federal Emergency Management Agency.
This comes at a high cost — both economically and socially.
It leads to expensive repairs, road and transit closures, travel delays, reduced access, disruptions to emergency services, safety issues, lost productivity and overall decreases in quality of life.
Residents from historically disinvested communities face greater impacts, greater risks and prolonged recovery. People of color, low-income residents and people with disabilities often live in flood-prone neighborhoods due to historic discriminatory practices and years of community disinvestment. Often, these residents don't have flood insurance and experience basement backups, cleaning expenses, lost property and associated health concerns — again and again.
How can we build resilience in communities that need it most, especially when we know the frequency and intensity of storms are increasing from climate change?
Communities can tap into new and noteworthy funds through the $1.2 trillion Infrastructure Investment and Jobs Act (IIJA). In fact, advancing equitable and resilient investments are the guiding principles of these funds.
But even with this historic influx of federal money, coordinated investment is essential. Water does not heed municipal boundaries. Broad coordination creates opportunities for agencies to address their backlog of transportation projects and improve flood control at the same time.
The key is to think beyond the parameters of traditional infrastructure projects. When adding sidewalks, improving roads and protecting bike lanes, communities can and should upgrade sewer systems and expand green infrastructure to maximize benefits for mobility, flood control and quality of life for all residents.
Like communities across the country, local governments in northeastern Illinois are thinking about how to leverage new federal funds. As the regional planning agency for the seven counties, 284 communities and 8.6 million residents of northeastern Illinois, the Chicago Metropolitan Agency for Planning (CMAP) is helping local governments prioritize and coordinate investments in an equitable and inclusive way by providing valuable data and technical assistance.
The first step in this process is good data. In 2017, CMAP developed the region's first flood susceptibility index so partners throughout metropolitan Chicago could prioritize flood mitigation activities together. CMAP's data analysts are now working with local stakeholders to update the index and bring in new data sets to improve its relevance for decision-makers.
In the near future, local governments and industry stakeholders in northeastern Illinois will be able to access and use the data and maps to make better decisions. This data-driven approach allows implementers to understand the range of potential future impacts of extreme weather and climate change on their transportation assets. CMAP's assessment will inform a regional resiliency plan which can unlock additional federal funding opportunities and, even more importantly, smarter, prioritized investments in communities.
Flooding doesn't affect communities equally, so mitigation funds must be spread equitably. CMAP is examining risks in communities that are disproportionately burdened by flooding and engaging with decision makers and affected communities. The project will conclude with a guide to help local and county governments incorporate equity into flood resilience investment decisions.
Think about how your agency prioritizes projects. Do you use data to identify risks — especially in historically marginalized communities — and future projections? Are you engaging on the ground with impacted communities? To fully meet this moment in the climate crisis, we need to engage more deeply with affected communities, stakeholders and other agencies to fully understand local needs and deliver sustainable solutions that holistically address flooding and community concerns.
The IIJA provides much-needed resources to help local governments address flooding and other issues worsened by climate change. But no one agency can fight climate change alone. Only by working together will we be able to stretch these new resources even further to build a more equitable and resilient future. Together, we can design a built environment that can adapt, respond and withstand the climate crisis.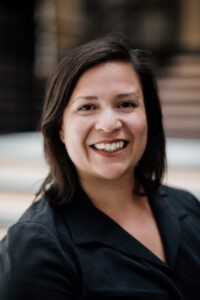 Erin Aleman is executive director of the Chicago Metropolitan Agency for Planning.