The City of Seattle balanced a quick response to COVID-19 while continuing to prioritize infrastructure.
By Sophia Acevedo
Many major cities across the US had to deal with a complete turnaround in 2020 plans due to COVID-19.
However, despite being one of the top 25 largest cities by population in the US, Seattle has worked efficiently to deliver a quick response to the COVID-19 pandemic. As of Oct 2020, Seattle has had just shy of 5,600 cases for the year, one of the lowest rates among major cities. Furthermore, it has continued to improve the city's infrastructure and public works. Because of its perseaverance in combatting the pandemic and its infrastructure intiatives, Seattle has been named the American Infrastructure Municipality of the Year for 2020.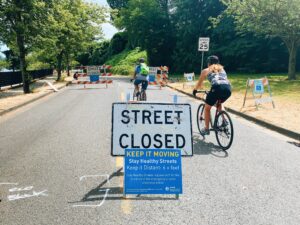 As the COVID-19 pandemic played an inevitable part in changing everyday life, Seattle was faced with the dilemma fairly quickly, becoming the first epicenter of COVID-19 cases across the country.
Food access and limited movement became some of the primary issues of concern that the city needed to address. Cathy Knight, director of Aging and Disability Services (ADS), told the National League of Cities that elderly people were one of the groups of primary concern, since they how less social interactions before the pandemic and in times of isolation needed to consider their health while still obtaining necessities and getting up to date information about the virus.
To remedy this dilemma, Aging Disability Services, Meals on Wheels and Chicken Soup Brigade became meal providers for over 15,000 older residents. Federal stimulus spending allowed these services to grow even further, and ADS worked with other city departments to communicate this service to residents.
Another service that was implemented to address limited movement was Stay Healthy Streets, where residential streets were closed to cut-through car traffic and provide more access to movement.
"In response to the success of the Stay Healthy Streets program and the need for more space for recreation and social distancing, we have since rolled out similar concepts to activate public spaces for people walking, biking, and rolling in different places and situations," says Ethan Bergerson, Seattle Department of Transportation (SDOT) public affairs lead.
According to Bergerson, during important events and holidays, such as Election Day and Halloween, the city also allowed people to open streets and engage in activities while adhering to COVID-19 guidelines.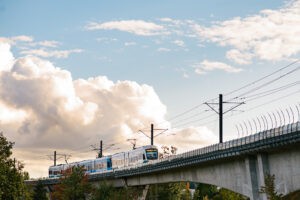 Another area in which the city focused on was in supporting local businesses. The city installed over 600 restaurant and retail pick-up zones and coordinated outdoor vending permits. To make the process easier and simpler for business owners, the city also removed fees for permits and modified the process.
Addressing Aging Infrastructure
In 2019, the state of Washington received a grade of "C" for their infrastructure in the ASCE Washington Infrastructure Report Card. Quite impressively, however, while the city has taken major strides in addressing the pandemic local, it remained focused on improving some of the city's bridges, transit and pathways in 2020.
"Coming into COVID-19, we focused both on how to reorient that city to address that issue, and then what we needed to make sure that we continued with our fundamental obligations to provide city services and maintain our infrastructure," says Seattle Mayor Jenny Durkan.
One project currently in the works is the West Seattle High-Rise Bridge. In March, SDOT discovered that the West Seattle HIgh-Rise Bridge, which can typically carry over 100,000 per day, needed immediate attention and closed the bridge for public safety. Due to their quick response, the city has the option for repairing or replacing the bridge, and has built an intelligent monitoring system and conducted tests to better understand the conditions of the bridge.
Coming into COVID-19, we focused both on how to reorient that city to address that issue, and then what we needed to make sure that we continued with our fundamental obligations to provide city services and maintain our infrastructure." Mayor Jenny Durkan, City of Seattle
"At the same time that we've been working on the West Seattle High-Rise Bridge itself, we've also been working on the ground in the communities affected by the bridge closure to mitigate traffic, support businesses, improve safety, and keep people moving," says Bergerson.
Another project that SDOT is currently in the process of replacing is the Fairview Ave. N. Bridge. The bridge serves as a major route in and out of downtown Seattle and the new replacement bridge, which is set to be completed in Spring 2021, will be a safer option to its 65-year-old predecessor.
The City of Seattle has also partnered Washington State Department of Transportation (WSDOT) to work on a project that would rebuild the city's waterfront.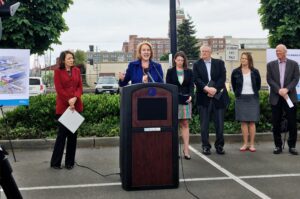 "Now that WSDOT has completed the removal of the State Route 99 Alaskan Way Viaduct, the City is constructing a park promenade along the water, building a new surface street along Alaskan Way, rebuilding Pier 58 and Pier 62, building an elevated connection from Pike Place Market to the waterfront, and improving east-west connections between downtown and Elliott Bay," says Bergerson.
Seattle doesn't just have a vision for individual projects that need maintenance; there is a larger picture set in stone to connect several projects together. The Madison Bus Rapid Transit project, which was approved this year, is expected to provide safer more reliable public transportation that will serve densely populated areas while connecting key bus routes and Link light rail stations.
A major infrastructure project even managed to be completed during 2020. In October 2020, SDOT completed the new Lander Street Bridge, an essential piece of infrastructure for the city that bridges multiple railroad tracks that divide the direct connection between several streets.
Overall, despite a tough year Seattle has not only managed to take care of residents' health but it has continued to work at an issue that needs to be taken care of — fixing aging infrastructure. Mayor Durkan attributes the City of Seattle and its commitment to keeping true to its fundamentals.
"Fortunately, we had a very strong working relationship with labor and business. We have a population, the people of Seattle, who are very willing to take actions that they think are for the better good," says Mayor Durkan.
Sophia Acevedo is the assistant editor at American Infrastructure Magazine. She can be reached at sophia@builder.media.