Spotlighting Improvements to North Carolina's Light Rail
The CATS LYNX Blue Line Extension provides important transit options and is the first of many transportation improvements coming to Charlotte, NC
By Brianna Fries
The state of North Carolina is home to over 10 million people and over 700,000 of those people reside in its largest city, Charlotte. As one may guess, that number can translate to some bad road traffic. The CATS LYNX Blue Line works hard to alleviate this crunch. Thankfully, in March of this year, the Blue Line got an extension, which will improve its ability to provide reliable transportation to the residents and visitors of Charlotte.
The CATS LYNX Blue Line is the first rapid transit line in North Carolina and has been in use since opening in November 2007. The extension on this light rail started in 2013 and, in March 2018, the CATS LYNX Blue Line Extension (BLE) was finished. This added a full 9.3 miles to the Blue Line and increased ridership from 8,700 to 15,900 passengers. According to CATS, "The BLE provides an alternative to automobile travel, reducing traffic congestion and providing improved transit services to a massive growing Charlotte area population. It will reduce the cross-county travel of 20 miles to 47 minutes."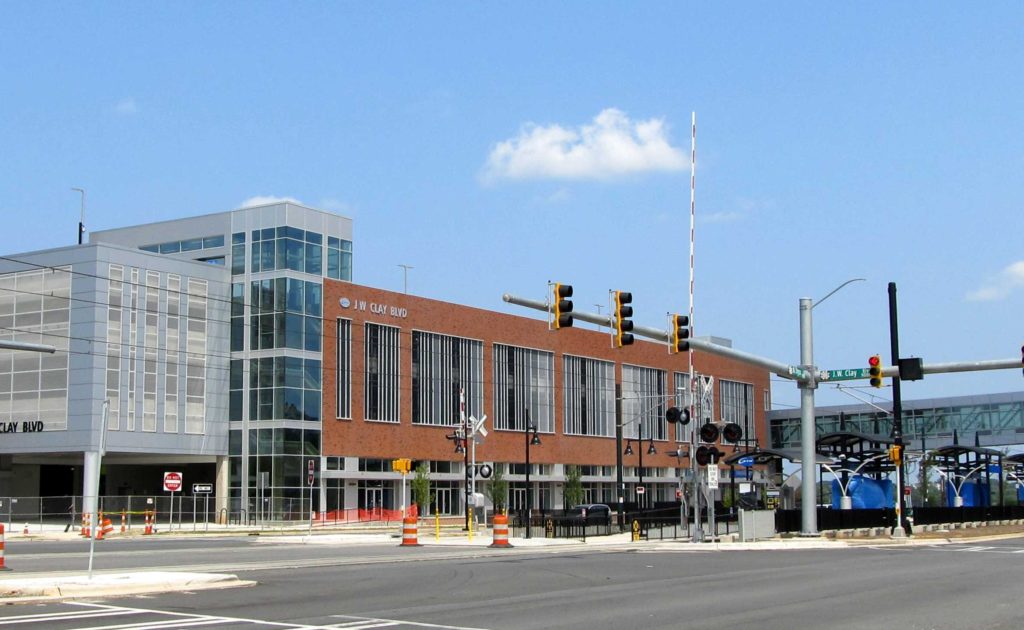 The LYNX Blue Line Extension was one of the most extensive collaborative projects that the city of Charlotte had taken on. It required CATS to work with several city agencies and more than 500 contractors. It also demanded a lengthy process for funding approval before it was able to get started.
The project entered Preliminary Engineering in November 2007 with the Draft EIS being published in August 2010, and the Final EIS in October 2011. Once the Record of Decision was issued in December of 2011, CATS applied to enter Final Design and received approval by the Federal Transit Administration (FTA) on July 9, 2012, and a Full Funding Grant Agreement on October 12 of the same year. After this process, the BLE broke ground for construction in July of 2013 and opened at last in March 2018. The final price tag for the BLE project was $1.16 billion, with funds provided by the FTA (50 percent), the North Carolina DOT (25 percent) and local funding (25 percent). The Blue Line now connects the northeast corridor and the University of Carolina-Charlotte (UNCC) campus with the Charlotte City Center. Ultimately the plan was for the Blue Line to run a total of 18.9 miles, starting at the I-485 and reaching UNCC.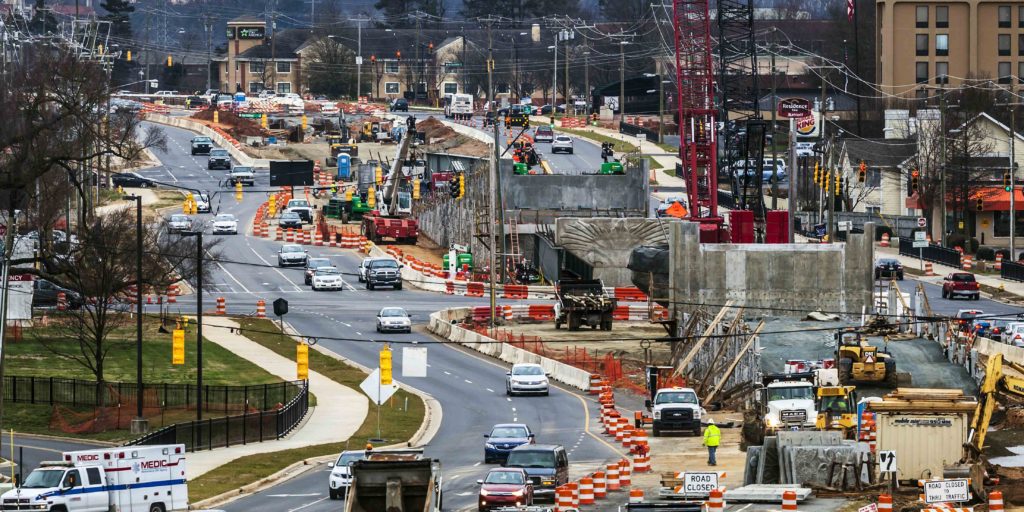 The BLE has already provided transportation options for almost 8,000 more people than before, and the good news is, light rail transportation improvements in Charlotte aren't stopping there. The Blue Line Extension is only one part of the 2030 Transit Corridor System Plan that is now being seen as "integral to Charlotte's success." This plan includes a study to reevaluate effective transit modes, and prepares for the future creation of the Charlotte Gateway Station, which will consolidate public transit and intercity transportation.
"Light rail is an important transportation option that promotes connectivity to the city," stated a CATS representative. "The BLE project will provide a consistent commute along the congested Northeast corridor, where population and employment are anticipated to increase significantly by 2035. It also contributes to the economic development by encouraging growth along key corridors and linking neighborhoods to community destinations such as employment opportunities, educational institutions and entertainment."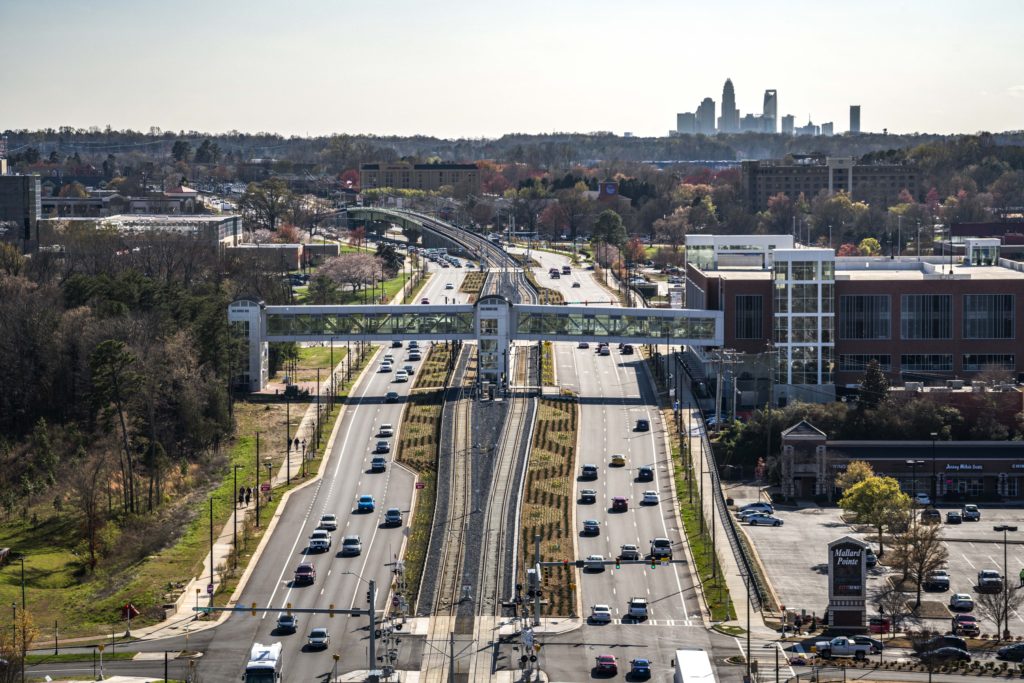 Immediate Impact
Since opening in March 2018, the Blue Line has offered an extended route to those in need of transit, and its ridership has nearly doubled. In addition to this, the BLE project had a socio-economic impact on the residents and businesses of the Charlotte area. The BLE was estimated to create 7,628 direct, indirect, and induced jobs. In addition to this, the project created at least 305 direct jobs for city staff, consultants, and construction workers.
Since the project broke ground, it has also breathed new life into businesses and residential areas along South Boulevard. According to CATS, "Charlotte's South End generated over $1.4 billion in actual and proposed corridor development that was planned through 2015. Other City of Charlotte investments in the area include road, sidewalk, storm drainage, and beautification improvements along South Boulevard, Old Pineville Road and adjacent neighborhoods."
Additional growth includes a predicted 12,000 new housing units, 3.8 million square feet of new office space, and over 1.3 million square feet of retail space by 2035. Almost $500 million will be invested in planned, under construction, or proposed projects.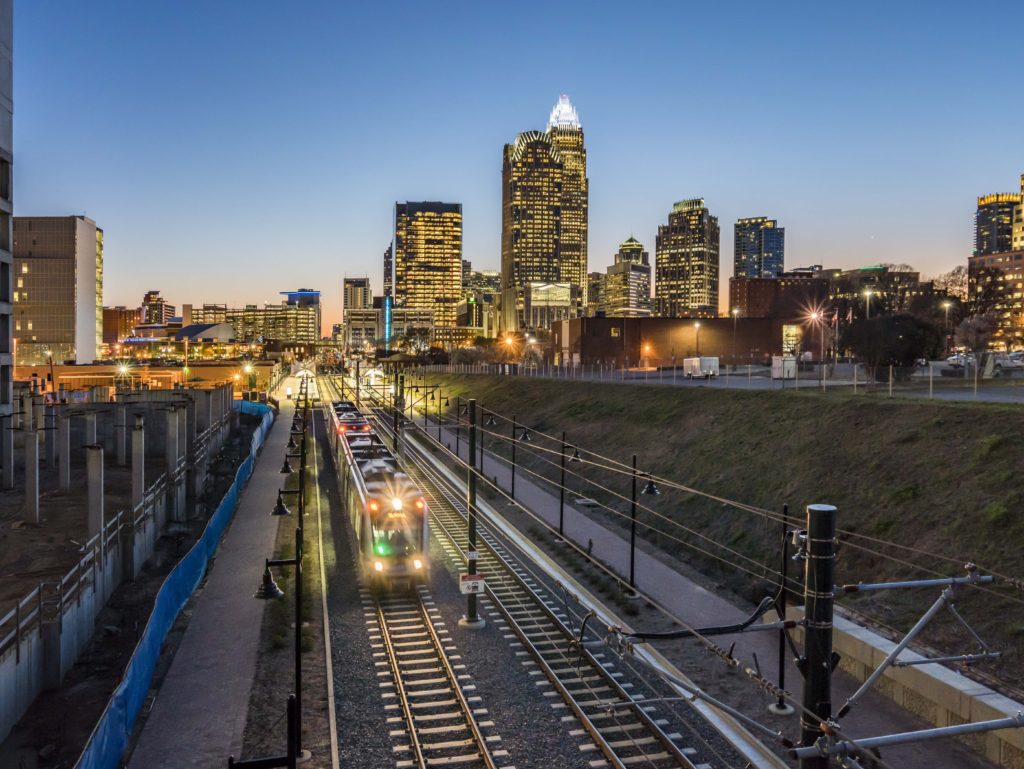 The 2030 Transit Corridor System Plan
The Transit Corridor System Plan, including the Blue Line, Red Line, Silver Line and West Corridor is seeking to address this and ensure reliable transportation to the residents and visitors of Charlotte.
"This long-range plan consists of multiple rapid transit improvements in five corridors, a series of Center City improvements, and bus service and facility improvements throughout the region," according to CATS. This Transit Corridor system plan includes multiple parts, some of which are already completed or in process. Parts of the plan include:
The adoption of the LYNX Silver Line in November 2016.
The LYNX Red Line study that's reevaluating effective transit modes and alignments.
Taking a fresh look at rapid transit in Charlotte's West Corridor do determine the most appropriate mode and alignment for rapid transit.

The creation of the Charlotte Gateway Station, a future multi-modal station that will consolidate public transit and intercity transportation.
Brianna Fries is an Assistant Editor for American Infrastructure magazine. She may be reached at brianna@penpubinc.com