Sometimes It's What You Don't See That Counts
If not handled properly, stormwater runoff presents a major challenge for city planners and residents; however, underground detention systems provide a near-perfect solution
By National Precast Concrete Association
In our built environment, impervious surfaces like roadways and parking lots lead to increased runoff, creating a need for management of the increase before it wreaks havoc in the form of flooding, erosion, or dangerous pollution. Underground precast concrete detention systems have been installed in various configurations across the country as a way to manage and even reuse this water while minimizing impact on the landscape.
Stormwater runoff's "arch" rival
The arch has been used in construction for thousands of years due to its strength and ability to resist compression and eliminate tension. Former precasters John and Rich Rotondo, structural engineers and owners of Rotondo Environmental Solutions in Alexandria, Va., used this tried-and-true design method for their StormPod Stormwater System – a modular, single-chambered precast concrete arch structure. The system's geometric compression shape keeps strength while reducing the amount of concrete used and allows a contractor or owner to walk through. To showcase the system, the Rotondos went big, partnering with Gillespie Precast on a project requiring 372 units.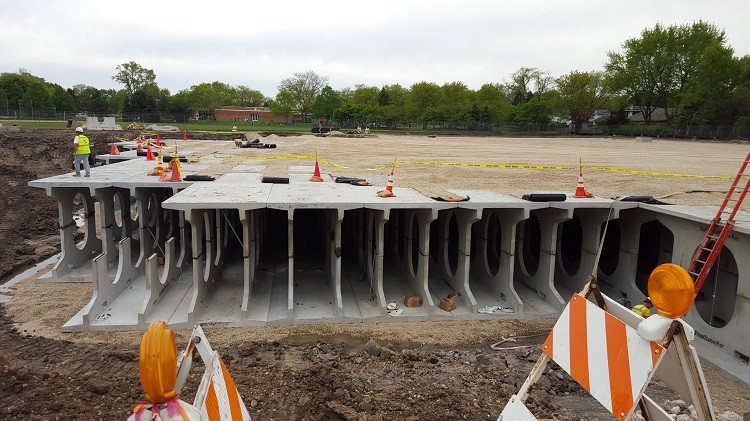 The project took place in Prince George County, Md., as part of a new public high school in Capital Heights. Phase one of the project included dealing with stormwater runoff.
Construction on the new high school was completed this summer in time for the new school year and students are completely unaware – by design – that precast concrete lays underground supporting the framework that will host their learning for many decades to come.
Shifting from park to much more
If visitors to Wescott Park in the Village of Northbrook, Ill., don't notice much change after a $9.65-million renovation, the engineers and village officials who worked on the project achieved their goal. Rather than focusing on above-ground improvements, most of the project's improvements were constructed underground, transforming the park from a place for families and students to play to the site of a modern stormwater detention system.
Residents of the Sunset Fields subdivision, which was platted in the 1950s, have dealt with the negative effects from stormwater runoff for years.
"The residential area surrounding the park is an older subdivision and was constructed without detention, adequately sized storm sewer, or overland flow routes to safely convey stormwater. The purpose of this project was to address flooding of homes and streets in the area," said Paul Siegfried, P.E., CFM, CPESC, of engineering firm Baxter & Woodman, Inc.