Smart Cities & Intelligent Transportation in 2020
The labor shortage has challenged professionals in 2019, encouraging creative solutions to combat it
By Malcolm Dougherty
Across the globe, communities are trending toward urbanization. Every day 200,000 people move to cities and more than half of the world's population currently lives in urban settings — many of them in high-density cities. Perhaps unsurprisingly, approximately 70 percent of the world's population is expected to be urban by 2050.
The benefits of urbanization are plenty: trade and commerce create more jobs and diverse economies; tourism offers financial benefits; and culture and science continue to advance as ideas are exchanged. Challenges exist as well – including how to move larger volumes of people to more destinations than ever before. This raises several potential issues: traffic congestion, parking difficulties, longer commutes, high infrastructure costs, the need for more public transportation options, environmental impacts, energy consumption, and more. In high-density cities like New York, the streets are not getting any wider, so we need to shift our thinking towards designing intelligent transportation and smart infrastructure – accounting for not only traditional infrastructure needs, but also data, information and diverse modes of transportation.
As transportation professionals, we are tasked with addressing the mobility needs in urban areas now while simultaneously planning for the future. We are doing this by incorporating emerging trends to address these issues into current and future projects:
Mobility as a Service
Mobility as a Service (MaaS) is shifting people away from personally-owned transportation and toward mobility options that are consumed as a service. This will fundamentally change how people move: MaaS relies on a digital platform (an app or website) that handles trip planning from beginning to end, including booking, electronic ticketing, and payment across all modes of transportation – whether public or private. The shift to a user- centric mobility will make it easier for people to access flexible travel options at any given time. It can also reduce non-revenue service, increase efficiencies and lower the environmental footprint of mobility. The data generated by MaaS can inform operators to further enhance operations across modes.
Mobility on Demand
Mobility on Demand (MOD) is another user-centric trend in transportation planning and design. It combines emerging mobility services, integrated transit networks and operations, real-time data and cooperative Intelligent Transportation Systems (ITS) to better connect travelers to different transportation options and allow them to choose which suits them best with more flexibility than ever before. MOD also offers first and last mile options that have never existed to this extent before. Ride sharing, public bikes, and even on-demand shuttles will become the norm, potentially causing major changes in the automotive and energy sector.
Connected and Autonomous Shuttles
For mass transit, connected and autonomous shuttles offer efficiency and convenience for more frequent and regular services. As this trend continues to rise and more connected autonomous vehicles are on the road, there will be more vehicle-to-vehicle and vehicle-to-infrastructure systems in place that will help
reduce congestion. Additional benefits include first-and-last mile (the distance from home to transportation options) solutions, paratransit services, reduced operations costs, and solving the current transit driver shortage. Economic and societal benefits include improved safety, cost-savings from fewer crashes, better fuel efficiency, and better access to transportation.
Micro-Mobility
A recurring theme in urbanization is the diversification of transit options for smart cities, with micro-mobility gaining momentum. Shared bike and e-scooter services are popping up at a seemingly rapid pace. These options allow for convenient vehicle-sharing and can help to reduce parking issues, traffic congestion and other issues that arise in urban settings. For the first-and-last mile, micro- mobility is yet another option for commuters. Micro-mobility increases access to transportation options, reduces the number of cars on the road, reduces our carbon footprint and is cost-effective.
Internet of Things
Smart cities use Internet of Things (IoT) devices like sensors, light, and meters in the collection and analysis of data, which is then used to improve infrastructure, utilities, and services. As infrastructure design and construction continues to evolve, the IoT will become a key consideration in creating intelligent, sustainable communities that continually offer an improved quality of life for their inhabitants. Of course, there are privacy concerns that will need to be addressed as smart architecture and infrastructure evolves.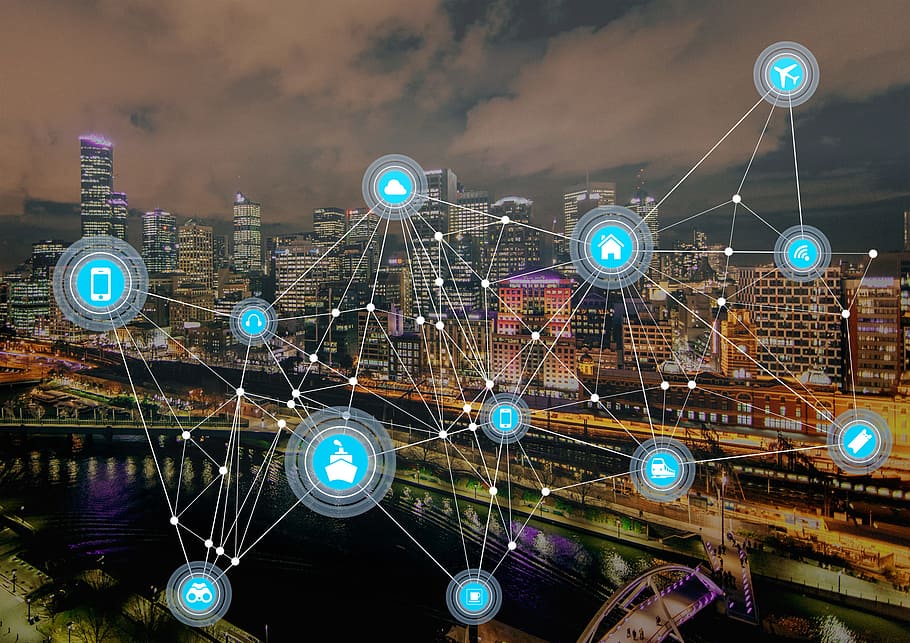 Congestion Pricing
Congestion pricing targets people's wallets by implementing a fee structure for highways, bridges, or tunnels during high-use periods in order to moderate traffic flow. Congestion pricing reduces delays and increases the predictability of travel times, while also allowing state and local governments to improve the quality of transportation without tax increases or large capital expenditures. With less vehicles on the highway, fuel consumption and vehicle emissions are reduced. New York City prepped to become the country's first urban area to have surge pricing in the form of a fee for drivers entering the city center and is aimed at reducing gridlock and adding funds to the subway system.
Complete Streets
Complete streets are created to provide safe access for all – whether it be pedestrians, bicyclists, motorists, or transit riders. Each complete street is unique and should be designed to complement the surrounding community, allowing for safe public spaces and high- performance, sustainable transportation networks. This enhances the quality of life for residents and visitors of each complete street.
Planning the Smart Cities of Tomorrow
The footprint of streets in most major cities aren't going to change, but what will change is which modes of transportation get space on those streets. One of the most creative street designs currently in existence is in San Francisco's Market District. Green lanes, bus lanes, taxi lanes, and bike lanes get most of the real estate here, with cars relegated to only one lane. In the future, we will likely see connected and autonomous vehicles get their own dedicated spaces as well
in street design. This all leads to less congestion, better traffic flow, and superior ways of moving people from point A to point B. To fully see this realized, challenges in funding and policy must be overcome.
Putting it Together
Smart cities and intelligent transportation are rapidly-evolving concepts that are being put into action now. One of the projects that Michael Baker International is working on with the Ohio Department of Transportation is the US 33 Smart Mobility Corridor. This is a 35-mile stretch of smart infrastructure in and around Columbus, Ohio with hundreds of smart intersections and thousands of vehicles with on-board units (OBUs). By applying just some of the trends mentioned above, the project is aimed at enhancing safety and mobility, improving roadway congestion, increasing connected and autonomous vehicles and increasing access to employment.
Combinations of these emerging technologies and concepts will drive the trend towards smarter transportation that is better integrated with an urban lifestyle that itself is rapidly becoming more diverse and data driven; triggering the need to (re)design our cities. As these trends become integrated in the (re)design of our cities, they will open up opportunities to improve the quality of life for all those living and working in urban areas.
Malcolm Dougherty is the National Practice Executive for Transportation at Michael Baker International. To learn more, visit mbakerintl.com.