Schools Dig Deep into Hands-on Learning on Green Apple Day of Service
Each year in September, the Green Apple Day of Service brings together thousands of students, teachers, families, and organizations around the globe to transform school environments into healthy, safe and productive environments.  School communities organize service projects, educational opportunities, community events and more to engage participants in hands-on learning experiences that help transform schools and highlight the dedication and ingenuity that make each community unique.  This year, Green Apple Day of Service is on Saturday, September 24 but projects are going on throughout the month.
The U.S. Green Building Council-Los Angeles Chapter (USGBC-LA) partners annually with schools and local organizations on projects across the region.  Los Angeles County had over 40 successful projects completed last year.  These projects showcased the diversity of the local L.A. neighborhoods and the range of ideas that students and teachers came up with to make their school communities a thriving and nurturing learning environment.  At the L.A. River School at Sotomayor Learning Academy, students built a worm bin for composting school food scraps and spruced up their sustainable garden with a rain catchment system.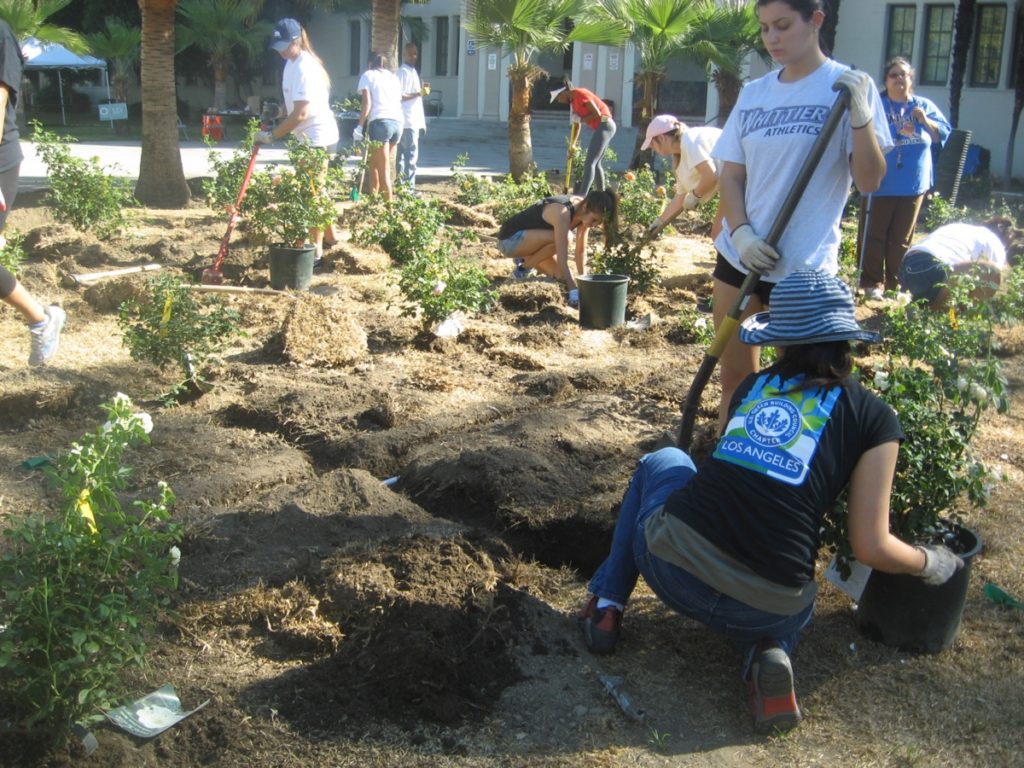 Wilshire Crest Elementary utilized their 8,000 sq. ft. farm and native and edible gardens as a valuable teaching tool for their service project.  They expanded their irrigation and water containment system in their 12 raised beds to include ollas, which are ceramic cisterns used by native people to hold water and slowly irrigate plant roots.  The students also use their outdoor kitchen on the property to expand California Education Standards outdoors in a Seed to Table environmental/nutrition program.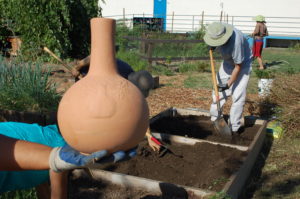 Other projects in previous years have included a Sustainability Fair at Short Avenue Elementary where students and organizations alike promoted sustainable practices and provided a hands-on learning experience for community members of all ages.  The Academy of Environment and Social Policy Magnet High School ESP students worked with NAC Architecture to revitalize an old koi pond on their campus and constructed and planted an adjacent garden space.
Planning and orchestrating these events provides an opportunity for students and community members to have learning transcend the classroom and apply lessons learned to real world applications.  Healthy lifestyles are encouraged and the volunteered hard work creates a sense of pride that strengthens and empowers the school community.
Another great turnout is expected for the 2016 Green Apple Day of Service in L.A. and around the world.  To register or join an event:  Green Apple Day of Service website.  USGBC-LA has also a Green Apple Day of Service Toolkit with ideas for how to get involved.  Each year, the projects exceed or build upon those of the year before, and new schools continue to get involved.  The inspiration never ends!
Reilly Loveland is the Co-Chair for USGBC-LA Green Schools Committee, and works for New Buildings Institute.