San Diego's Seawater Desalination Plant
The award-winning Claude "Bud" Lewis Carlsbad Desalination Plant paves the way for water treatment facilities in the United States to efficiently create clean water
By Carina Calhoun
Located adjacent to the Encina Power Station in Carlsbad, California, the Claude "Bud" Lewis  Carlsbad Desalination Plant was developed as a public-private partnership between the San Diego County Water Authority and Poseidon Water, a privately held company that develops and invests in water projects. The project originated in 1998 and launched in 2015 with a purchase agreement between the two entities. The project has garnered numerous awards for design, implementation, and energy efficiency.
The $1 billion desalination project includes three main components: the desalination plant adjacent to NRG Energy's Encina Power Station on Agua Hedionda Lagoon; a 10-mile pipeline that connects to the Water Authority's regional distribution system; and upgrades to Water Authority facilities for distributing desalinated seawater throughout the region.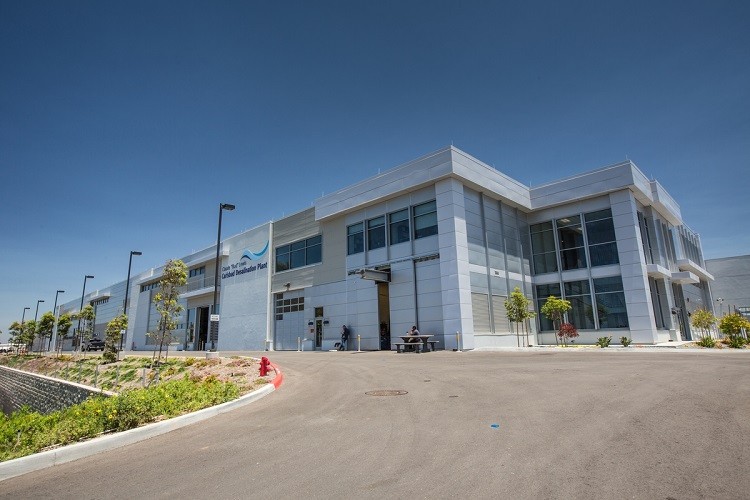 After completing construction on schedule, the plant was dedicated in December 2015, in front of more than 600 elected officials, community leaders, and project partners. The facility—named after the late Carlsbad mayor who also served as Water Authority Board chair—soon garnered local and international accolades.
Jessica H. Jones, director of communications at Poseidon Water, stated, "The Carlsbad Desalination Plant has been operating for the last 19 months and has produced more than 20 billion gallons of new, high quality, drought proof water for the region."
An example of an efficient and successful approach to water municipalities in the United States, the partnership transferred all of the risk to the private sector to insulate the public municipality. Jones explained, "The plant uses state-of-the art technology throughout and has a zero carbon footprint. Construction of the plant also followed the LEED checklist"
Each day, the plant delivers nearly 50 million gallons of fresh, desalinated water to San Diego County – enough to serve approximately 400,000 people and accounting for about one-third of all water generated in the county. It is a major component of the Water Authority's multi-decade strategy to diversify the region's water supply portfolio.