Solving Water Supply Woes
The Pure Water Monterey Groundwater Replenishment Project helps Monterey County combat limited, local water resources. 
By Brian Alvarado
Photos Courtesy of Monterey One Water
Access to clean drinking water is vital to communities everywhere, especially amid a global pandemic. For Monterey County in California, the community is isolated from state and federal water projects, requiring the region to rely solely on its limited, local water resources — surface water flows and groundwater.
An extended water supply-to-demand imbalance has led to declining groundwater levels, seawater intrusion, water quality degradation and habitat deterioration. Specifically on the Monterey Peninsula, the complexity of this challenge is demonstrated by two state-mandated actions issued to protect the area's only water supplies: 1) a Cease and Desist Order on the Carmel River to reduce water diversions to levels safe for local habitats and 2) adjudication of the Seaside Groundwater Basin to implement a series of pumping cutbacks to protect the Basin from seawater intrusion.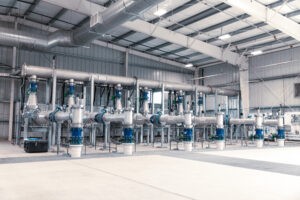 To solve the challenges of a lack of water supply, the Pure Water Monterey Groundwater Replenishment Project, which is a $139 million advanced water recycling plan, was born. The project includes the construction of the new Advanced Water Purification Facility (AWPF) and is the first full-scale indirect potable reuse project in Northern California. 
"Pure Water Monterey is the first full-scale potable reuse facility to come online in northern California. It supplies approximately 1/3 of the Monterey Peninsula's potable water supply using four different types of wastewaters," said Paul Sciuto, general manager of public agency Monterey One Water (M1W), the owner and operator of the project. "To ensure water quality meets or exceeds the strict state and federal standards for drinking water, the project utilizes ozone as a pre-treatment step in addition to full advanced treated – membrane filtration, reverse osmosis and advanced oxidation."
In addition to M1W, the project team consisted of public agency Monterey Peninsula Water Management District, as well as water and environmental engineering firm Kennedy Jenks Consultants, Inc. for the design and construction of the AWPF.
After initial treatment at M1W's existing Regional Treatment Plant, the secondary affluent is pumped to the Advanced Water Purification Facility where a 4-step process ensures the purified water meets or exceeds strict drinking water standards.
"This efficient timeline is a testament to the collaboration between the partner agencies who effectively worked together to complete this complex project." – Todd Reynolds, Vice President of Kennedy Jenks Consulting, Inc.
"The AWPF…uses a state-of-the-art, multi-stage treatment process including ozone, microfiltration, reverse osmosis and advanced oxidation to turn used water into high-quality purified water," said Kennedy Jenks Consultants Vice President Todd Reynolds. "In addition to municipal wastewater, this unique project captures and purifies three new types of source water: agricultural drainage water, food processing water and stormwater."
Construction of the AWPF was estimated to be completed in September 2019. After a wet winter and other challenges, operations began in March 2020 as a result. The project has held budget contingencies to a respectable level of 5%. Additionally, 28% of project costs were funded through grants, helping lower the cost of water.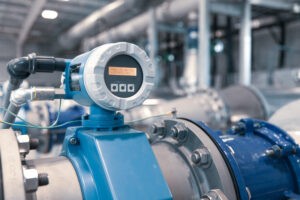 "Primary funding for Pure Water Monterey was a State Revolving Fund loan. In addition to this loan, Monterey One Water actively sought local, state and federal grant funding to help offset the loan and lower the overall cost of the project," Reynolds said. "In total, the agency received more than $39 million in grant funding, supporting 28% of the total project costs."
The AWPF also implements energy-efficient, sustainable aspects in its functionality, powered by green energy that was purchased from the neighboring regional landfill — the Monterey Regional Waste Management District.
"This effort initiated a larger partnership between the entities who are now pursuing opportunities to expand this energy partnership by combining infrastructure and resources to explore the co-digestion of wastewater solids and food waste," Reynolds said. "The long-term goal is to create a micro-grid so neither entity relies on energy from the grid."
Other than the water supply challenge that was at hand, the project required extensive community support. For some community members, the idea of potable reuse was hard to stomach.
"Extensive outreach and leadership established widespread community support for this project," said Sciuto. "In Monterey County, urban and agriculture interests often differ, but this regional project created diverse benefits and brought historically adverse groups to the table to collaborate on Pure Water Monterey."
Efforts included tours to help promote the project and generate public acceptance. A demonstration facility was built in 2015, which included all the treatment steps of the full-scale facility, but fit into a well-designed, inviting room. In addition to the tours, community presentations allowed agency leaders to work with local community groups to further promote the project and educate community members on the safety and benefits of the project.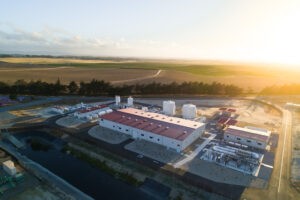 As a result, the outreach efforts led to overwhelming public acceptance of the project, which helped keep the project on its tight timeline.
"This water supply project went from an idea to operational in only seven years – something the project partners and community are very proud of," Reynolds said. "This efficient timeline is a testament to the collaboration between the partner agencies who effectively worked together to complete this complex project. From negotiating agreements to developing regional benefits, regular communication and innovation were needed for the project partners, who historically did not work together, to develop Pure Water Monterey and successfully implement the project."
The AWPF has been replenishing groundwater in the Seaside Basin since March 2020 and met its first milestone of injecting 1,000 acre-feet of purified water into the basin in August 2020. From being a concept back in June 2012, to its completion in March 2020, the project, especially amid the COVID-19 pandemic, has allowed Monterey County to solve its water supply woes.
"The journey—from concept, through design, construction and startup—is both challenging and rewarding," Reynolds said. " The result of our efforts is a new sustainable source of drinking water that will serve the community for decades to come."
Brian Alvarado is the editor of American Infrastructure Magazine. He can be reached at brian@builder.media.
Project Info
Project Name: Pure Water Monterey
Location: Monterey, California
Type of Product: Advanced Water Purification Facility
Project Team
Engineer: Kennedy Jenks Consultants
Owner: Monterey One Water
Photo Credit(s): Monterey One Water