Hello Readers in print and online.
This is the Annual Sourcebook edition of the publication. We have added some sections and improved and revised the format and layout, per your feedback. You can use this directory to locate a vendor, connect a city municipal professional, find an association, an event or a specialist consultant. Keep it on your desk at work or on your desktop on your laptop. There are thousands of valuable links within that you will find useful in your municipal management operations over the coming year. While our editors have made every effort to make certain that all of the top manufacturers and firms are represented within, in the event we overlooked anything, please let us know. The links to be included in the Sourcebook are permanently available at www.americaninfrastructuremag.com. Please avail of them at your convenience. Help us to promote your brands and your business.
We all enjoy our nation's history. There have been some remarkable feats of American infrastructural engineering over the past century plus of infrastructure investment. Our Iconic Infrastructure sections within this Sourcebook reflect just some of these. Infrastructure is something we all take for granted every day. Whether it's the railway station, bridge, airport, bus depot, federal building, military installation, school, police station or fire department we pass on our way to work, or the Brooklyn Bridge, The Hoover Dam or the White House, our infrastructure helps define us as a nation, as a people. We should be proud of it. We need to cherish it. We must not take it for granted. We must continue to maintain it, upgrade it, repair it, nurture it, improve and invest in it.
Readers inside the beltway, please take note: the leadership we all need comes from you clever folks; our elected representatives; our government agencies and their senior management. Our nation's infrastructure, once a source of pride and a symbol of America's power and might is decayed. Some argue our infrastructure now reflects American blight. This lapse in funding and investment is a travesty and a grave mistake. Aside from the obvious dangers and unnecessary risks associated with committing the public to the continued use of long ago worn out roads, bridges and railways, the damage to our standings as a nation posed by this blight is equally damaging and unnecessary. Time to step up and find the budgets we require to take care of ourselves. No more band aids and quick fixes. No more excuses. The mightiest nation in the history of the world requires much more than this from our senior elected officials. Own it. Deal with it. Get on with it. Your great-grandchildren will thank you for it.
Work hard and keep in touch.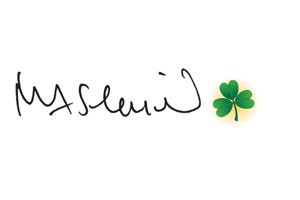 Nick Slevin is the publisher
and editor-in-chief of
American Infrastructure.
He may be reached at nslevin@penpubinc.com.