Publisher's Note: July/August 2021
Hello Readers, in print and online,
Since we last updated you in the May/June issue, our cover featured an illustration of President Joe Biden with a question many in our industry asked: can he get it done? Fast forward to July, and the answer is looking more and more clear, as progress has indeed been made with a bipartisan, $1.2 trillion infrastructure deal in agreement. Though not yet finalized, the deal includes $579 billion in new spending. Although sides still must finalize the framework on how it will be funded, this is certainly a positive sign and a step in the right direction. Additionally, in a separate legislation, the House voted on and passed the INVEST in America Act, which is a five-year, $715 billion surface transportation and water infrastructure bill designed to create good-paying jobs to rebuild the nation's crumbling infrastructure. The Senate now awaits the bill, which has been given an October deadline. 
As I mentioned in the last issue, infrastructure is on the top of everybody's minds these days, and things are starting to look upwards. Funding looks like it will be well on its way, and it seems as if all sides of the political spectrum have put aside differences to address what the country so desperately has needed. 
On that note, we present you with a water-flavored issue, presenting a few features and columns that highlight the need to address our drinking water, flood control and also our roads and bridges that may have been impacted due to aging and erosion. Whether it's the likes of the award-winning Sea Cave Stabilization Project in San Diego County, or the I-4 Ultimate reconstruction in Florida, all of these projects are examples of the long journey that lies ahead when it comes to upgrading our infrastructure.
The American Public Works Association is represented well with the contribution from CEO Scott Grayson. In his article he discusses the return of the annual PWX — the APWA's conference that offers the best public works education, newest innovations and networking opportunities.
One hopes that the progress made in recent weeks will have an everlasting impact on generations to come. As our leaders in government continue to work to finalize a deal, and get the proper funding all areas of public works and infrastructure needs, the new normal that had been very much talked about in the past 15 months will finally come to fruition. Work hard, stay safe, and as always, I thank you for the privilege of your readership.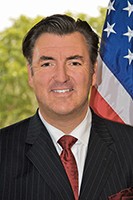 Slainte,
Nick Slevin