Publisher's Note: December 2021
Hello Readers in Print and Online. 
Merry Christmas and Happy Holidays to you and your team. We have been particularly pleased to publish American Infrastructure Magazine this year, as bi-monthly, in print and distributed weekly online, to all of our online readers around the country. Infrastructure has been in the news a lot this year. 
The recent passing of the infrastructure legislation has done much to awaken public interest in our roads, bridges, public transport systems, airports, parks, ports, highways and public buildings, that collaboratively make up much of our nation's sadly neglected infrastructure. Much of which is in constant use and not often maintained in the manner prescribed by the builders. 
This is mostly due to an ongoing lack of funding available to departments to invest as much as they would like in projects and equipment. Hopefully this bill will help to change some of that and we will now begin to see a decided uptick in activity to address these issues, as increased funding becomes available. 
The Covid fight continues with new variants adding to the problem. Although vaccinations are on the rise and government mandates have compelled some departments to require all staff to either test weekly or to provide proof of vaccinations, the virus is still around, ready to harm and disrupt. 
We are particularly grateful for our first responders, on the front lines in health, law enforcement, fire protection and our military services in every branch. You folks are an amazing group of professionals; all motivated volunteers, putting service above self every day. We are very lucky to have you, thank you.
Within our Annual Awards issue we recognize standout projects and departments, as well as our Municipality of the Year, Who's Who in American Infrastructure and our Editor's Choice Products of The Year.  
Congratulations to all concerned and please keep up the good work. We also recognize our Annual Brand Survey Winners. Many thanks to our survey respondents who took time to complete and forward their surveys. You can easily spot the 2021 Brand Survey Winners by their winner's logo on their ads and messages in the magazine and also on the website, at www.americaninfrasturemag.com and the newsletter, at www.aiweekly.biz.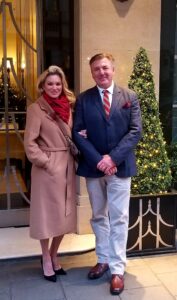 We are very grateful for all of our advertisers whose messages grace our platforms. I encourage you to consider these fine firms when making your own vendor choices for your projects. I would also like to take this opportunity to thank you for the privilege of your readership again this year. I hope you join us again next year for volume 14 of American Infrastructure Magazine. 
On behalf of my wife Shannon, our family and our Builder Media Team, who work very hard to bring you the magazine, have a safe and happy holiday season.
Slainte,
Nick Slevin