Protecting Precious Resources in Record Time
New SCV Water treatment facility will help provide clean drinking water to thousands of families a year
By Zack Johnston
Clean drinking water is undoubtedly a vital resource for any community, but do we think enough about where it comes from and how we keep it safe? It's a fragile resource, requiring constant care and management in order to be safely delivered and consumed. Water utilities everywhere, like the Santa Clarita Valley Water Agency, are fighting an ongoing battle with an enemy we can't even see.
Many communities across the country have been figuring out how to deal with small traces of per- and polyfluoroalkyl substances (PFAS) found in water supplies. PFAS are manmade chemicals that have been manufactured and used for industrial and commercial purposes for decades.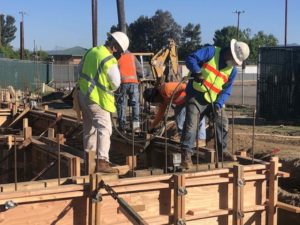 These chemical compounds are useful because they help repel things like grease, moisture, and oil. PFAS are found in thousands of commonly used products like non-stick cookware, shampoo, food wrappers, and even firefighting foam. They also exist in the environment from manufacturing, product use, and treated wastewater discharge. This is how it can be found in drinking water supplies and how it can be harmful to the public's health.
An over abundance of these chemicals presents challenges to groups like the Santa Clarita Valley Water Agency, but with some quick action and ingenuity, SCV Water has been developing a solution.
Almost a third of the water used in the SCV Water service area last year came from ground water sources. As many as 28 of the agency's 44 wells have been impacted by PFAS. SCV Water began quarterly sampling water from all it's wells in August 2019, and has been proactively working to stay in compliance with changing regulatory guidelines surround PFAS. Fourteen of the wells have been removed from service per California Division of Drinking Water requirements.
To get ahead of this great concern, SCV Water is close to completing a water treatment facility that will treat water from three agency wells for PFAS. This facility includes six vessels that together treat up to 6,250 gallons of groundwater per minute and restores it to the distribution system. Enough water will be treated at this facility to serve 5,000 families for one year.
With PFAS contamination being a developing issue nationwide, SCV Water was quick and transparent in identifying the problem and turning around with a plan of action.
"We identified the project location easily, with plenty of Agency-owned property and three well heads in close proximity," said Kathie Martin, SCV Water Public Information Officer.
Once the location had been settled, the agency almost immediately began designing and bench-testing different filtration media. SCV Water received help with construction management from TRC Companies, Inc., engineering services from Kennedy/ Jenks Consultants, and the project contractor was Pacific Hydrotech Corporation.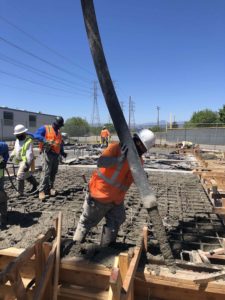 The facility is placed adjacent to a complex of ten baseball and softball fields, away from residential areas. The agency communicated with the league board extensively to help parents be prepared for the construction.
To compliment the new treatment facility, SCV is also adding a new chloramine (chlorine and ammonia) disinfection facility in an enclosed building within the fenced area. According to the SCV Water website, the wells are treated with chlorine only, but chloramination is a more desirable disinfection process.
"Chloramine remains in the distribution system longer, produces less disinfection by-products, with fewer taste and odor concerns than free chlorine," according to SCV Water.
However, this facility is only one part of SCV Water's response to PFAS contamination. Once the issue became apparent and PFAS traces were confirmed, key players were brought together to formulate a response.
When the first system-wide results came back, SCV Water formed a PFAS strike team, with water resources, water quality, operations, engineering and communication staff, along with several key consultants," Martin said.
This strike force continues to meet twice a month and has more well-head treatment plans in store for the coming year.
Timing, of course, is critical when solving issues around drinking water, so the need for expediency on this project was quickly recognized by SCV Water and the strike team. As an unexpected expense, the $6 million facility is funded through agency reserves.
While SCV Water has had to jump a few hurdles such long lead times on purchases, and some supply chains interrupted due to COVID-19, this project is still slated to be completed within a considerably short time frame.
"Nothing of this scope and speed has ever been seen in the water industry. The SCV Water PFAS Strike Team worked seamlessly with one goal in mind – to continue to provide safe, clean drinking water to the customer," Martin explained.
The facility is set to be online June 2020, less than one year from the initial system-wide water sampling results; a turn-around time that is quite unheard of in the infrastructure industry.
PFAS will to remain a challenge for SCV Water, and for water agencies all across the country, but with swift action like that of SCV Water we can continue to protect or water supplies from harmful contamination. As this unfortunate PFAS issue develops water agencies can lean more on their creative ingenuity and problem solving.
Zack Johnston is an Assistant Editor for American Infrastructure Magazine. He may be reached at zack@builder.media.