Protecting America's Natural Resources
The Department of the Interior's (DOI) programs contribute to the quality of life for many people and communities across the U.S. and help to advance goals for stewardship and energy independence. Nearly every American lives within an hour's drive of lands or waters managed by the DOI.
The DOI protects and manages the country's natural resources and cultural heritage. They provide scientific and other information about those resources and honors the responsibilities or special commitments to American Indians, Alaska Natives and affiliated island communities. Today, DOI manages the country's public lands and minerals, including providing access to more than 500 million acres of public lands, 700 million acres of subsurface minerals, and 1.7 billion acres of the Outer Continental Shelf.
The DOI has also fostered onshore renewable energy development. Since 2009, the Department has permitted 57 utility-scale renewable energy projects on the Nation's public lands. Together, the 34 solar, 11 wind, and 12 geothermal facilities could generate nearly 15,000 megawatts of power, sent to communities across the country – enough to power nearly five million homes. The facilities and their associated transmission infrastructure would support more than 26,000 construction and operations jobs. The approved projects represent $40 billion in potential capital investments by industry in clean energy development.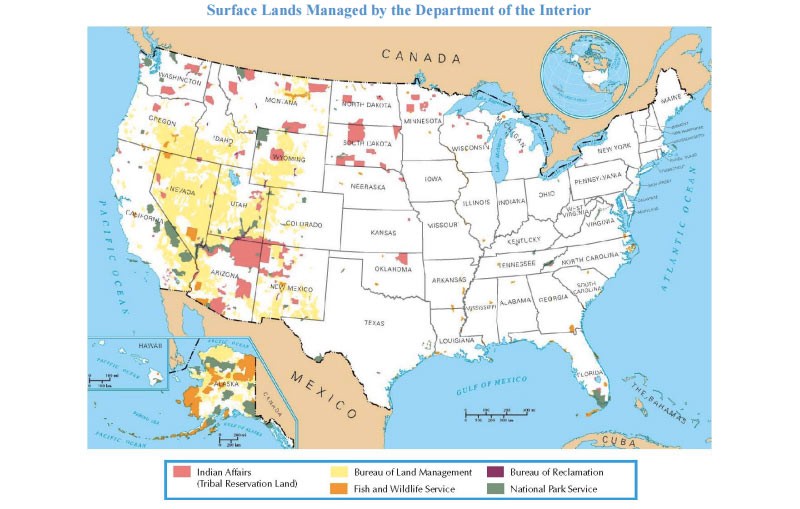 Recently, Secretary of the DOI Sally Jewell and the Bureau of Ocean Energy Management (BOEM) Director Abigail Ross Hopper announced the proposal for the nation's Outer Continental Shelf (OCS) Oil and Gas Leasing Program for 2017 to 2022. The Proposed Program evaluates 13 potential lease sales in six planning areas–10 potential sales in the Gulf of Mexico and three potential sales off the coast of Alaska. "This is a balanced proposal that protects sensitive resources and supports safe and responsible development of the nation's domestic energy resources to create jobs and reduce our dependence on foreign oil," said Secretary Jewell.
The department is taking a lead in protecting the nation's resources from the impacts of climate change and in managing the public lands. Also, they will be tackling America's water challenges by providing leadership and assistance to states, tribes, and local communities to address competing demands for water.
Priorities for the DOI include inspiring youth to play, learn, work and serve the outdoors as well as climate change, Native American issues and water challenges. Each of these issues will work toward a better future of America's land and resources.
For more information visit www.doi.gov