Perseverance in the Face of Adversity
City of Austin Capital Projects construction hardly misses a beat during the pandemic. 
By Richard Mendoza
The Public Works Department, Construction Management Division (CMD) inspects the construction of the City of Austin's Capital Improvement Projects (CIP). Projects range from street reconstruction and water/wastewater infrastructure improvements to new buildings and structures, such as fire stations and libraries. CMD's inspectors called Engineering Construction Coordinators (ECCs) coordinate construction activities with contractors, and oversee all aspects of project construction to ensure quality and compliance with contract terms and specifications.  
ECCs monitor and document job progress, ensure accurate contractor payment, verify projects are constructed in accordance with engineering specifications, coordinate materials and utilities testing, work with the design teams and project manager to resolve engineering issues, coordinate changes to engineering specifications and amendments to contract terms and manage the final acceptance and closeout processes for CIP projects. CMD has 62 positions and seven ECC Teams responsible for providing or supporting construction management services for the City of Austin. Due to the exponential growth Austin has been experiencing, CMD workloads and staffing have also increased. 
In March of 2020 after the City Manager sent employees home to work remotely in compliance with CDC guidelines, CMD only paused working on-site for the 2 weeks it took to set up the safeguards needed to institute the specific safety measures for construction established by Austin Public Health. The stay-at-home orders called for City staff to work remotely except for essential, frontline employees who must be on site. To keep the essential construction of CIPs on schedule meant transitioning CMD office support and technical staff to teleworking and ensuring ECCs could work full-time from the job site and from home. 
CMD was poised to make the transition seamlessly since they had been implementing many process improvements in the last few years. All CMD staff had laptops and field staff had MiFis that allowed them to use the internet in the field and log into the City's Virtual Private Network (VPN) system to access the software used to create project Daily Progress Reports. A resource calendar was set up for staff to reserve times to visit the office to print documents and pick up supplies such as PPE, limiting the number and reducing the time staff needed to spend in the office. 
While pandemic conditions have improved and PPE supplies are readily available, the pandemic has taught us to think and work differently."
The rapid transition to working exclusively from the job site and home had the benefit of expediting some of the process improvements already underway in Public Works. For instance, contractor pay applications that had required wet signatures moved to an electronic format with electronic signatures. And in the early spring of 2020, the City of Austin began using Microsoft Teams, which empowered the move to virtual meetings. The pandemic forced staff to use Teams these for meetings including project team construction meetings that did not have to be held at the construction site. 
Challenges faced by our inspectors were similar to the rest of the country. Namely, masks and other PPE were in short supply early in the spring of 2020. The Public Works Department worked tirelessly to procure a limited supply of masks and hand sanitizer. ECCs were also responsible to ensure that construction safety requirements related to COVID-19, as required by the Mayor's Orders and the CDC, were enforced at the construction site and this PPE allowed us to be on-site and reduce the risk of spreading COVID.
Construction of CIPs never slowed down during the pandemic and as the numbers of CIPs at the City continued to increase, we faced the challenge of hiring and onboarding new employees. CMD worked with our HR Department to hold virtual interviews and assessments that included the reading of design plans. Even more of a challenge was onboarding and training new staff. CMD already had a dedicated trainer who had created a boot camp program for new staff and he was able to convert this program into virtual training using Teams, which also included the ability to give quizzes, which made the Bootcamp interactive.
While pandemic conditions have improved and PPE supplies are readily available, the pandemic has taught us to think and work differently. Less time needs to be spent in a physical office, less time needs to be spent traveling to different offices for meetings and routing paper documents. All to the benefit of the environment and use of our staff's time. We are proud of our department's ability to transition to a different work mode in a very short time to continue providing the essential services to our customers.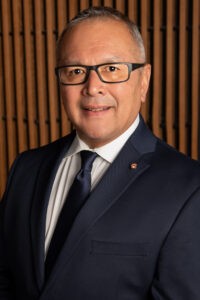 Richard Mendoza is the Director of Public Works for the City of Austin, TX.