Paving the Way for Innovation in Urban Cooling
The Los Angeles Bureau of Street Services paints the roads gray to combat rising temperatures
By Julia Edinger
The City of Los Angeles, California is known for ceaseless sunshine and warm weather. But with climate change leading to rising temperatures, the heat is testing the city's infrastructure. The Bureau of Street Services, in alignment with Mayor Garcetti's "Sustainability City pLAn," is exploring innovative solutions.
Rising temperatures are affecting infrastructure globally, but in locations like the San Fernando Valley, the effects of the sun on black streets can have shocking consequences. According to Greg Spotts, Assistant Director for the Los Angeles Bureau of Street Services (BSS), the Los Angeles heat can even have deadly consequences.
"Los Angeles has a significant number of heat-related deaths each year," Spotts said, adding that it is one of the few cities with heat-related deaths in the winter, and a surprise heat wave in January can catch vulnerable populations by surprise. Spotts views this mission to find a solution as a matter of public health.
It may even become more dangerous, because according to Spotts, there is a projection that the number of deaths and illnesses caused by extreme heat will increase, and substantially, as California temperatures continue to rise. This is one reason that it is so important that changes to infrastructure are made with the environment and climate in mind; as climate changes, public health risks will increase. BSS sought to find a solution.
Spotts, in his role as Chief Sustainability Officer for BSS, was the Executive Sponsor of the project to test GuardTop CoolSeal — a reflective sealcoat with a light color designed to lower the surface temperatures of asphalt — on streets in Los Angeles. The Street Maintenance Division implemented the project with the leadership of Division Manager Sherman Torres and one of his deputies, Craig Shaw.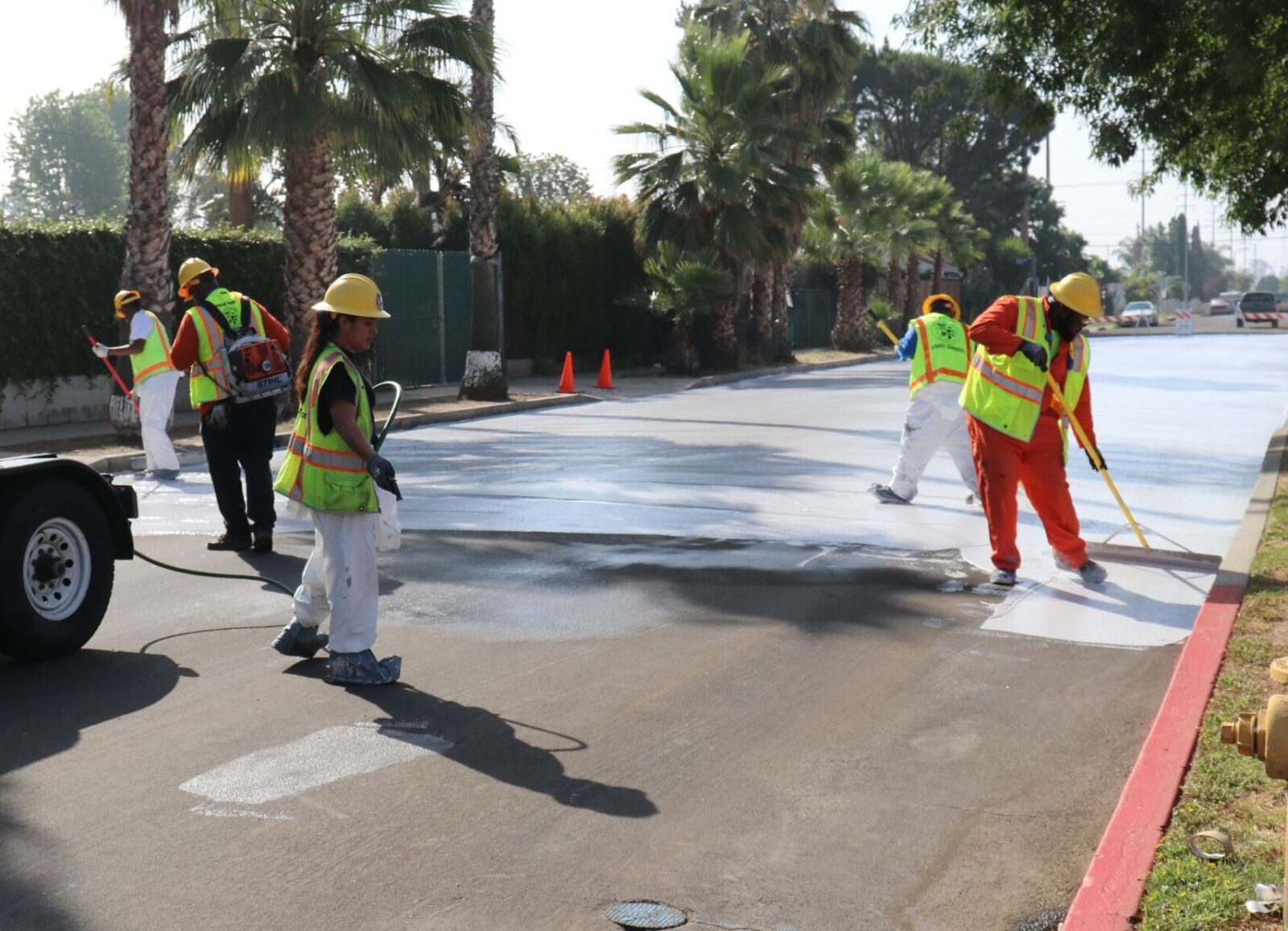 In May 2017, BSS began a pilot program, testing CoolSeal on one residential block in each of the 15 council districts throughout the city. This pilot program followed a report BSS had found, stating that cool-paving products had only been tested in California parking lots. BSS made it their ambition to be California's first jurisdiction to test a cool-paving product on a California public street.
According to Spotts, liability was a major concern because concrete and asphalt have been the two main tools used to build streets for the past 50 years. There were concerns about how the new product would respond to things like water, dirt, and erosion.
Because Los Angeles is so dry, and rain is infrequent, the streets lack the natural cleaning aids, from which cities with higher rainfall benefit. For this reason, dry solids may sit on the streets for longer periods, even months at a time. The public streets can be dirty, and on a light-colored street with a thin coating, a small number of stains and small amount of dirt can add up quickly, reducing the effectiveness of the project.
"It isn't an easy place to be inventive, but there's a way to do it," Spotts said of the meticulous testing process. "That's why we started testing in the lab, then we tested it in off-street locations, then we tested it in low-speed residential streets. We've been rolling it out in a cautious way."
Despite the cautious implementation of this project, positive findings have already been observed. A 10-degree drop in surface temperature has been observed, but Spotts said that before taking this project to scale, they would need to see a multi-year return on the benefits: a minimum of five years. However, even in the short time since the streets have been paved, residents have been very appreciative. Not only have residents had a positive reaction, their pets have, too — residents told Spotts that even their dogs gravitate towards the gray part of the pavement during walks.
In addition to the enthusiastic response from residents, BSS received similar reactions from cities interested in the project worldwide: Europe, South America, Australia, and Asia included. Spotts acknowledges the importance of this generated interest as part of a shifting conversation: "Carbon emissions are essential to control, but the conversation needs to be expanded to actual mitigation of climate change's effects."
The next phase involves a larger set of cool pavement projects. BSS is seeking funding in the next fiscal year's budget to test the streets in an entire small neighborhood that lacks excess traffic to see if there would be a cooling effect on a larger scale. The multifaceted cooling project in the works right now involves additional shade structures, cool surfaces, and cool roofs.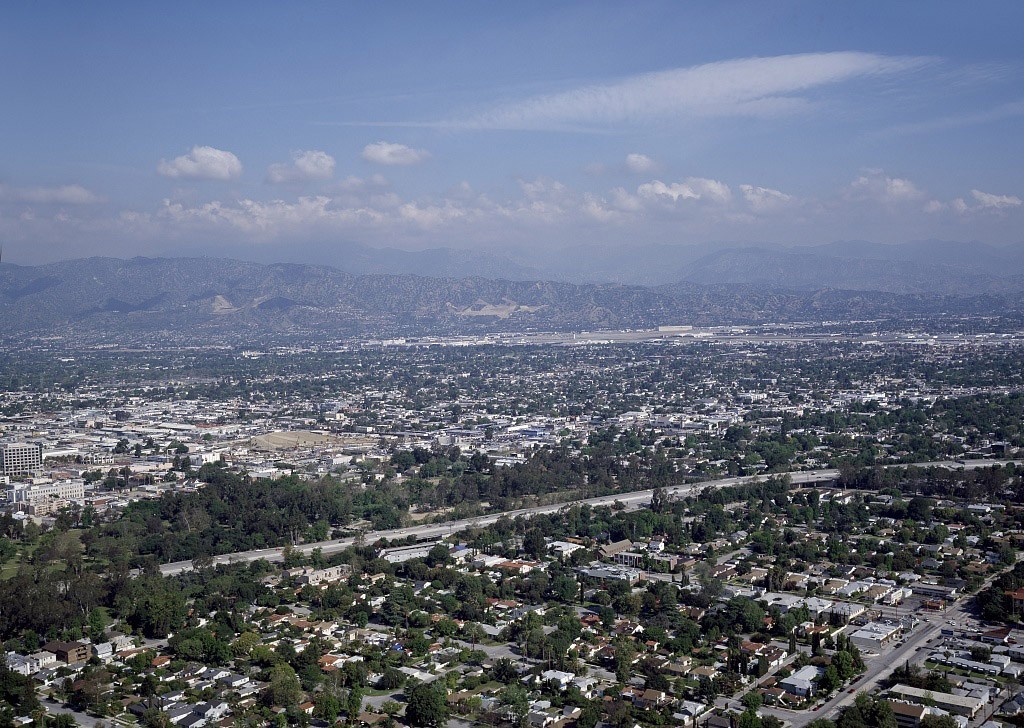 The efforts are part of a larger plan: Mayor Garcetti's Sustainability City pLAn. Launched in 2015, the plan sets monumental goals to achieve a stronger Los Angeles: environmentally, economically, and equitably.
The plan was created for many reasons, but to put it simply, Mayor Garcetti wants to increase the city's resiliency. The comprehensive plan begins with a complex vision, which covers many elements. It set basic goals, with outcomes that could be achieved by 2017, in hopes that it would create the foundation for monumental change in the next 10-20 years.
Mayor Garcetti is monitoring the progress carefully to ensure its success. Through appointing Chief Sustainability Officers in major departments, studying regular reports, monitoring the budget and data, and reviewing and releasing an annual report of progress, Mayor Garcetti can see where improvement has been made and where more emphasis should be placed. Members of the public are also able to see the results. The most recent report displayed drastic improvements, including 28,500 new green jobs, a reduction of greenhouse gas emissions by 11 percent in one year, and the city has more installed solar power than any city nationwide.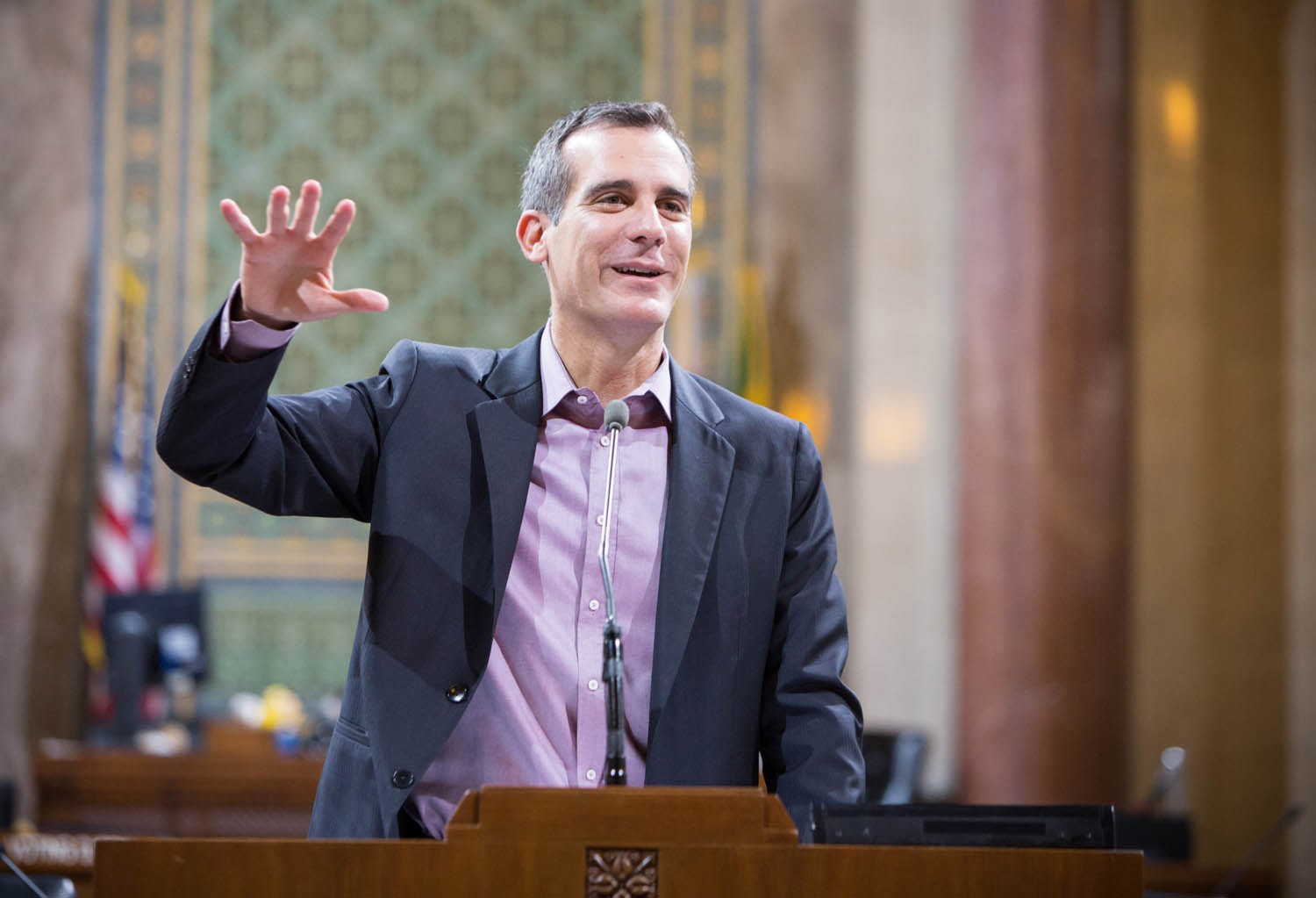 The city has put significant emphasis on urban cooling efforts through this plan, as well. The last report indicated that in addition to installing cool pavement, over 39 million square feet of cool roofs have been installed throughout the city to help mitigate some of the effects of rising temperatures.
"My Sustainability City pLAn is delivering results," Mayor Garcetti stated in a press release describing the plan's progress, citing the importance of a vision and a strategy as the foundation for improvement.
One of the challenges with this cool-paving product is that it is quite different from the existing pavement coating that is used by BSS. The existing pavement coating is Slurry Seal, a rubberized coating that does not require any aftercare in terms of maintenance. It seals small cracks in the street against water infiltration and protects the pavement in terms of its structural stability. BSS is looking at how this new coating will compare to this traditional coating. Will the cool-paving products be able to stand alone, or will they still need recurring maintenance? If it is the latter, it creates additional challenges for BSS.
There are still concerns in terms of this particular product, specifically with its thickness – two layers of 50-micron coating compared to the customary coating BSS uses, which is three-eighths of an inch. Spotts encourages other cities to try urban cooling strategies, as well as other manufacturers, creating a competition for sustainability — "We are seeing positive results. We're seeing a 10-degree-Farenheit change. But we challenge other manufacturers to come forward [with similar products] and see if they can beat that."
Julia Edinger is an Editorial Assistant for American Infrastructure Magazine. She may be reached at julia@penpubinc.com