Paving the Way and Winning the Race to the Future
 Indiana's governor invests billions in transformational infrastructure.
By Governor Eric J. Holcomb
When you think of Indiana, what comes to mind? Maybe it's the roar of race cars lapping the legendary Indianapolis Motor Speedway during the Indy 500. Or perhaps you've flown into Indianapolis International Airport – ranked number one in North America – or watched the NCAA March Madness tournament, hosted here in its entirety last year.
Spend any time here in the Heart of the Heartland, and you'll quickly see that we're leaning into our reputation as a global sports capital and emerging tech and life sciences hub, with the quality of life and place to match it. And we're not just embracing our strategic location as the "Crossroads of America," we've shifted into high gear to build what we need, maintain what we've got and ensure that no matter where you're headed in life, all roads lead to Indiana.
"Our Indiana infrastructure isn't just how you get here, it's how we maximize our mobility and build the bridge to the future." – Governor Eric J. Holcomb
Our strong fiscal foundation and top-ranked business climate enable us to make significant investments in transformational infrastructure and public works projects that make our vibrant cities, towns and counties even more attractive magnets for people to come live, work, play, study or stay. 
Accomplishing that is precisely why we're investing in the infrastructure that links us to each other, the nation, and a literal world of opportunities, propelling our state's continued economic and population growth, as more builders and doers discover every day that the grass is greener here in Indiana – and not just along our highways.
That's why we're deploying $60 billion over 20 years – fully paid for, not debt-financed – to build and enhance the roads and bridges that connect our communities, one reason CNBC consistently ranks our infrastructure among the top in the nation. 
We're investing $3.6 billion – just this year – in road projects throughout Indiana, with $420 million committed to wastewater, drinking water and stormwater infrastructure improvements. And we've accelerated construction on the last leg of I-69 that will create a continuous interstate route from the U.S.-Canada border to our state's southern border, and further increase our crossroads momentum.
This slideshow requires JavaScript.
We're also empowering our cities, towns and counties to get more bang for their buck by leveraging over $1 billion in state matching dollars from our Community Crossings program. Construction has kicked into high gear, with more orange cones going up and more asphalt going down, as locals resurfaced or reconstructed 20,757 lane miles of road and improved or replaced 119 bridges in just the last four years.
And with an eye on the future, we're pulling into the passing lane and leaning into the cutting edge of mobility, using a section of Indiana interstate in a pilot program for autonomous vehicles. We're also developing the world's first wireless-charging highway segment, paving the way for continued innovation in our emerging vehicle technology sector.
Of course, it's not just our highways where the rubber meets the road.
That's why we're supporting local and regional trailblazing through the largest infusion of walking, hiking and biking trail funding in our state's history, linking our neighborhoods to each other like never before.
And we're working with our federal and local partners to fast-track two of the nation's most transformational commuter rail projects. Beyond reducing travel times, when the South Shore double track and West Lake Corridor are complete in just a few years, they'll further fuel growth and opportunity in Northwest Indiana, attracting $2.3 billion in private investment, 6,000 new jobs and $3 billion in economic impact in the decades to come.
And because the information superhighway continues to accelerate at the speed of light, we've made the largest broadband investment in in our state's history to provide everyone, everywhere in Indiana, with access to affordable, quality broadband – and the endless opportunities it affords – regardless of where they live, work or go to school.
Our Indiana infrastructure isn't just how you get here, it's how we maximize our mobility and build the bridge to the future. Whether we're constructing rail, roads, or trails, or investing in quality of local life, our goal is simple. It's all to ensure the "Crossroads of America" is the best place in America for all who call Indiana home – and all who want to – to grow as a person, as a family, or succeed in business, in a thriving community. 
Maybe you're a race fan with a need for speed, or maybe you're seeking the open road to accelerate toward your dreams. Either way, here's your invitation: Come push the pedal to the metal with us, here in Indiana.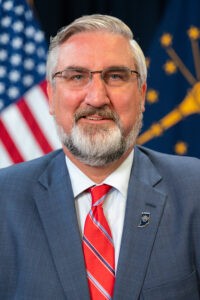 Governor Eric J. Holcomb is Indiana's 51st and championed the largest long-term infrastructure investment in state history.