NGA Winter Meeting Focuses on Innovation and International Cooperation
The National Governors Association meets twice a year to address pressing American problems and offer viable solutions
Founded in 1908, The National Governors Association (NGA) is the bipartisan organization of the nation's governors. Through NGA, governors share best practices, speak with a collective voice on national policy and develop innovative solutions that improve state government and support the principles of federalism.
Its members are the governors of the 55 states, territories and commonwealths. NGA provides governors and their senior staff members with services that range from representing states on Capitol Hill before the Administration on key federal issues to developing and implementing innovative solutions to public policy challenges.
The NGA met in February for its 110th Winter Meeting in Washington D.C. Over 40 governors and roughly 2,000 people attended. The event focused on how elected officials can partner with other nations to strengthen U.S. ties, and how emerging and future technologies will impact our world.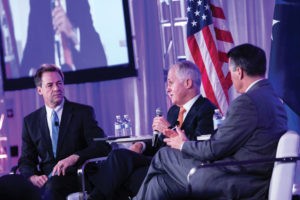 President Nana Akufo-Addo, the first leader from Africa to join an NGA Winter Meeting, gave an inspiring speech about the relationship between Ghana and the US.
"The time has come for a new form of relationship between Ghana and the United States of America," Akufo- Addo said. "We want our relations with the United States to be characterized by a substantial increase in trade and investment co-operation. This is the way to develop healthy relations between our two countries, and thereby strengthen our economies, and raise the living standards of our two peoples."
The Winter Meeting also addressed innovation through an interview between NGA Chair Gov. Sandoval and IBM CEO Ginni Rometty, in which they discussed the effect emerging technologies like artificial intelligence (AI) and blockchain will have on the future, especially highlighting how it can potentially disrupt jobs.
"Those of us who make these technologies, and you as a governing body need to think about this — [these new technologies] do have to be ushered safely into this world," Rometty said. "One hundred percent of jobs will change. Whether you're a doctor, engineer, school teacher or CEO, AI is going to change the way you work."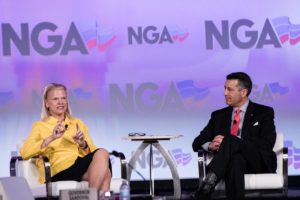 With this technology rapidly evolving and affecting our everyday lives, some leaders are quicker to take action than others.
"We have quite a few younger, entrepreneurial governors who don't look at these innovations in technology as something scary that immediately have to be regulated," said Executive Director and CEO of the NGA Scott Pattison to Leaders Magazine. "They look at how things can be approached to take advantage of these developments."
It was criticized that the topic of gun control (gun laws and school safety) was largely avoided—specifically in reference to the mass school shooting in Parkland, Florida in February in which 17 people died. However, aside from the NGA Winter Meeting and in interviews, governors on both sides have either backed some of Trump's gun proposals or have offered their own.
Other notable speakers included, but were not limited to: Australian Prime Minister Malcolm Turnbull; Ontario Premier Kathleen Wynne; Canadian Ambassador David MacNaughton; Mexican Ambassador Gerónimo Gutiérrez; and Swiss Ambassador Martin Dahinden.
The NGA will meet next in Santa Fe, New Mexico, July 19 to 22, for the 2018 Summer Meeting.