Nature 2.0: Green Infrastructure in 2020
Green infrastructure for healthier and more resilient cities
By Erik J. Meyers
Approaching the 50th anniversary of Earth Day, cities across America are making major investments in new or newly restored nature-based green infrastructure. A key factor behind this new interest is the increase in extreme weather occurrences that fluctuate between torrential downpours and extended drought. The changing climate combined with continued growth and development requires cities to think differently when planning for the future. We are rediscovering the value of nature in our urban and suburban areas and shaping innovative networks of nature-based green infrastructure to deliver multiple benefits simultaneously.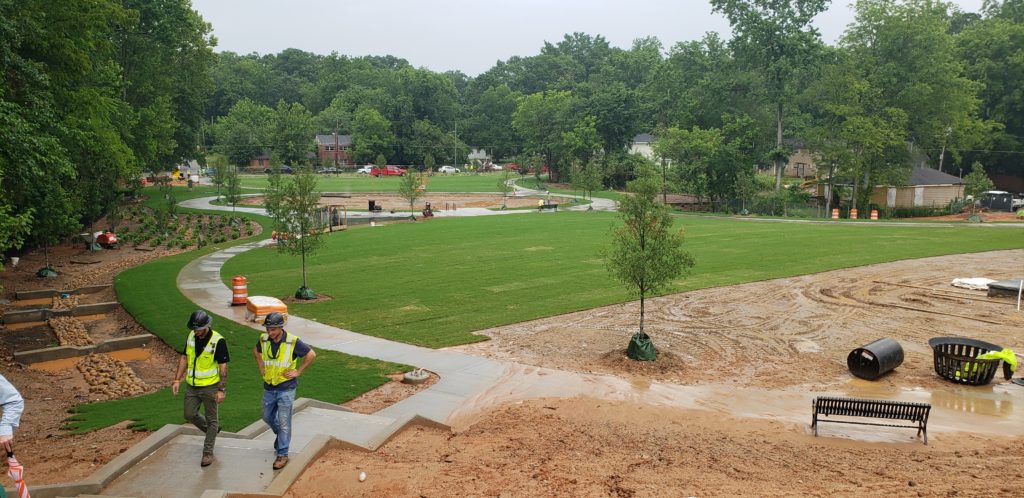 With more than 80 percent of the U.S. population living in urban areas, greenspace—even as modest as a neighborhood park, community garden or street-side rain garden—is welcomed for its enhancement of the quality of city life. Beyond looking good, these green features are working all the time. For example, a carefully constructed rain garden can hold and filter run-off from city streets and sidewalks while hosting native plants that sustain birds, honeybees and other pollinators. Urban tree wells, sometimes called stormwater planters, restore tree canopy, which reduces ambient temperatures, lowers heat loads on adjacent buildings, and cleans the air while the planters also hold and filter stormwater.
Scaling up urban green infrastructure to neighborhood parks further enhances the community benefits. These spaces are often the only open, public greenspace in many neighborhoods, and provide a community center where children can play safely while teens and adults can exercise or gather to enjoy the company of others. Parks can become the green and safe "third spaces," outside of home and work, that build community. They also offer opportunities for building larger, nature-imitating features such as underground cisterns that can hold considerable volumes of stormwater. These features reduce the blighting impacts of street flooding and damage to businesses and homes from excessive runoff due to intense precipitation that overwhelms existing outdated stormwater drainage systems.
Green infrastructure works in other ways as well. Urban neighborhoods that suffer from increased runoff and rising temperatures are often lower income areas or historically racially segregated communities with higher unemployment levels and a lack of job prospects. In a growing number of cities around the country, utilities, non-governmental organizations and philanthropic institutions are investing in training for skills needed to construct and maintain green infrastructure in order to create locally-based opportunities, especially for at-risk youth and residents re-entering the workforce. A national certification program has been initiated by a group of utilities and professional associations to credential a new cadre of workers for jobs that would remain locally based and core to community well-being.
And finally, and of critical importance, green infrastructure can empower and build community leadership and greater self-sufficiency. With active engagement of residents and representatives from neighborhood institutions and small businesses, municipal and other partners can work side-by-side in creating a community-guided plan so that green infrastructure meets core water management needs and provides important social and economic benefits at the same time. Green infrastructure needs to include the human dimension to be sustainable through the 21st Century.
Erik J. Meyers is the Vice President of Climate and Water Sustainability with The Conservation Fund. To learn more, please visit www.conservationfund.org.