A Mission to Prevent and Protect
The Department of Homeland Security (DHS) fulfills a vital role in maintaining the strength and security of our nation. Securing the nation from the many threats it faces is a ceaseless effort, requiring the unwavering dedication of more than 240,000 individuals.
The Department of Homeland Security conducts missions intended to: prevent terrorism and enhance security; manage our nation's borders; administer immigration laws; secure cyberspace; and ensure resilience in disasters. These missions and their associated goals and objectives speak to what it means to prevent, protect, respond, and to recover in order to ensure resilience and to facilitate customs and exchange.
Kirstjen M. Nielsen was sworn-in as the sixth Secretary of Homeland Security in December 2017. Secretary Nielsen is the first former DHS employee to become the secretary. Underlining the importance of this role and of the Department, President Trump's Fiscal Year 2019 budget requests $47.5 billion for the DHS. This increased spending reflects the administration's continued focus on the safety and security of the nation.
In the wake of the recent attack in Parkland, Florida, the DHS is stepping up its actions to better protect the nation's schools against gun violence, as well as other potential threats. DHS conducts training, exercises, and preparedness activities year-round to increase the security of schools across the country and the communities in which they are located.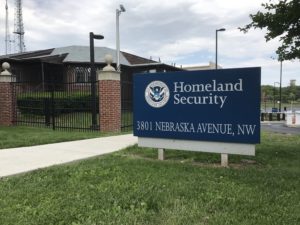 "No child should have to worry about their safety when in school," said Secretary Nielsen. "The Department's top priority is to keep the American people safe, and we are closely examining ways to better protect our nation's students and schools from gun violence."
To help coordinate the Department's wide range of activities, DHS has established a department-wide Executive Steering Committee that will drive DHS school security efforts, in support of state and local efforts, and ensure the resources and expertise of the Department are best leveraged to protect our nation's schools against attack.
To gain understanding and community awareness, the department is engaging school administrators, teachers, students, parents, and other stakeholders across the K-12 and college university communities, as well as law enforcement and other first responders who serve those communities, to raise awareness, communicate best practices, and promote no cost or low-cost security measures.
With leadership, advisory boards, committees, operational and support components, there are many parts at play within the department. The advisory panels and committees provide feedback and recommendations from engagement to privacy.
The DHS applies its resources and personnel to a variety of topics to serve its mission of protecting American land and people. From safeguarding civil rights and civil liberties to resilience towards acts of terrorism, cyber attacks, and pandemics, there is no area left untouched by the DHS.
For more information, visit http://dhs.gov.transportation.gov.