Massive Makeover in Milwaukee
The multimillion-dollar project improves safety on the busiest and largest interchange in Wisconsin
By Brian Alvarado
A major component in the freeway system development in Milwaukee, the Zoo Interchange has accommodated 350,000 vehicles per day during normal weekday operations. Originally created in 1963, the Zoo Interchange is Wisconsin's largest and busiest interchange located at the junction of I-41/I-94/8-894 in western Milwaukee County.
Early analysis shows the newly reconstructed Zoo Interchange is exhibiting operations benefits and resulting in significant improvements to traffic safety" –Bill Mohr, Design Supervisor, WisDOT
After nearly 60 years of operation, the freeway interchange structure grew deteriorated, outdated and was deemed unsafe — a massive makeover and re-imaging was sorely needed. The Wisconsin Department of Transportation (WisDOT) called on Forward 45 — a joint venture between HNTB Corp., Jacobs and Kapur & Associates — to help rethink the interchange in what was dubbed the Zoo Interchange Core and Adjacent Arterials Reconstruction project.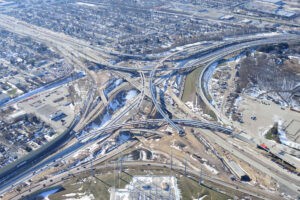 The complexity and execution of this mega project was more than enough to be crowned American Infrastructure's Road of the Year for 2020.
"To improve safety and freeway operations, the reconstructed system interchange includes right hand entrances and exits, collector-distributor roadways to remove merging and weaving vehicles from mainline traffic, and additional through lanes," said Bill Mohr, a design supervisor with WisDOT. "The closely spaced left and right hand entrance and exit ramps of the original design contributed to crash rates between two and five times higher than the statewide average."
The project owners, WisDOT, were led by design chief Roberto Gutierrez, design supervisor Bill Mohr and project manager Josh LeVeque. Forward 45 was led by project managers Andy Kowske of HNTB, Bill Stoeck of Jacobs and Timothy Anheuser of Kapur & Associates, the project also rebuilt four miles of adjacent arterial economic corridors where many of the 90,000 jobs within two miles of the interchange are located.
"The adjacent arterial reconstruction portion of the project provided efficient mitigation routes during freeway reconstruction and improved local neighborhood connectivity, access to jobs and pedestrian/bicycle accommodations," Kowske said.
Because the Zoo Interchange is surrounded by the Milwaukee County Zoo, State Fair Park, Milwaukee County Research Park, MRMC, UWM Innovation Campus, residential neighborhoods and major utility corridors, utilities were a major factor. Over 325 permits were issued to utility companies to perform more than $100 million worth of compensable relocations prior to and during construction. Advanced utility contracts were created to place encased water main and sanitary sewer facilities under the freeway.
Public Involvement
WisDOT and Forward 45 developed an extensive public involvement program to allow the community to not only have a voice, but also be integrally involved in the progress of the project.
"Early in the design phase, WisDOT received significant feedback focusing on reducing impacts and costs," LeVeque said. "As a result, the project team developed a new configuration known as the 'Reduced Impacts Alternative' that adhered to current standards but decreased commercial and residential building displacements from 28 to six, reduced acres of new right-of-way from 104 to 71 and lowered overall program costs from $2.3 billion to $1.7 billion."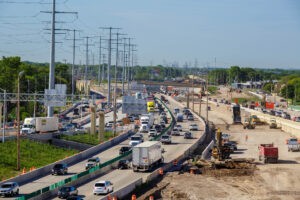 The program was a popular one with the public, molding its opinion toward a positive direction by giving them a voice in the process.
Additionally, the project team worked closely with adjacent stakeholders so they had a voice with the design: the Milwaukee County Zoo, State Fair Park, Milwaukee County Research Park, Milwaukee Regional Medical Center (MRMC), UWM Innovation Campus, American Transmission Company (ATC), We Energies, multiple schools, churches, and residential neighborhoods.
Neighbors adjacent to the noise barriers participated in committees that determined visually appealing treatments for noise barriers, and retaining walls incorporated a form liner replicating the native limestone cut in an ashlar pattern utilized widely throughout adjacent communities' parks and residents.
"A community sensitive solutions (CSS) committee was formed to work with the design team to identify key visual and historical themes that defined the community," Stoeck said. "The committee assisted the design team with the selection of landscape plant material, special seed mix to attract butterflies, community wayfinding signage and unique sign support details."
Staying on Schedule
The megaproject began work in 2012 and saw completion in 2018. Staying on schedule was very critical for the development team due to the Zoo Interchange's high traffic volumes and multiple contracts in progress.
"With an accelerated schedule, Forward 45 incorporated a number of innovative ideas into the project to keep on schedule and budget, including quarterly budget estimates, over-the-shoulder QA/QC reviews, standardized structure designs, contractor workshops, and working with a design manual that would promote consistency," Anheuser said.
Through the seven years of construction, contractors were able to meet all critical interim schedule milestones that also contributed to public trust. Businesses such as the Milwaukee County Zoo, the MRMC, and State Fair Park remained open for business.
The Outcome
After completion, traffic volumes, travel times and crash data were gathered to assess safety and operations of the project.
The increase in freeway volume during the post-construction period suggests that the additional capacity created by the project is able to carry higher traffic volumes during peak periods when demand is the greatest. Additionally, the new interchange had improved travel times and reduced crashes from pre-construction levels, with crashes decreased by approximately 34%.
"Early analysis shows the newly reconstructed Zoo Interchange is exhibiting operations benefits and resulting in significant improvements to traffic safety," Mohr said.
All in all, the project was deemed successful, as the WisDOT realized approximately $36 million in let savings, and the total construction was approximately $13 million less than the engineer's estimate. The project was built in 37 contracts created and sequenced by the design team to fit within multiple state budget cycles.
In total, the team designed 63 bridges, three tunnels, more than 100 retaining walls, 31 noise barriers, 56 sign structures and six stormwater management ponds.
"This aesthetically pleasing interchange will safely and conveniently fulfill transportation needs for many years to come and has left many stakeholders with a sense of pride in ownership," Mohr said.
Brian Alvarado is the editor of American Infrastructure Magazine. He can be reached at brian@builder.media.