Main Street Makeover Wins APWA
To preserve and enhance the economic vitality of downtown Concord, New Hampshire, the Main Street project was developed for residents and visitors alike
By Carina Calhoun
Following the downtown Concord, New Hampshire's last major improvements in the mid-1980s and early 1990s, several studies were completed over the past 20 years that have presented opportunities, planning visions, and design concepts in an effort to improve the downtown area of Concord.
As with most urban downtown roadways that have been designed and constructed primarily for auto and truck capacity, Main Street was a four-lane urban thoroughfare with on-street parking, unprotected mid-block crosswalks and narrow sidewalks.  Several minor side streets had very little sight distance from building corners that created blind spots to pedestrians walking along the sidewalk. Because of the narrow sidewalks, a number of businesses were not accessible. Edward Roberge, PE, City Engineer for the City of Concord, said, "Without significant improvements for the last 30-plus years, downtown investment was stagnant and Main Street business vacancies hovered around 14 percent to 16 percent.  Everyone recognized that changes needed to be made—just what those changes were remained at debate."
Concord's Downtown Main Street Improvement Project focuses on both livability and safety. With guidance from Concord's complete streets policy, design for this transformative project was developed through a comprehensive and balanced public process where the community and stakeholders collaborated to recognize multi-modal transportation needs, innovative design appropriate for Concord, and the creation of a sense of destination and place.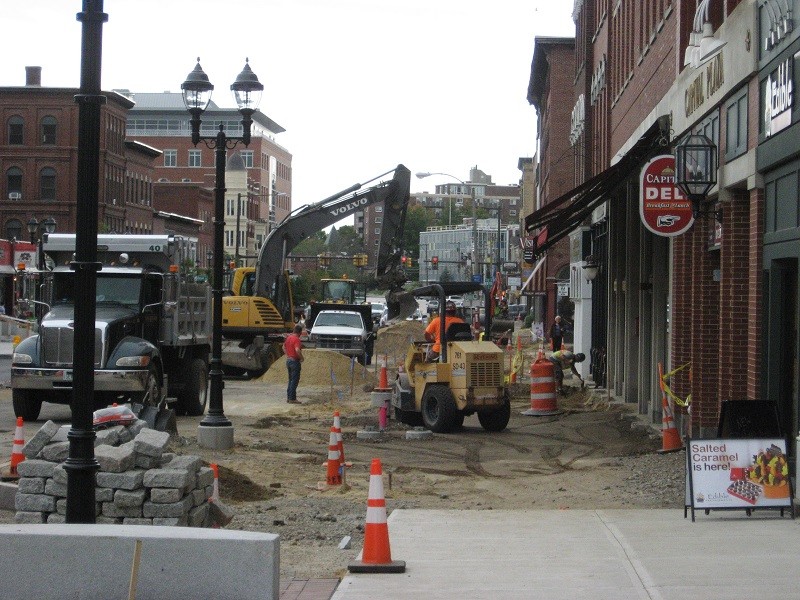 According to Roberge, the project converted an existing 4-lane downtown urban thoroughfare with on-street parking, narrow sidewalks, and mid-block unprotected crosswalks into a complete street boulevard with a unique "super-two" lane configuration and wide sidewalks.  The changes were made to better accommodate bicycles, motorists, pedestrians, and public transportation with primary goals to improve the downtown economy and livability.
"One of the project's most significant aspirational goals was to provide opportunities for universal accessibility to all downtown businesses where possible," said Roberge. Of all the business entrances along Main Street, 17 locations were not barrier-free, restricted by steps or steep slopes. Narrow sidewalks and limited space did not allow for changes to accommodate accessible entrances within the public space.
Not only is Downtown Concord registered as a historic district, some of the buildings are registered individually on the National Historic Register, prompting NHDHR review.  "Collectively, the project design team, property owners, and NHDHR worked closely to find best solutions to provide access," stated Roberge. "In the end, accessible entrances to 14 of the 17 business entrance locations were added into the sidewalk streetscape design and built.  Today, those businesses enjoy sustainable barrier-free access."
"Some say [this project] was a renaissance of sorts where a surface transportation improvement project took on a number of critical needs and challenges of the community, region, and nation by remaining focused on complete streets solutions and all of the benefits they have to offer the community," said Roberge.