Louisville Metro Sidewalk Inventory
Louisville Metro Public Works provides connectivity.
By Dirk Gowin  PE, PLS, PTOE
Sidewalks are an integral part of our infrastructure that provide connectivity to public services for the broadest range of our residents. The Americans with Disability Act (ADA) requires that all pathways in the public right-of-way, such as sidewalks, be accessible to all people, regardless of their age or disability.  
Ensuring that our pedestrian facilities are accessible to everyone is the goal of Louisville's ADA Transition Plan through removal of barriers, particularly vertical displacements in the sidewalks and missing curb ramps. Curb ramps are replaced or improved through Louisville's annual paving program. The extent of barriers in the sidewalks was unknown until an inventory was completed in 2018.
"Ensuring that our pedestrian facilities are accessible to everyone is the goal of Louisville's ADA Transition Plan…"
Louisville Metro Council amended the sidewalk ordinance in 2010 bringing responsibility for sidewalk repairs to Louisville Metro Public Works rather than the adjacent property owner. Unfortunately, no condition inventory was available that identified the extent of our needs for a sidewalk network of more than 1,800 lineal miles. This resulted in our initial year's budgets being woefully inadequate. Our annual budget for sidewalks continued to grow until peaking at $2M each year.
By June 2022, Louisville Public Works intends to complete all sidewalk complaints that were reported to our Louisville Metro 311 app, a place to submit service requests immediately, prior to December 2018 with conditions ranked four or five (the worst conditions). 
Moving forward, Public Works intends to utilize a comprehensive sidewalk inventory that was conducted in the summer of 2018 to take a more proactive approach to sidewalk repair and prioritize projects based on a series of criteria that will result in a much greater impact to the overall pedestrian mobility and accessibility. 
Unfortunately, complaint driven prioritization underrepresented the low-income areas of our community, which are more dependent on a strong sidewalk network to gain access to transit, schools and work.  
This slideshow requires JavaScript.
As our annual budget for sidewalks continued to grow until peaking at $2 million each year, Louisville Public Works decided it was a good idea to depart from a complaint-driven prioritization of sidewalk repairs. 
Our team then hired a local engineering firm, Qk4, who partnered with PathVu, a company focused on universal design for accessibility that helps all pedestrians, to provide an inventory of all of our sidewalks and to provide a GIS integrated inventory of our sidewalks. 
PathVu has developed a three wheeled pushcart that utilizes lasers, high resolution cameras, and GPS to map vertical displacements, cross slopes, running slopes and roughness along the pedestrian path. The survey was completed in summer of 2018 and provided a complete inventory of over 1,800 lineal miles of sidewalks which allows prioritization by block and consideration of equity.
Some of the considerations we are looking to utilize in prioritizing locations to repair sidewalks aside from current conditions include pedestrian demand, environmental justice locations, proximity to mass transit routes, hospitals, schools and libraries. This process will also focus on repairing entire blocks of sidewalks where the conditions are rated the worst, instead of repairing short sections at a time.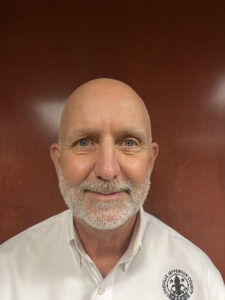 Dirk Gowin, PE, PLS, PTOE is the Division Manager at the Louisville Metro Division of Transportation.