Leading the Way for a Future of Infrastructure Equity
IIJA presents numerous opportunities for higher levels of infrastructure investments in underserved communities
By T.C. Broadnax
Environmental and infrastructural racism and classism was built into United States cities from the country's founding. A historical tradition of inequitable distribution of resources across race and income level lines has persisted as a modern-day practice and communities of color and working-class people disproportionately suffer from the concrete consequences of these policies. The City of Dallas, Texas is no exception to this rule. According to the 2019 Dallas Equity Indicators Report, Black and Hispanic households in Dallas are around three times more likely than white households to lack internet access. The report also found disparities in transit access for transit-dependent residents of Dallas.
Government agencies, federal, state and local alike, have been developing solutions to the inequities that plague American infrastructure, including the Infrastructure Investment and Jobs Act (IIJA) passed by Congress in November 2021. IIJA is a five-year authorization of new and existing grant programs aimed at the nation's core infrastructure needs, including transportation, airports, water/wastewater, broadband, cybersecurity and addressing climate change. 
IIJA is certainly not a catch all solution for fixing America's and Dallas' infrastructural inequities. Most notably, its reauthorization of core federal surface transportation programs is largely a status quo bill that will funnel the bulk of funding to state departments of transportation, many of which will continue to focus on highway expansion projects that historically negatively impacted minority and low-income neighborhoods and helped spur the depopulation of our nation's cities. 
Nevertheless, IIJA presents numerous opportunities for higher levels of infrastructure investment in marginalized communities, especially via its expansion of funding for competitive surface transportation grants, its new surface transportation formula grant programs focused on carbon reduction and climate resilience, its massive investment in broadband and its infusion of funding into water and sewer infrastructure programs. 
The law's robust workforce development provisions and the Administration's clear intent to implement IIJA competitive grant programs using the principles of its Justice 40 Initiative and other similar policies should help bolster efforts to target investment to marginalized, historically underserved and disproportionately impacted communities. The recent enactment of the Inflation Reduction Act, which creates a Green Bank and a wide array of tax incentives and programs to promote clean energy investment in historically underserved and marginalized communities, should further help these efforts. 
The City of Dallas has been working to submit competitive grant applications created by the IIJA and submit comments to federal agencies regarding the development of plans and new programs. The city has submitted a number of grant applications intended to increase equity and sustainability in our infrastructure. We hope to prevent significant impacts to transportation systems during transportation construction and secure funding to increase water and energy efficiency for water systems. 
The city is seeking funding to repair our bridges in poor condition, as well as to fund transportation projects that equitably and safely restore community connectivity. In order to ensure connectivity for unserved and underserved communities, Dallas will seek funding to enable local broadband networks to connect to national and regional networks for increased speeds and stability. Our city will also pursue funding for assessments and cleanups of contaminated properties for redevelopment.
In addition to these efforts, Dallas has submitted comments to federal and state agencies to further encourage equity in the development of infrastructure policies. Our comment to the Federal Communications Commission addressed rules to facilitate equal access to broadband, prevent digital discrimination and increase transparency of the public complaint process. We provided comments to the Texas Broadband Office regarding Broadband Equity, Access & Deployment (BEAD) funding. 
Finally, Dallas provided comment to the Texas Department of Transportation regarding National Electric Vehicle Infrastructure Plan (NEVI) funding. Dallas' commitment to equity comes not only from the funding we seek for our city, but from our dedication to advocating for just and sustainable policies and procedures nationwide to uplift our fellow municipalities.
Neither Dallas nor any other city can undo structural harms of the past. But Dallas is committed to leading the way for a future of infrastructure equity. To secure it, we, as city leaders and staff, must take a long, hard look at patterns and systems that have caused resource inaccessibility for our residents and take preventative action against their repetition and reinstatement. We must commit words to actions as we build a city that moves, provides for, and protects us all.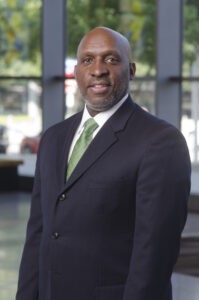 T.C. Broadnax is the City Manager of Dallas, TX.