Keeping Water Crystal Clear
Oak Harbor Clean Water Facility provides clean water for a better ecosystem
The Oak Harbor Clean Water Facility (OHCWF) located in Washington state is much like the children's fairytale of a little engine that could. It produces far above its weight-class in terms of what it has accomplished for Oak Harbor city and the environment—a new, state-of-the art plant producing high quality effluent, discharging no disinfection by-products to Puget Sound, and providing sustainable reuse of Class A biosolids.
The Clean Water Facility was substantially complete prior to the COVID-19 pandemic and not significantly affected in regards to construction. However, since the water is diligently purified, its functions help keep maintain local access to clean water. The City of Oak Harbor also continues to provide necessary services throughout the crisis.
The facility is situated in Windjammer Park, on the shores of Oak Harbor. It began operations in November 2018, and since then, it has utilized technological updates to modernize the purification process, integrating it with the surrounding the environment while reducing its visual and olfactory impacts. At a cost of $125 million to construct, the plant not only cleans 100 percent of Oak Harbor's wastewater, but also serves as a testament to the push for a resilient future.
"The Oak Harbor CWF addresses failing infrastructure and sustainably protects our environment for future generations," said Plant Project Manager Brett Arvidson, who's spent his entire career building sewage treatment plants. "It is a shining example of what can be done with a mixture of planning, creative engineering, and determination."
The treatment for water is a thorough process. First, untreated wastewater flows into the Clean Water Facility from homes and other buildings in Oak Harbor. At the headworks building of the wastewater treatment plant, sticks, ricks, plastic, and other big particles are removed. Then, wastewater is swirled in the vortex grid chamber, and grit (the size of sand) is filtered out. Water then flows into circular aeration basins where microorganisms consume part of the waste during a three to six hour bath; air is blown over the basins to keep the temperature just right for microorganisms. Afterwards, wastewater flows through an even smaller filter, removing microscopic solids from the liquid, which is then dried on a conveyor belt in the solids building and turned into fertilizer. The fertilizer is exported to use for things like community gardens and golf courses. Finally, the water gets its last phase of treatment going through a pipe with UV light that kills bacteria. Clean water is released to Oak Harbor Bay through the outfall pipe. All this can be learned at the Clean Water Facility's interpretive center created for educational purposes that is a part of of the project.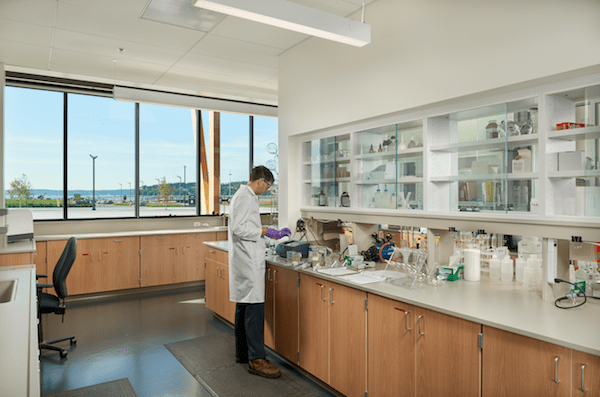 Since the process is computerized, only seven people work at the plant. The entire plant can be controlled by a few computers at the control center or, hypothetically, from a laptop on a tropical island.
Outstanding Modern Architecture
This project provides a groundbreaking approach to integrating economic development, recreational uses, and wastewater treatment into an urban environment. The facility's architectural design was intended to influence new development within Oak Harbor's downtown commercial corridor. The project team used wood materials and angular lines inspired by Oak Harbor's Pacific Northwest architecture and design. The level of sophistication for delivering this complex project is something not typically tackled by communities the size of Oak Harbor. As a result, this was a bold vision that took the dedication of many design professionals and contractors to turn into a reality.
Incorporating green building technology, the facility engages and contributes to its urban site while achieving sustainability measures adapted to Washington's updated energy code compliance. The Administration Maintenance Building, along with Windjammer Park, is LEED Silver certified. Harvesting the heating and cooling from the plant processes, the team designed a sustainable system that increases the mechanical efficiency of the buildings. All processes of the Clean Water Facility take place in covered buildings.
Due to the site's limited size, a significant portion of the secondary treatment and headworks building needed to locate 25 feet below grade. The site constraints required creativity to use the land wisely for optimized functionality. The City chose membrane technology, which would minimize footprint and result in a high quality effluent. The City also selected UV disinfection, negating the need for various forms of chlorine for disinfection, which produce disinfection by-products, and the use of chlorine neutralizing chemicals in the final effluent. Thermal drying of solid waste was also selected to produce Class A biosolids, which can be used anywhere at any time for fertilizer or soil conditioner and does not need to be shipped to a landfill or composting facility over 300 miles away in Eastern Washington.
Due to site constraints, seismic and geotechnical risks, residential/commercial interest at the fence line, and archeology, completing the project was a complex task.
"Oak Harbor is a culturally rich location with over two thousand years of human habitation. The Clean Water Facility is located on a known archaeological site, and inadvertent discoveries could have created delays or redesigns, costing millions of dollars," Arvidson said.
While preliminary investigations and final facility siting analysis tried to minimize risk, a high potential remained for archaeological discoveries.
To avoid adverse impacts, the City entered into a Memorandum of Agreement with state agencies, the EPA, and seven affected tribes to guide construction activities and resolve discoveries. Using the Construction Management at Risk (CMAR) process, the project team phased earth- disturbing activities to explore areas of high risk without affecting the schedule's critical path.
Many people were involved in the successful delivery of the CWF project. The outfall was designed by Cosmopolitan Marine Engineers (CME). Environmental Science Associates (ESA) developed permits and biological site investigations for the outfall, CWF, and Windjammer Park. GeoEngineers completed geotechnical investigations and provided recommendations critical to the success of the CWF. Michael Willis Associates (MWA) completed planning charrettes and an amazing architectural/landscape design for the CWF and Windjammer Park. WRK Engineers and Interface Engineers designed the structure and provided LEED Silver mechanical, electrical, and plumbing systems for the CWF's Administration Maintenance Building and Windjammer Park. Webster Environmental provided assistance with the odor control design, and Harmsen and Associates completed CWF surveying and the basemap. David Evans Associates completed the survey, basemap, and stormwater calculations for Windjammer Park and EnviroIssues (EI) managed a workshop-based series of public meetings and charrettes along with project communication and messaging from concept through construction.
The Clean Water Facility was completed on-budget and on-schedule in a red-hot construction market Hoffman's complex phasing plan and self-perform expertise allowed for an aggressive schedule, cost-efficient construction, and a much higher quality of workmanship.
With plans for further commercial development and new public use facilities along the perimeter of the site, this project provides an innovative approach to integrating economic development, recreational uses, and wastewater treatment into an urban environment. The new CWF structure has become an iconic part of Oak Harbor's waterfront.