Infrastructure Investments: Laying the Foundation for Economic Development
Fresno's forward thinking economic development plan pays off
As City Manager for the fifth-largest city in California, my goals are to deliver on the key initiatives of Mayor Lee Brand and our Fresno City Council that are concentrated on growing and improving our community. Several of these key initiatives — economic development, prosperity, and quality of life — are driven in part by major infrastructure investments by the City of Fresno. Finding the dollars to re-invest in our aging infrastructure and to also provide capacity for economic development has not been an easy task, but our City leadership team is successfully implementing several hundred million dollars in capital improvement projects that deliver on City priorities. With our General Fund resources needed to focus on adding police officers, deferred maintenance of City parks and facilities, as well as growing a General Fund reserve, we've had to address our infrastructure needs with other revenues.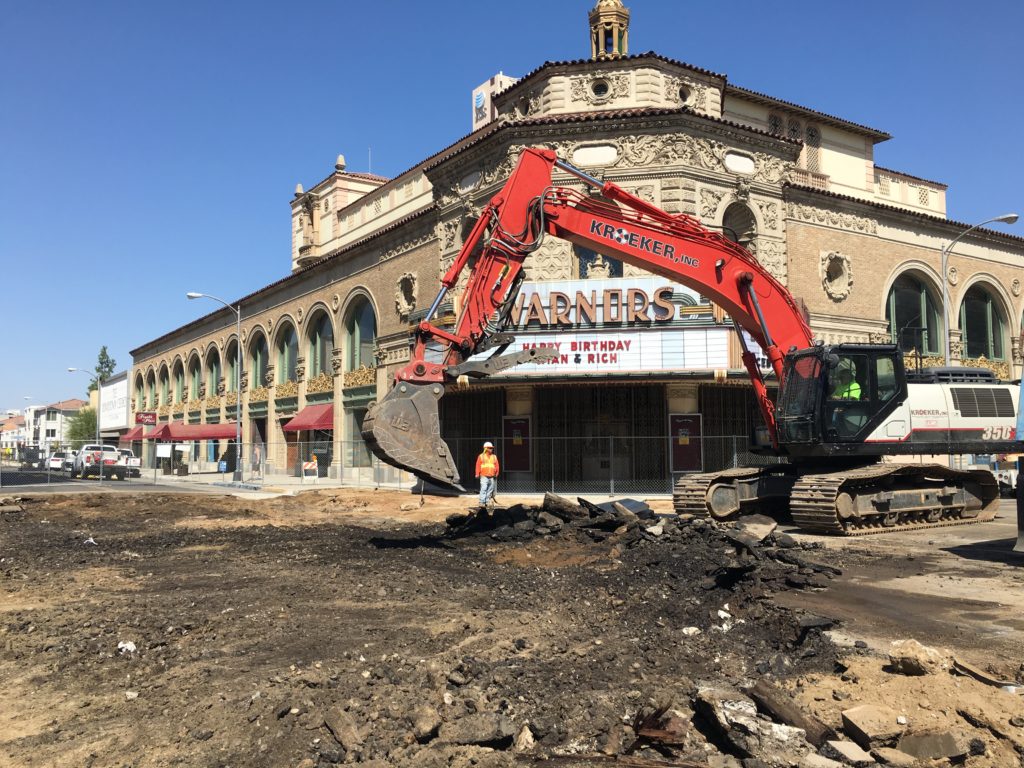 Recharge Fresno
Recharge Fresno, the city's program to improve the pipelines and water system facilities that will capture, treat, and deliver water to Fresno homes and businesses, including surface water from the Sierra Nevada Mountains, is now on its home stretch in 2018. As the largest public works project in the city's history, the $429 million program included a $186 million Southeast Fresno Surface Water Treatment Facility, accompanied by $243 million in raw water and finished water pipelines, water system renewal projects and groundwater recharge projects. The Recharge Fresno project significantly reduces the city's reliance on groundwater, allows for recharging and restoration of our aquifer, and provides a sustainable water supply for both quality of life and a thriving economy. The city was able to overcome challenges in project delivery, retaining capable teams of engineering consultants and construction managers to complete the work on-time and on-budget.
Bus Rapid Transit
On February 22, 2018, we celebrated the opening of Bus Rapid Transit (BRT) on our Blackstone Avenue and Ventura/Kings Canyon corridors, establishing a new system to meet the region's growing transit needs. Through a $39.5 million grant from the Federal Transit Administration and $15.5 million in state and local funding, the city has constructed 51 stations along a 15.7-mile route, including transit signal priority and station platforms with curb bulb-outs as well as ticket vending machines to enable quick and convenient transit service. The past few years have seen 900 transit-oriented, multi-family units approved in mixed-use projects along these corridors and in downtown, with another 259 units in the pipeline! Accompanied by a new General Plan and zoning to allow for higher-density corridor mixed-use developments, the BRT corridors and Downtown Fresno are poised for further private investments, anchored by high-quality transit service and an environment which becomes more walkable and bike-able with every new project.
Transformative Climate Community Grant
On January 29, 2018, the State of California Strategic Growth Council awarded $70 million to the City of Fresno under the Transformative Climate Community grant program. These funds will be utilized in downtown, Chinatown, and Southwest Fresno to implement projects that have been identified through community-driven planning processes to achieve significant greenhouse gas reduction benefits, improve public health and the environment, and expand economic opportunity in these parts of our community.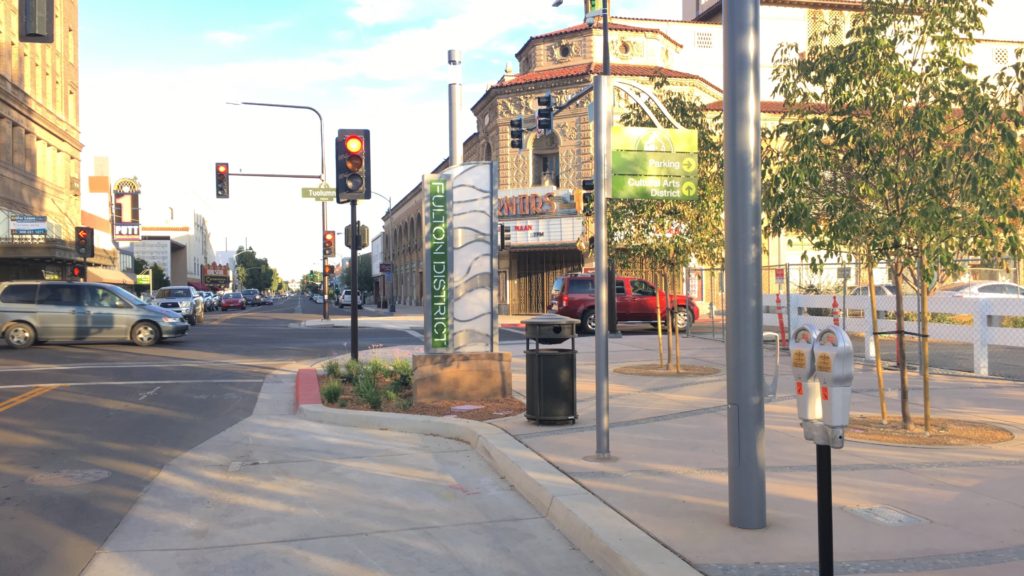 Re-opening Fulton Street
In the heart of downtown, on our historic main street, we had a grand celebration in October 2017, with the re-opening of Fulton Street to traffic. As one of nation's first outdoor pedestrian malls, the Fulton Mall was closed to vehicles in 1964. What soon followed was a loss of customers for businesses and the decline of the business district, as new development occurred at the edge of the growing city. Through a $15.9 million TIGER grant and $3.4 million in local Measure "C" transportation funds, the city delivered this $23.7 million project within budget. The project included the restoration of all 32 public art pieces and the reconstruction of 16 fountains, decorative concrete sidewalks with curvilinear aggregate bands matching the original Fulton Mall, LED lighting, and unique pedestrian-scramble intersections to provide a truly complete street. This major revitalization project is bringing back businesses and people to the heart of our downtown. Nearby housing developments, new offices, and new retail spaces are restoring Downtown Fresno in the middle of what has often been seen as a freeway-oriented, suburban community.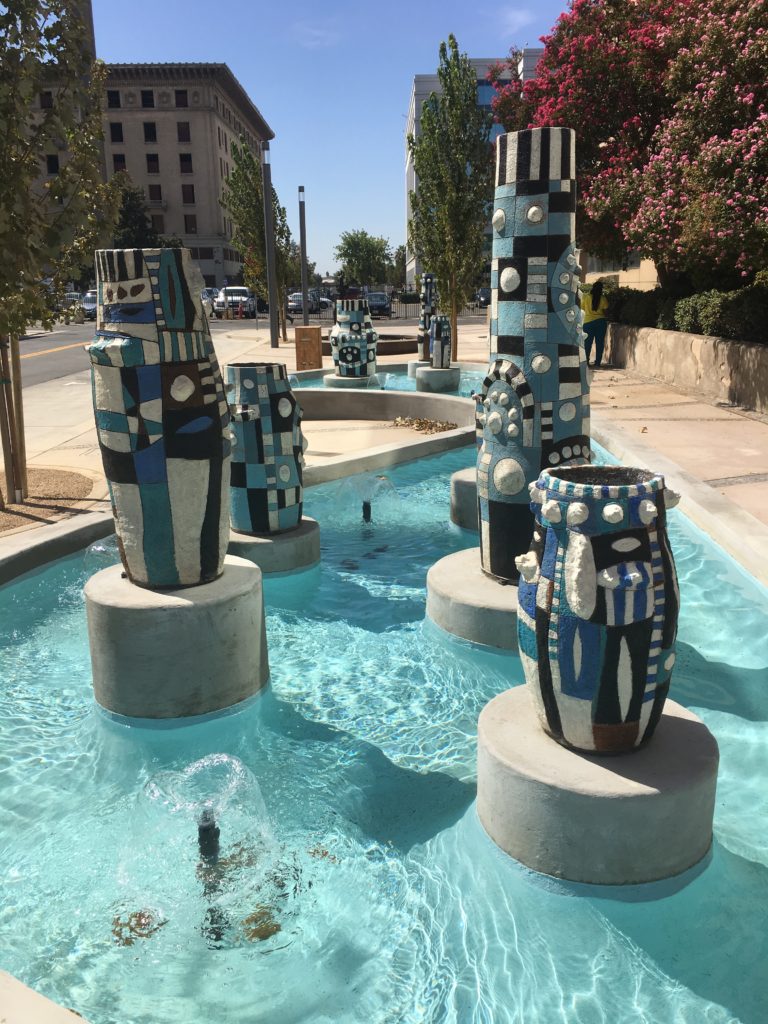 Further Investments
In the meantime, the City of Fresno continues to invest in infrastructure to attract major industrial employers to our community. In our South Fresno industrial area, with convenient access to State Highways 41 and 99, the city of Fresno is in the midst of major infrastructure improvements to sewer, water, streets and freeway interchanges, an investment of more than $100 million in public infrastructure. By further providing incentives to new job-generating developments, we have successfully brought Amazon and Ulta fulfillment centers to Fresno. Coupled with a proposed heavy maintenance facility for the California High-Speed Rail project, our southern industrial area is primed for 5,000 new jobs for the region. And, speaking of high speed rail, this major project for the State of California began construction in Fresno a few years ago and is on its way to grade-separating 10 major railroad crossings in our community, as well as designing the first-ever high speed rail station in the nation in Downtown Fresno.
With an aggressive plan for economic development, streamlined development permitting and key infrastructure investments throughout the City of Fresno, things are getting better, here, in the heart of California's Central Valley. Working together with public and private partners, we're building a foundation of success.
Wilma Quan-Schecter is the City Manager for the City of Fresno. She can be reached at wilma.quanschecter@fresno.gov