Infrastructure Fit for the Future
Oregon is making historic once-in-a-lifetime infrastructure investments to create an equitable, resilient, and greener future.
By Governor Kate Brown
Since I became Governor of Oregon in 2015, our state has consistently ranked as one of the best in the country for infrastructure—for renewable energy usage, investments in improving public transit, creating bike and pedestrian-friendly communities, internet access and the quality of our highways, roads and bridges. 
However, due to structural racism and systemic disparities, many of our Black, Indigenous, Latino, Latina, Latinx, Asian, Pacific Islander, immigrant, refugee, Native American, Tribal and rural communities have historically been left behind when Oregon has made infrastructure investments.
Infrastructure is critical to supporting the way Oregonians live, work, travel and stay active. Our highways, ports and rail lines move people to work and goods to markets. Our bridges connect communities and states. Our regional electric transmission system is key to a clean energy future. President Biden's bipartisan infrastructure law will allow us to make historic investments; bringing affordable broadband to communities, rebuilding our roads and bridges and building Oregon's resilience to natural disasters. 
I'm committed to ensuring Oregon makes these investments through an equity lens; lifting up our most vulnerable communities and addressing decades of historic wrongs on our communities of color. Future infrastructure investments must include equitable access throughout our state to good-paying jobs, affordable broadband, reliable public transit and other essential resources.
"I'm committed to ensuring Oregon makes these investments through an equity lens; lifting up our most vulnerable communities and addressing decades of historic wrongs on our communities of color."
We must think beyond traditional infrastructure investments. The past two years of remote work, telehealth and online learning has shown that reliable internet connectivity is vital. The internet has become the platform on which the world works, and broadband connectivity is becoming the universal common denominator. 
Yet, many Oregonians in rural areas still lack access to reliable broadband. Even in Oregon's urban centers, broadband is not affordable to low-income Oregonians. Through my budget, I made a $118 million investment in statewide broadband expansion, with a focus on providing access to underserved communities who have been disproportionately impacted during the pandemic. 
It also ensures every school across Oregon is connected. Additionally, Oregon is estimated to receive a minimum $100 million from the infrastructure package to help provide broadband coverage across the state.
Oregon is making historic, once-in-a-generation investments in transportation to help further the
things that Oregonians value, such as a vibrant economy with good jobs, choices in transportation, a healthy environment and safe communities, focusing on supporting Black communities that have been historically, negatively impacted by transportation investments.
Oregon's roadways face challenges with increasing population growth and seismic resilience. The state has made significant investments in transportation infrastructure. However, additional federal investments of nearly $200 million for public transportation and $1 billion for roads, including $268 million for bridge repairs, will help us go even further. 
Oregon is renowned for its natural beauty, and our natural resources are an important part of our economy. Oregon experienced one of the most destructive fire seasons in our state's history in 2020. Over 2,000 wildfires destroyed more than 1.2 million acres, including more than 5,000 homes, businesses and other structures. The fires displaced thousands of Oregonians, scorched landscapes, impacted watersheds, damaged state parks and resulted in nine fatalities.
In 2021, extreme weather events hit our state. Winter ice storms caused extensive damage and resulted in massive power outages. In summer, we reached a record-breaking 116 degrees in Portland for three consecutive days. These types of natural hazards are more destructive and are happening with increased frequency. Over the last 10 years, Oregon has experienced 12 extreme weather events, costing the state billions in damage.
Climate change poses the most significant threat to our economy, environment and way of life. The impacts hit low-income communities, communities of color and rural communities the hardest. Oregon continues to lead on environmental stewardship, while making historic investments in energy efficiency and renewable energy development.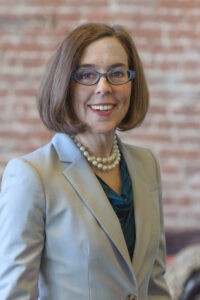 Creating jobs in the green energy sector, developing a more resilient electric grid and driving down carbon pollution from transportation is a crucial part of how Oregon will get to a low carbon future while making our economy more competitive and righting environmental injustices.
Given the interrelated and interconnected nature of social, economic, environmental and built systems, Oregon must work to build resiliency to multiple hazards as our population continues to steadily grow. Now is the time for action to ensure Oregon's infrastructure is fit for the future.
 Kate Brown is Oregon's 38th Governor.