Iconic Infrastructure: Port of Seattle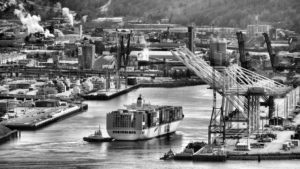 For over one hundred years, the Port of Seattle has been the engine driving much of the economic growth of the Pacific Northwest. The creation of the port was first approved by county voters in 1911 with the intention of achieving public control over the waterfront of Seattle and to take advantage of its economic potential.
What initially began as a home port for local fishermen has developed and expanded over the decades into a major hub for global trade and container shipping. In the wake of World War II, the U.S. Department of Commerce designated the port a foreign-trade zone, and expansion has been continuing ever since. The construction of additional terminals and improvements to the port's operation have brought it great success over the years.
In 2014 it was announced that the Port of Seattle would operate jointly with the Port of Tacoma, which led to the creation of the Northwest Seaport Alliance, and subsequently the third-largest cargo gateway in the United States.
In addition to being a critical piece of shipping infrastructure, the primary functions of the port are to provide fishing and commercial moorage, to serve as the launch site for Cruise Seattle, and to maintain the marinas for citizens to enjoy. The port also works to help preserve the waterfronts environmental integrity, and has multiple waterfront parks open to the public.
More recently, the port's commission has been calling for a faster and more robust transition to renewable energy in the state of Washington. The Port of Seattle wants to see a state-wide enactment of a Clean Fuels Standard, which could greatly reduce the amount of carbon emission produced in the state.
While the Port of Seattle was not immune to the economic impact of the novel Coronavirus outbreak this year, it does plan to move forward with implementing $9.5 billion worth of improvements to its marine terminal facilities and the Seattle- Tacoma International Airport over the course of the decade. This investment is intended to address everything from new construction and improvements to environmental protection.
With its commitment to sustaining economic growth and to helping the region as a whole, the Port of Seattle will surely continue to be a major force in the Pacific Northwest for the business community and the public at large.