Iconic Infrastructure: George Washington Bridge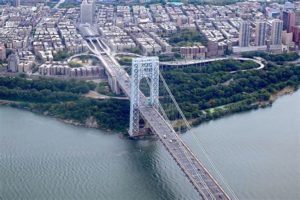 The history of the George Washington Bridge across the Hudson River began with an idea first proposed in 1906. It took patriot General George Washington less than one day to cross the Delaware River with his 2,400 troops in 1776. Yet it took 19 years for the state legislatures of New York and New Jersey to finally approve planning and constructing the soon to be named George Washington Bridge. Citizens of these states had to endure five to six-hour waits to board the only ferry that would allow them to cross the Hudson River. This historical landmark changed that.
At this time, building a piece of infrastructure as complicated as this was an extreme challenge. Finding the right design stumped numerous engineers. It wasn't until the talented swiss architect Othmar Ammann proposed a new design in 1923 which was unlike anything ever built. The bridge was commissioned by the Port of New York Authority, with a budget of $60 million. This provided thousands of jobs and stimulated economic growth for New York and New Jersey. The construction started in 1927 and was completed in 1931, eight months ahead of schedule. People were eager to make this bridge apart of their daily commute. The first day it opened, 57,788 vehicles crossed over. 89 years later, the bridge is the busiest in the world, carrying more than 103 million cars per year. Spanning 3500 feet, the George Washington Bridge was the longest suspension bridge in the world. It was truly a marvel for its time.
Ever since then this bridge has never seen a dull day. In 1965 a plane made an emergency landing on the top level of the bridge. There have been multiple incidents on the bridge involving the spillage of Bolivian beer, manure, and over 14,000 pieces of frozen chicken. For a piece of infrastructure used to such a high extent wear and tear is inevitable. In December 2011 the Port Authority created a $15.5 million budget to repair the bridge, creating over 3,400 jobs.
The significant history of the George Washington Bridge lures people from across the globe. This bridge was built during the most severe economic depression in history and is a symbol that even in the worst times, America will always be able to create miracles and stand united.
New York Governor Franklin D. Roosevelt, future president of the United States stated "This will be a highly successful enterprise. The great prosperity of the Holland Tunnel and the financial success of other bridges recently opened in this region have proven that not even the hardest times can lessen the tremendous volume of trade and traffic in the greatest of port districts."