A New Route Comes to Indiana
Construction on the final section of the I-69 project brings Hoosiers closer to an improved driving experience. 
By Alexa Moreno Perdomo
Photos Courtesy of I-69 Finish Line
With thousands of Hoosiers commuting in, out and around different cities, roads and interstate routes are essential to life in the state of Indiana. With a new roadway project called the I-69 Finish Line starting construction, a safer, faster and more convenient way for people to travel is within sight.
This is the sixth and final part of the new 142-mile Interstate 69 project, which was developed by a team that includes HNTB, WSP, CMT, Lochmueller, and the Indiana Department of Transportation (INDOT). Additionally, the project will link two of Indiana's most populous cities, Indianapolis and Evansville, as well as Indianapolis to Martinsville. It will include 26 miles of new interstate and more than 35 miles of local access roads. 
With the help of Governor Eric Holcomb's Next Level Connections program, which accelerated the timeline by three years, once completed, this roadway construction project will "reduce existing and forecasted traffic congestion on the existing SR37, improve traffic safety and support local economic development initiatives by providing an interstate highway," according to Mallory Duncan, the Communication Director for INDOT, Greenfield District.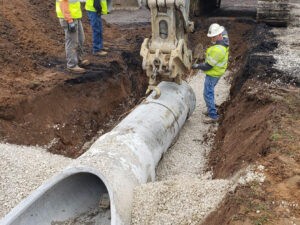 Setting The Groundwork
The I-69 Finish line project first began in late 2014 with environmental studies and received environmental approval in February 2018, with design and acquisition following. 
It was important that the project impact pedestrian lives, but not the environment. According to Duncan, "the design had to avoid or minimize impacts to a wellhead protection area, historic properties and natural impacts such as wetlands." However, with coordination with resource agencies and other stakeholders, the final design "resulted in less than 5 acres of wetlands being impacted, no impact to the wellhead protection area and minimal impacts to historic properties," said Duncan. 
Once the designing and real estate acquisition was complete, the state then had to decide how they were going to handle the construction. It was decided that the project would consist of 5 construction contracts, with Contracts 1 and 2 being awarded in 2018 and 2019, respectively, and the other three awarded in 2020.  
Collaboration is Key
Huge projects can sometimes require a lot of people working together to ensure that the project does not create any unnecessary damage and does what it is meant to do. Since the I-69 Finish Line project travels through Morgan, Johnson and Marion Counties, it necessitated intense collaboration with the counties.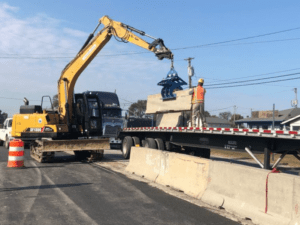 According to Duncan, the project required a significant amount of collaboration during the planning and design stages of the project. "For example, more than 300 meetings occurred with various stakeholders in the 3 counties between 2014 and 2018. Stakeholder coordination occurred with property owners, emergency responders, local officials, elected officials, businesses and resource agencies. More than 4,000 people attended public meetings during this timeframe. The collaboration focused on minimizing impacts, placement of interchanges and local access roads, and business and property owner access," said Duncan. 
It was important to speak to these stakeholders to ensure that the project was able to help communities-at-large while also addressing any concerns they may have had. With any major construction project, people in the community are going to be concerned about things like future access, property impacts and scheduling. 1-69 FInish Line was no exception to that, but, according to Duncan, by the last public meeting of the planning phase, "INDOT concluded its findings and was rewarded with a round of applause from the audience," said Duncan. 
"The number of meetings, decision points, public input and local support took time, but, in the end, we arrived at a consensus on a new interstate that will be much safer and will provide greater economic opportunities than exists today." – Mallory Duncan, Communications Director, INDOT Greenfield District
Challenges and Highlights 
The I-69 Finish Line project was not immune to challenges and before construction began, the team at INDOT had to create solutions. 
One of the issues was with the already existing SR37, which is receiving upgrades to interstate standards. The route had about 92 access points and was going to need to be reduced to only 10, impacting travelers heavily. However, with significant stakeholder collaboration, the public accepted the reduction. 
Another challenge was utilities. While converting the existing 4-lane state highway into an interstate highway, the expansion is going to result in interruptions to utility lines. In anticipation, "INDOT is coordinating with over 40 utilities, including water, sewer, gas, electric, telecom and others," said Duncan. 
While challenging, these problems are merely necessary evils in order to achieve a goal that will have so many highlights. The project will not only bring a new interstate highway between Martinsville and Indianapolis, it will also result in 10 new interchanges, 39 new and 35 reconstructed bridges, four miles of reconstructed road on I-465, a new system-to-system interchange and a more modernized traffic management center with multiple digital message signs and other technological features.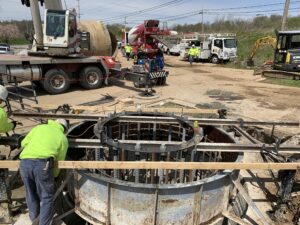 In the end, it is the project's impact on multiple communities, and the collaboration it engendered, that Duncan is most proud of. 
"…our team is most proud of the collaboration between hundreds of people that took place over the past 5 years to get us to construction on time. The number of meetings, decision points, public input and local support took time, but, in the end, we arrived at a consensus on a new interstate that will be much safer and will provide greater economic opportunities than exists today," said Duncan.
With current and projected construction on time, the massive project is scheduled to be completed by the end of 2024. When the I-69 project is finally complete, it will link Evansville, IN to the Canadian border in Port Sarnia, MI. 
Alexa Moreno Perdomo is the assistant editor at American Infrastructure Magazine. She can be reached at alexa@builder.media.
Project Info:
Project Name: I-69 Finish Line 
Location:  Martinsville to Indianapolis, IN
Type of Product: Roadway Construction
Awards: 2018 ACEC Indiana Grand Award for Preliminary Engineering and Environmental
Month/Year Started/Completed: Expected Completion is in Late 2024
Project Team:
Engineer: Planning/Preliminary Design/Environmental: HNTB
Construction Contracts 1,2,5: HNTB 
Construction Contracts 3,4:  CMT, WSP, Lochmueller 
Owner: INDOT
Photo Credit(s): I69 Finish Line.com