HUD Provides a Helping Hand Through Affordable Housing
With the housing industry strengthening but still in flux, it is important to protect homeowners from another crisis and provide new homeowners with affordable means of obtaining homes. The U.S. Department of Housing and Urban Development (HUD) strives to create strong, sustainable communities that are affordable and of good quality. HUD also seeks to improve the quality of life for homeowners and renters by providing affordable opportunities and protecting against discrimination when choosing a home. Under the HUD umbrella exists several programs for helping people with housing, including Community Planning and Development, Federal Housing Administration (FHA), Public and Indian Housing, Fair Housing and Equal Opportunity, Policy Development and Research, Government National Mortgage Association (Ginnie Mae), Office of Housing Counseling, and Lead Hazard Control and Healthy Homes.
Where HUD really shines is its support for Americans who are less fortunate and are struggling to find a permanent residence that is both affordable and good quality. HUD is able to provide many forms of assistance to qualifying people such as housing vouchers for Section 8 housing to low interest mortgages to get people off the street and into homes. The department also has a hand in rent control and fair opportunity housing to make sure that residents can remain in their homes even as housing markets get hot and living costs rise.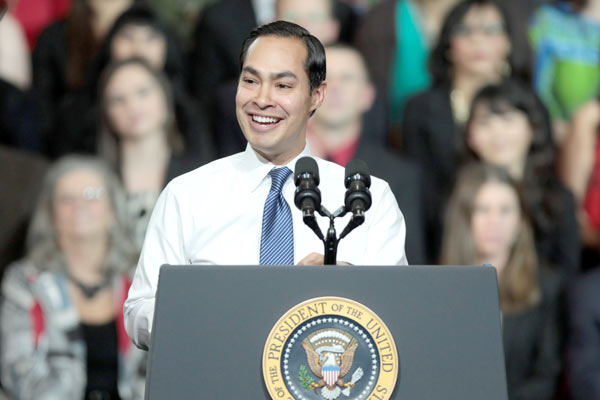 Financial assistance provided also helps when dealing with homelessness issues in major metro areas in order to reduce the amount of homeless individuals by providing helpful resources that can lead to living assistance, public housing, and employment. In March 2016, HUD provided around $32 million in grants to non-profits and public housing authorities across the nation to invest in residents needing help to achieve self-sufficiency. "Today, we make an affirmative investment in families living in public housing to help them build a brighter future for themselves and their children," said HUD Secretary Julián Castro.
"Every person deserves a fair shot at opportunity and that starts with a decent, safe, and affordable place to call home," said Castro during a speech regarding expanding affordable housing in the Baltimore County area in March 2016 through spending $3 million for 10 years building over 1,000 affordable units. Affordable housing is one of the major concerns of many American today, and HUD provides relief and solutions for those who either need a home or fear losing the one they are in. A major focus for HUD in 2016 will be helping to create affordable housing across the United States as the housing market continues to improve.
For more information visit www.portal.hud.gov.