Giving Janitors a Seat at the Table is a Big Advantage for Building Owners
The times, and buildings, they are a'changin'.
It used to be that using a green cleaning product made buildings and janitors define themselves as 'green'. But that is simply not enough, and now there's a thorough avenue that benefits both property owners and janitors much more significantly.
Launched in Los Angeles as a partnership between the U.S. Green Building Council-Los Angeles (USGBC-LA) Chapter and Building Skills Partnership (BSP), the Green Janitors Program provides hands-on energy management and green cleaning training to janitors to address Operations and Maintenance practices that enable buildings to meet green performance standards, with special focus on resulting energy efficiency.
The program has certified over 600 janitors in the last 18 months across L.A. County. Buildings or tenants that are now home to Green Janitors include LA County Museum of Art, LA Dept. of Water and Power, Dreamworks, Sony Pictures Studios, multiple Century City buildings, and all Kilroy-run buildings. The Program also supports the City of Los Angeles' "Sustainability pLAn". And the program has spread to building owners in San Diego, Orange County and the Bay Area.
"Janitors are the eyes and ears of every building, and the Los Angeles existing buildings stock cannot fully to reach its greatest environmental potential without fully integrating our janitors into the sustainability conversation," says Sara Neff, SVP of Sustainability for Kilroy Realty Corp. "We at Kilroy believe that buildings with janitors who have gone through this program see lasting energy and water reductions, and it is a program we hope every building owner supports."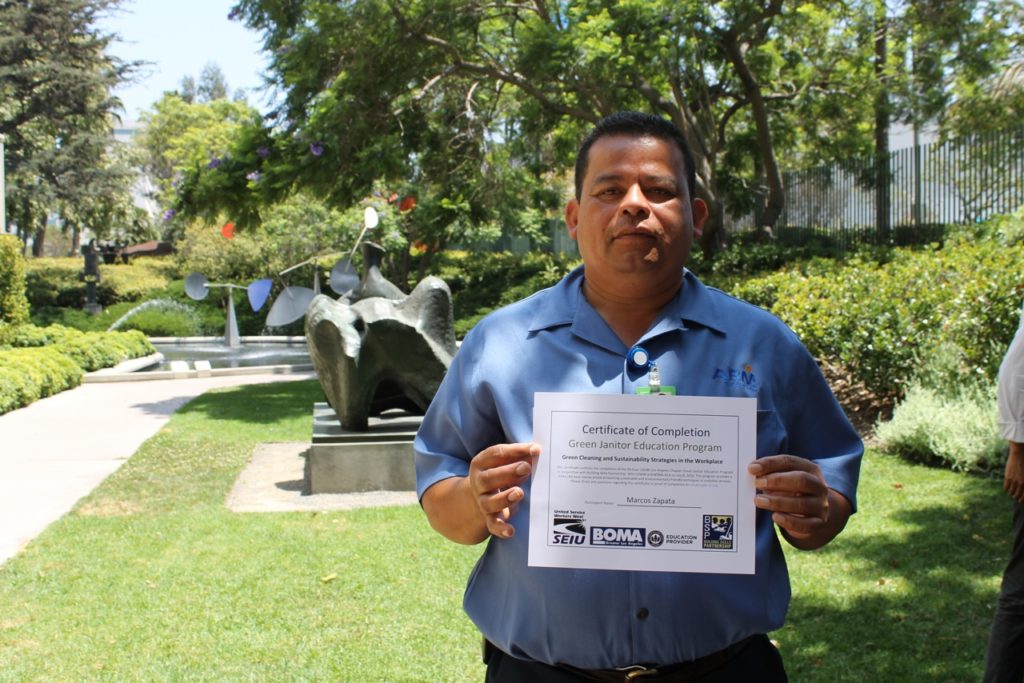 The 30-hour, multiple-exam training curriculum—presented in Spanish—was created jointly by BSP and USGBC-LA, and addresses Energy & Water Conservation, Recycling & Waste Diversion, Green Cleaning, and Health & Safety. In LEED-certified existing buildings, which includes four of the original buildings committed to the Program, green maintenance and operations practices are required. However, prior to this Program, the janitors, who are at the forefront of building operations, didn't necessarily understand why certain sustainable procedures or materials were required, or the kind of impact they, as janitors, could have on energy reduction and water consumption—and ultimately, human health—through their work. The building owners also didn't quite realize what an asset the janitors could be, and now the janitors are empowered as a key resource in building operations.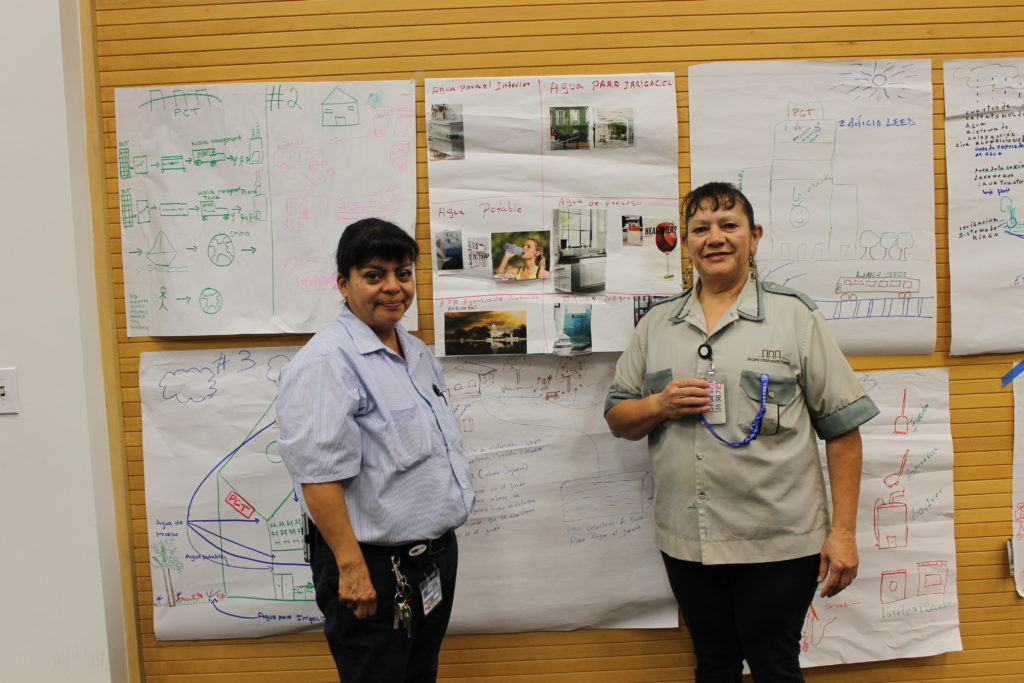 "We see this as a movement in Los Angeles that will hopefully become national, serving as an example of social equity, where everyone participates in management and maintenance of a building," states Dominique Hargreaves, USGBC-LA Executive Director. "Empowering the janitors to identify issues of energy over-use, or problems with leaks, makes a huge difference in operational communication, which ultimately saves the building owner money, reduces the building's strain on the local infrastructure, and improves the health of all people in the building."
USGBC National also established a 'LEED Operations+Maintenance: Existing Building' pilot credit for building service worker training, adding value to the partnership and program participation, and encouraging other cities to follow Los Angeles' lead with green janitors.
Certified Green Janitors have become part of the proactive solution to a building owner's ability to save energy, save money and overall make the building healthier for its tenants. Their certification also increases their value as an employee, and the SEIU has helped establish "Certified Green Janitor" as an approved job title, so that building owners / contractors can specifically request such a janitor for hiring.
By end of 2016, USGBC-LA hopes to import a similar program from New York's USGBC chapter, called GPRO, which trains electricians, plumbers, building superintendents and property managers. The LEED O+M EB credit noted about was established for this. The L.A. and NY chapters are looking to meld the best of the two complementary trainings.
Julie Du Brow is the principal of dubroWORKS.
Photography courtesy of Building Skills Partnership