Franklin Avenue Bridge, History in the Remaking
Advanced construction techniques and materials give new life to an historic landmark
By Jack Simpson
Photo Credit: HNTB Corporation
How does one eat an elephant? One bite at a time. In other words, by not making something more complicated than it has to be. So how does one rehabilitate a nearly century-old, more than 1,000-foot-long, five-span, nationally renowned concrete bridge that services nearly 10,000 people a day? Well, that's as easy as ABC.
Minneapolis, Minnesota's Franklin Avenue Bridge is about as historic as they come. At one point, the bridge, also known as the Cappelen Memorial Bridge, held the record for the longest concrete arch span in the world — a distance of 400 feet — and has made its way into a number of books, as well. The Franklin Avenue Bridge can be found on the National Register of Historic Places (NRHP), and resides within the Grand Rounds Historic District where, at the recommendation of the Minneapolis Heritage Preservation Commission, it is a Landmark of the City of Minneapolis.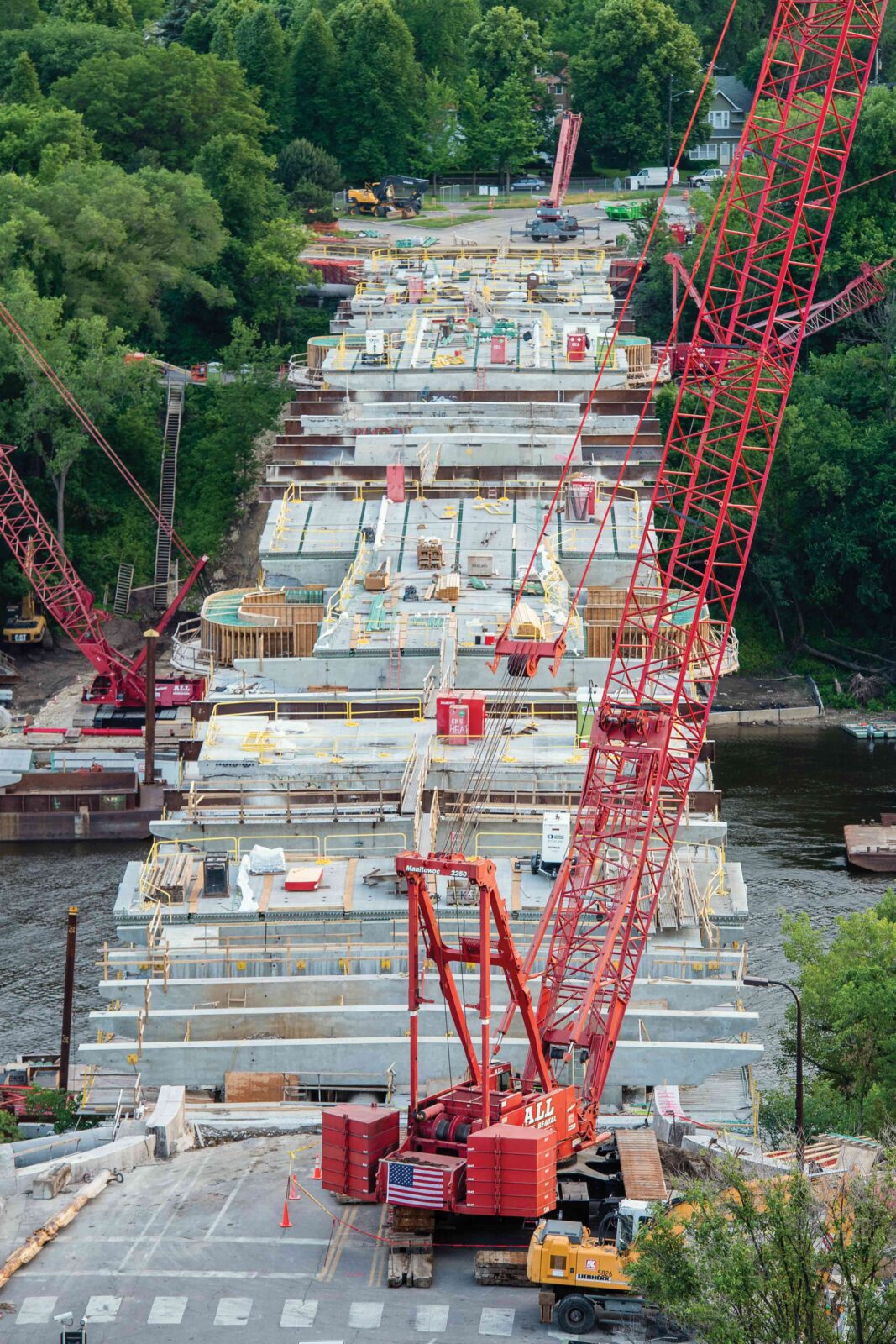 Because the Franklin Avenue Bridge is included on the NRHP, falls within the NRHP's Grand Rounds District, and also happens to be a Minneapolis Landmark, work on the bridge called for a considerable amount of coordination between: its owner, Hennepin County; its project historian; the Minnesota Department of Transportation Cultural Resources Unit (MnDOT-CRU); and the State Historic Preservation Office (SHPO) during the design process to meet the Secretary of the Interior Standards for the Treatment of Historic Properties.
To this end, a rehabilitation report outlined all potential options and their impact on the bridge's more historically significant elements. The report, which detailed all necessary work, was compiled through the coordinated efforts of Hennepin County, MnDOT-CRU, and the project historian. And since the Franklin Avenue Bridge does cross the Mississippi River, the rehabilitation project was presented with additional difficulties.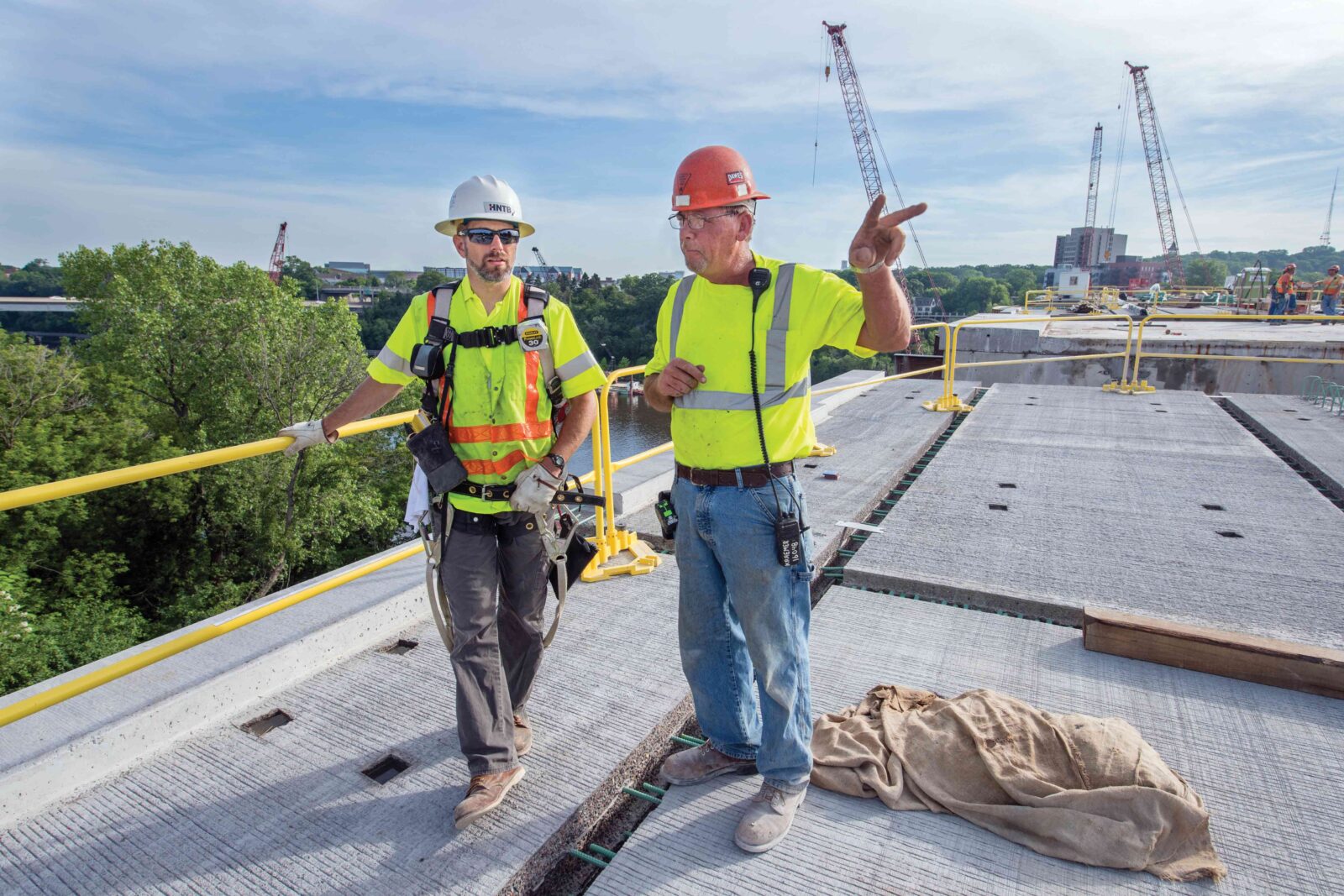 Rivers flow, carrying hazardous materials and depositing them far from their origin point. Because of its proximity to not only the Mississippi River and the Mississippi National River and Recreation Area, but to urban areas as well, ensuring the project did not generate excess waste and pollution was tantamount to its success. That being the case, numerous environmental studies were conducted during the planning phase to determine there would be no negative impacts to either the bridge or the surrounding area. Extensive precautions were then put into place to protect the water quality of the Mississippi River.
Circling back to where we began, ABC, or Accelerated Bridge Construction as it is properly known, is exactly what it sounds like: a construction technique that greatly decreases the build time of a bridge, minimizing disruption to the public. With respect to ABC, the U.S. Department of Transportation Federal Highway Administration promotes the employment of three techniques in particular: Prefabricated Bridge Elements and Systems (PBES); Slide-In Bridge Construction; and Geosynthetic Reinforced Soil – Integrated Bridge System (GRS-IBS).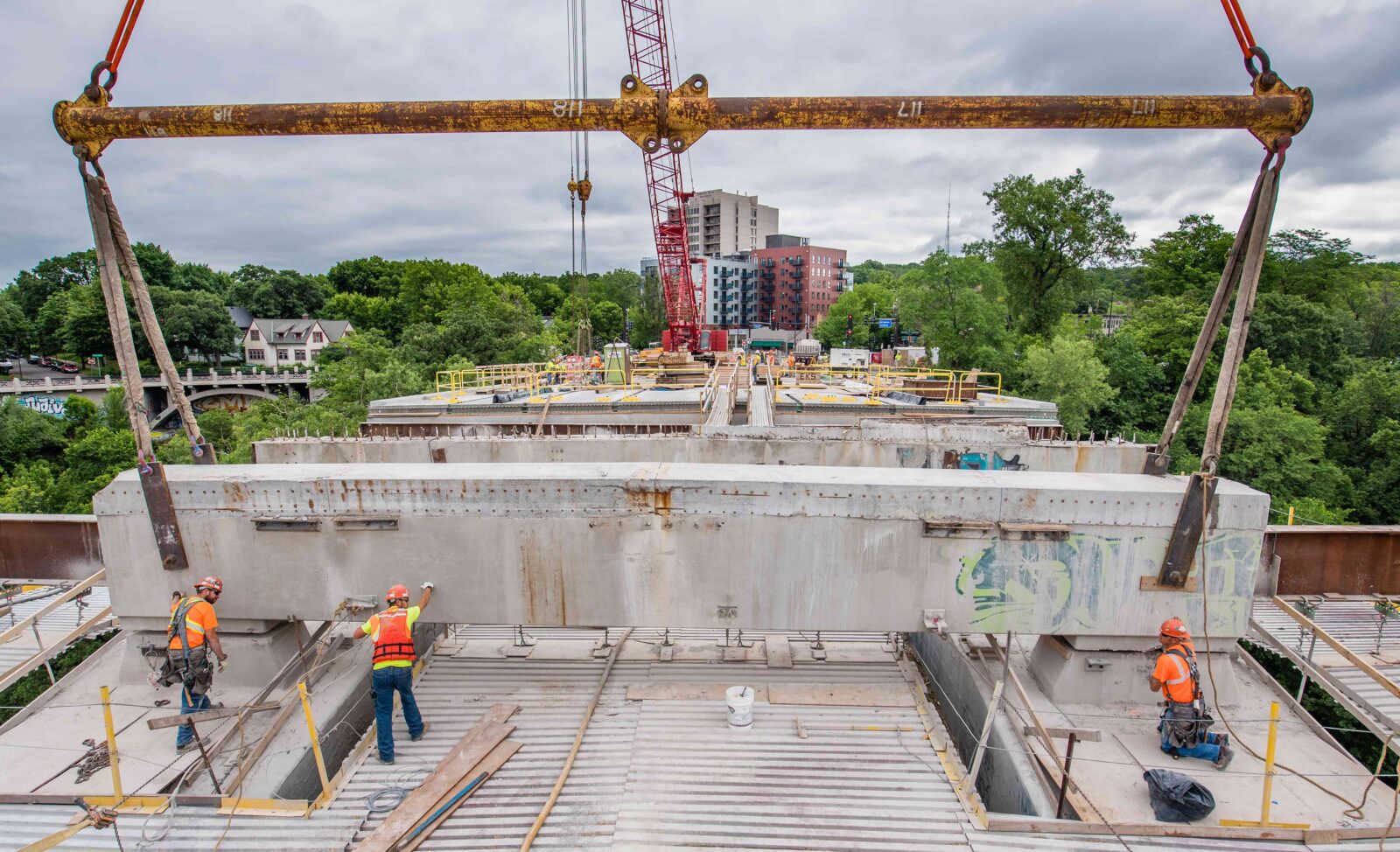 After taking into account its structural components and systems, public and potential environmental impacts, and the bridge's status as a historical landmark, Hennepin County decided to go the ABC route in rehabilitating the bridge. Construction teams laid out another extremely detailed plan, highlighting every contingency and plotting the most efficient ABC schedule possible. Several construction steps were undertaken prior to bridge closure, including partial deconstruction of the existing bridge deck. 43 PBES spandrel cap beams, 163 rail panels, and 350 deck panels were also cast prior to closure, and afterwards floated to the site on barges. The bridge's new deck panels were connected with a high-tech form of concrete known as UHPC, or Ultra High Performance Concrete, and then covered with a layer of Premixed Polymer Concrete (PPC) to create an exceptionally durable and long-lasting deck.
Once the bridge was closed on May 8, 2016 and construction could begin, the blocks fell rapidly into place. Team protocol included daily schedule updates, which were tracked against their original schedule in order to identify any potential issues and ensure that workers had every necessary resource and remained safe. This way, progress was continually monitored, resulting in not one lost time incident during the entire 52,000 man-hour, ABC bridge-closure period. These techniques reduced the closure time — and public traffic disruption — from two years to just 116 days. At the end of construction, project cost was totaled at $43.1 million.
The Franklin Avenue Bridge, though now augmented by modern construction technologies and materials, stands much the same as it did in 1923. However, it also stands as a respectful, living symbol of heritage and history. And, due to the combined efforts — not to mention creativity and innovation — of all parties involved, the Franklin Avenue Bridge will continue to stand as a beautiful architectural landmark for decades, if not centuries, to come.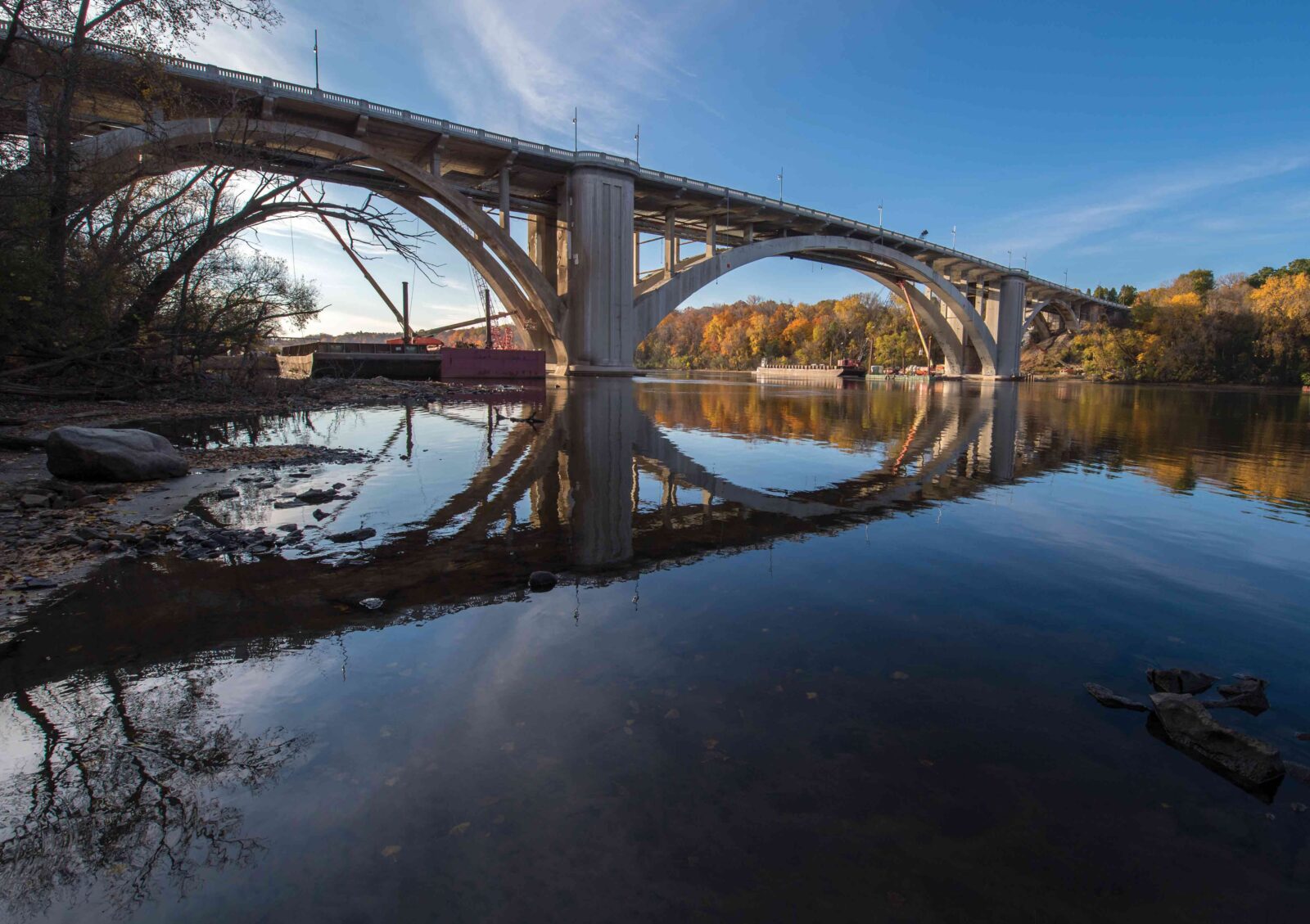 Jack Simpson is an Assistant Editor for American Infrastructure magazine. He may be reached at jack@penpubinc.com.