Flood Prevention in the Mile High City
The 33rd Street Outfall was constructed to prevent flooding and improve stormwater drainage to service neighborhoods in Denver, Colo.
By Sergio Flores
Photography provided by Denver Public Works
The Mile High City of Denver, Colorado is no stranger to snow or rain fall. Urban stormwater management within Denver, and other major U.S. cities, has increasingly become a critical infrastructure element as major improvement programs and asset redevelopment efforts are implemented.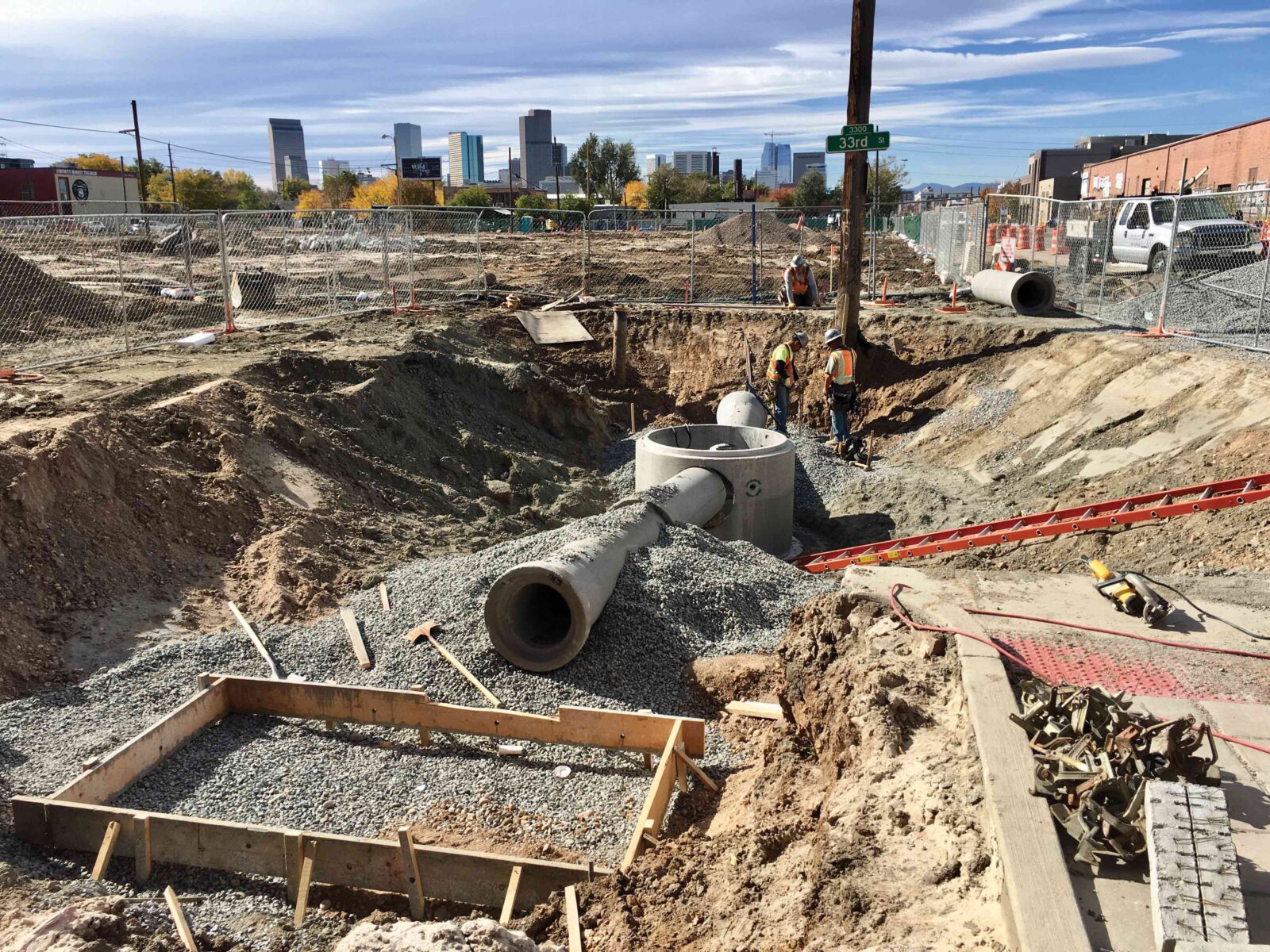 As part of the city's overall Storm Drainage Master Plan started in 2011—which identifies and alleviates present and future drainage problems in the city—the 33rd Street Outfall project was created to help prevent flooding and improve drainage during five-year storm events in nearby neighborhoods. The main goals of the project are to prevent flooding in the area, while also improving the city's water quality, as outlined in Denver's 2020 Sustainability Goals. The outfall will help carry stormwater runoff to the South Platte River, protecting properties from potential flood damage.
The extensive footprint and length of the outfall drove the need for a multiphase design and construction approach. While phase one of the project was completed in November 2017 for urban drain and flood control, two additional phases are currently under construction with the final fourth phase in planning and design stages.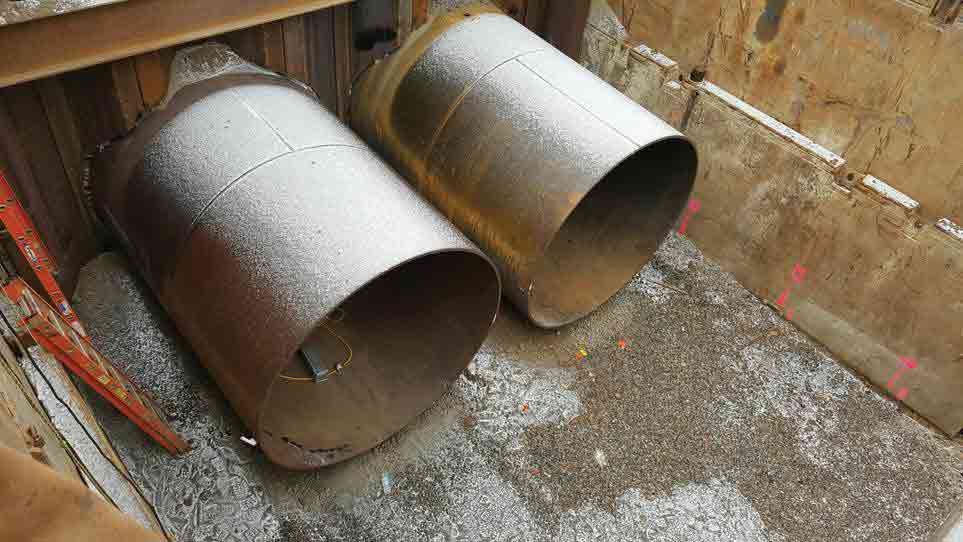 Multiple parties partnered including the Denver Public Works, Parks and Recreation, designers and engineers. The city has a robust capital improvement program, which allocates between $30 to $40 million annually on storm, sanitary and water quality improvement projects. The project was funded through Denver's Storm and Sanitary Enterprise Funds, Urban Drainage and Flood Control District (UDFCD), and federal funds.
Since the project runs through several residential areas, Denver Public Works had a robust public outreach process while we were in planning and design. According to Thomas Blackman, P.E. Engineer Supervisor for Denver Public Works, "When the 33rd Street Outfall project is complete in 2020, there will be immediate flooding relief at 31st and Blake Street, as well as at Marion St. and Martin Luther King Boulevard during five-year storm events." This system will also serve as the backbone for future systems to help alleviate flooding upstream.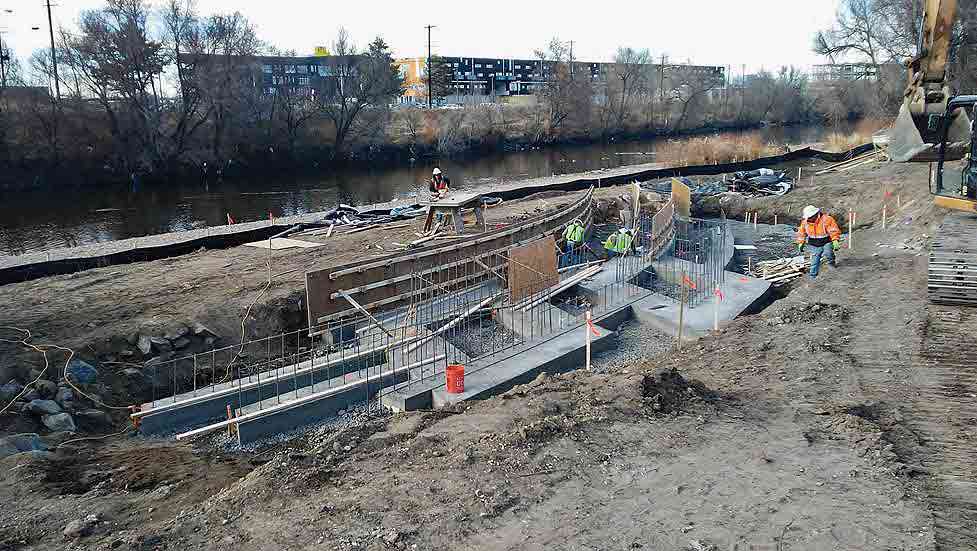 "The expansion of the storm sewer system will reduce flood impacts for residents within the 2000-acre watershed by improving stormwater conveyance," stated Blackman. As a result of the project, some of the streets in those communities will also see mobility enhancements including new curb and gutter, new asphalt and pedestrian ramps.
The outfall was designed to connect to the river overbank rather than the river itself so stormwater discharge can be filtered through vegetation prior to entering the river. This promotes healthier vegetation, improves the water quality of discharge, and reduces the amount of trash that could otherwise enter the river directly.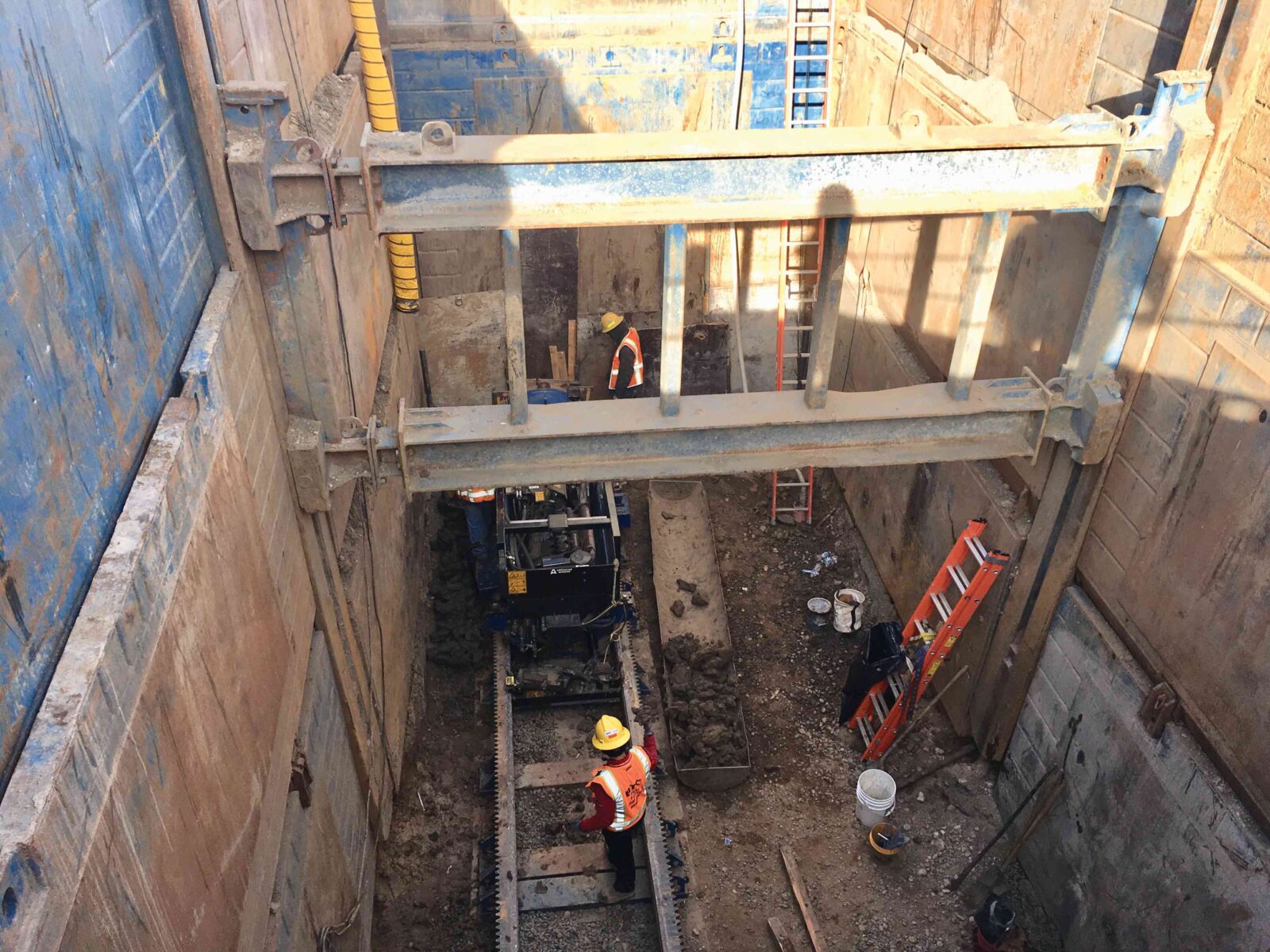 Blackman says. "Storm outfalls are no longer a standard, large concrete structure. Many outfalls in Denver are in rivers, streams, and gulches that are being used for recreational purposes or will be used for recreation in the future." Denver Public Works partnered to incorporate aesthetic elements with storm outfalls located in recreational areas.
Design elements include architectural concrete, terraced slope control, in-structure vegetated beds to improve aesthetics and beneficial nutrient uptake, integrated concrete pedestrian bridge and upgraded decorative railing. The design integrates architectural and water quality features which complement the surrounding River North Art District (RiNo) area.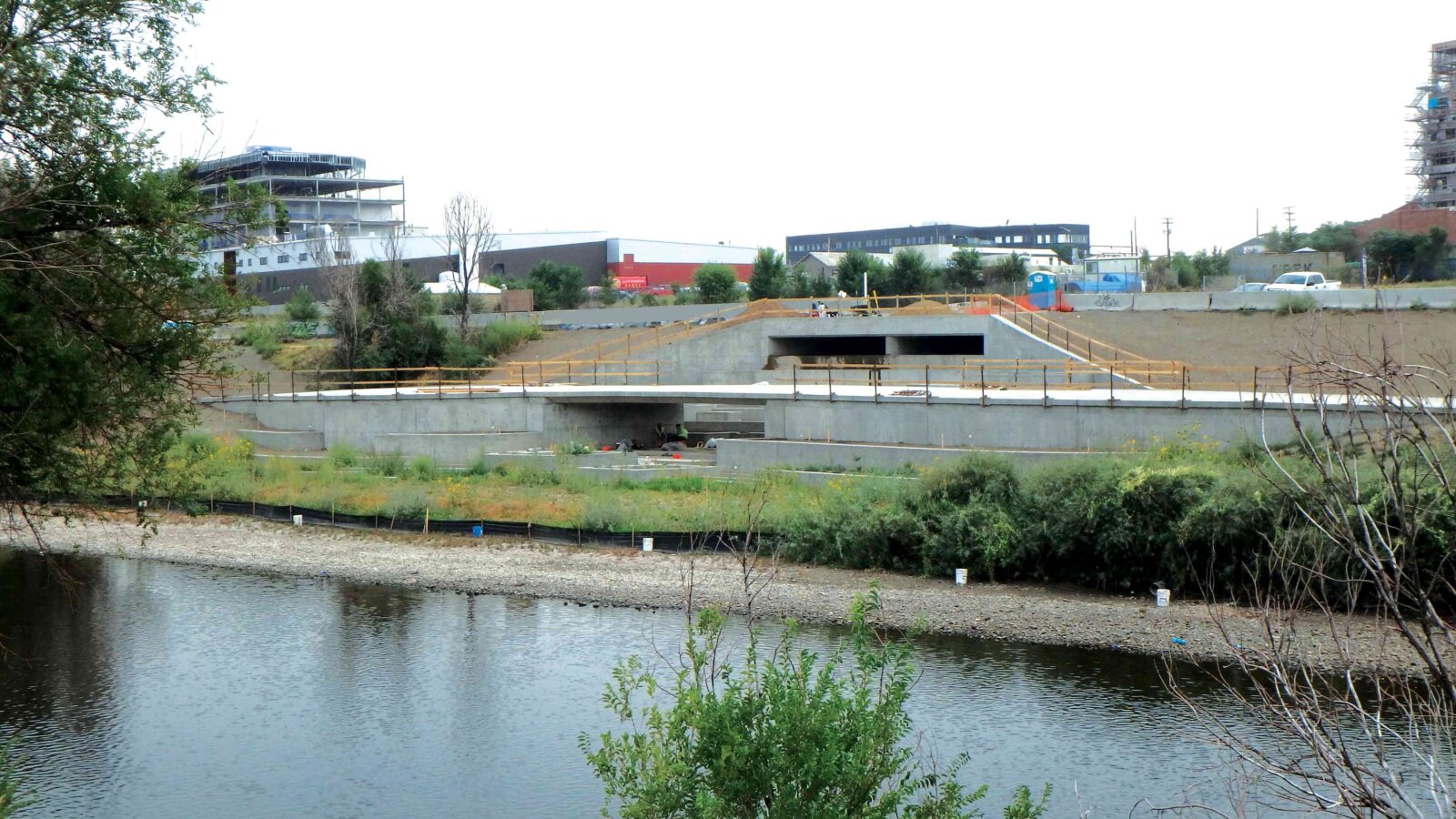 To address the vision for the development of the RiNo Arts district, the outfall at the river was designed not only to improve river visibility and access, but it was also designed with several artistic components and to give people the feel of cascading waterfalls with wetland vegetation. Blackman explains how the outfall has various raised planter beds, which will also help improve Denver's water quality.
"A unique element of the 33rd Street Outfall, it is being constructed in an urban neighborhood experiencing a boom in development," said Blackman. "This mix of new construction and development projects along the 33rd Street corridor has required ongoing coordination and consistent public information while construction has been underway."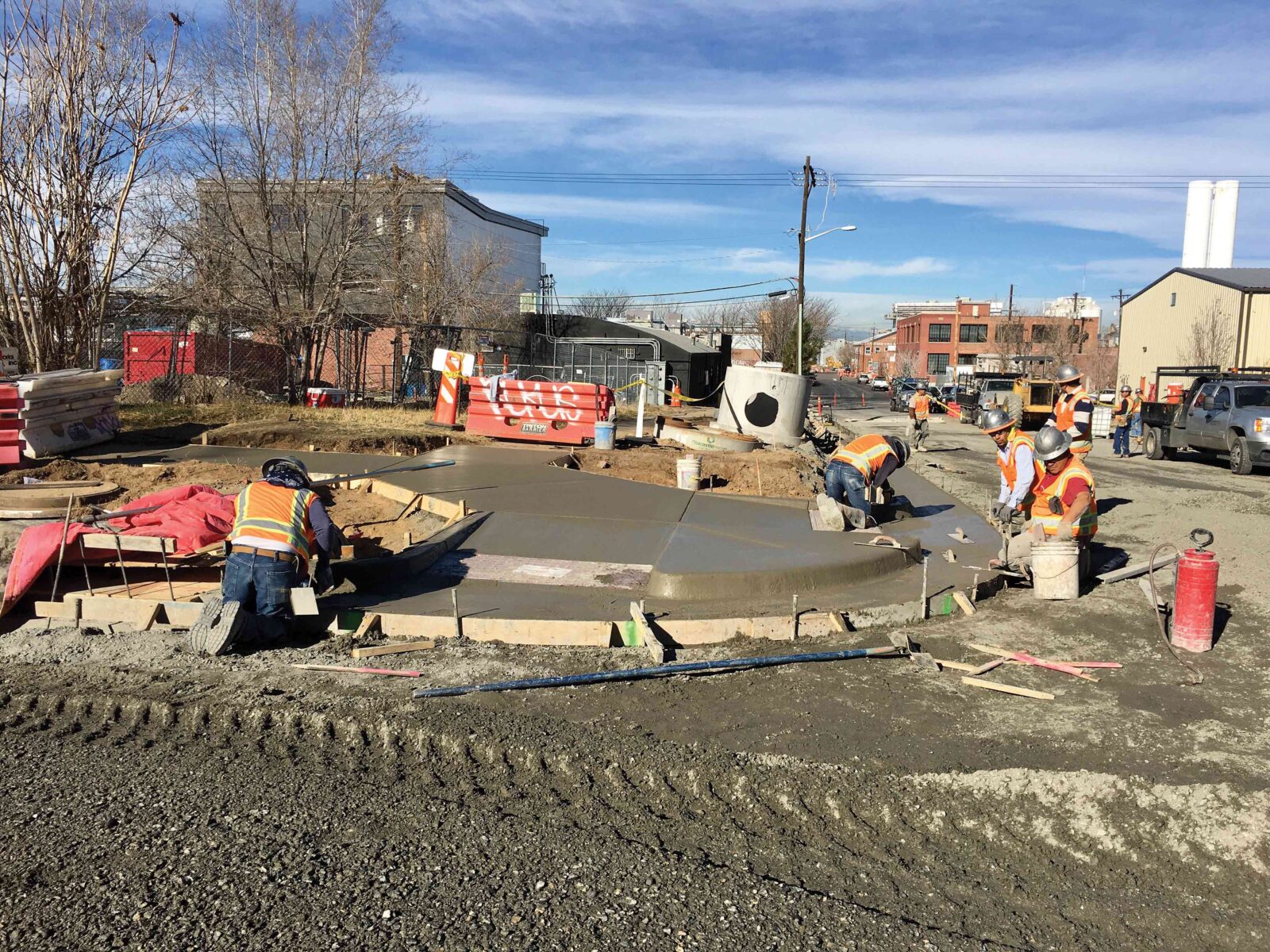 Denver Public Works had to overcome a few challenges along the way during design and construction including construction through a narrow corridor of a new development and taking a modified design approach to cross over two large sanitary sewer interceptor lines, to name a couple. Blackman said, "With an outfall of this size, there is certainly no easy corridor for construction, but through coordination and public outreach, we are finding ways to make it work."
While the outfall is completed, the final connections currently under construction are expected to be complete spring and summer of 2018. In addition to the water quality vaults in the upper outfall, Blackman said, "future phases of the project are looking at implementing additional vaults and street side stormwater planters as well."
An innovative project with high flows routed through underground conduits, the constructed improvements will safely manage and convey storm flows while supporting the artistic and recreational character of the RiNo district.
Sergio Flores is Senior Editor for American Infrastructure magazine. He may be reached at sergio@penpubinc.com.