An Environmentally-Friendly Bridging of Minnesota and Wisconsin
The St. Croix Crossing Bridge provides a long-awaited connection between Oak Park Heights, Minn. and St. Joseph, Wis., developed through a strong relationship between MnDOT and WisDOT and an environmentally-sensitive approach to the design
By Sergio Flores
Photo Credit: St. Croix Crossing project
Summer of 2017 finally saw the long-awaited completion of the St. Croix Crossing Bridge. Replacing the Stillwater Lift Bridge, which carried thousands of motorists between Wisconsin and Minnesota for more than 80 years, the new, $646 million bridge opened to traffic on August 2nd in front of a robust crowd of happy onlookers, including the governors of both states.
"This new bridge reinforces the strong economic ties between Minnesota and Wisconsin, better connecting people with jobs, families, and better opportunities on both sides of the river," said Minnesota Governor Mark Dayton. "I thank the strong bipartisan leadership from both states that has made this project a success, supporting jobs for more than 3,000 people from Minnesota and Wisconsin over its four-year construction."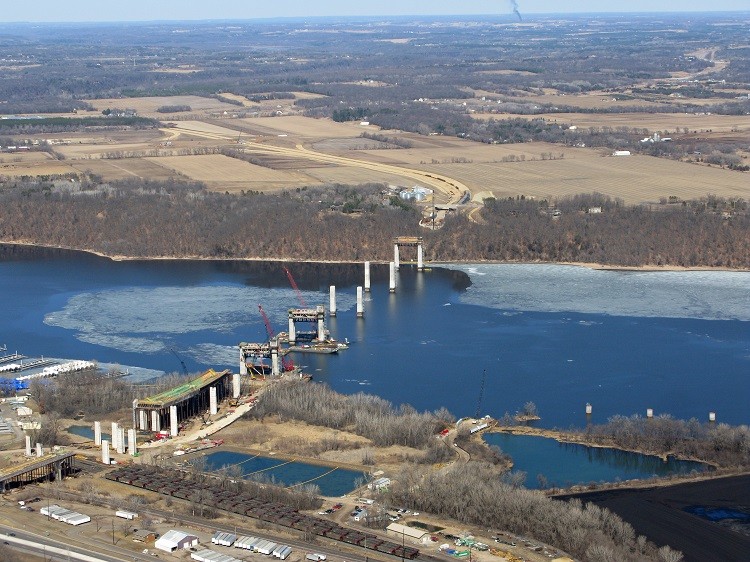 The project was funded between the Minnesota Department of Transporation (MnDOT) and the Wisconsin Department of Transportation (WisDOT). Taking a strategic approach to their collaboration, each agency took financial responsibility for their respective approach roads, and historic and environment remediation, and project development costs were split evenly. The $646 million total cost figure includes construction, right of way, contingency, environmental protection and remediation, bonds and insurance, engineering and management, and all ancillary expenses, according to MnDOT's website.
Comprised of more than 5,000 feet of extradosed bridge that can carry four lanes of traffic in each direction, the bridge provides a much needed connection between the city of Oak Park Heights, Minn. and St. Joseph, Wis.. The extradosed structure design was a strategic decision, combining the benefits of a boxed-girder bridge and a cable support design, which translated to a lesser number of required piers in the waterway while also allowing for a lower tower height. The cumulative effect creates an elegant effect, with the stay cables attached to the bridge deck, reducing both the visual and environmental impact of the bridge.
"Our designers, engineers, and crews faced challenges at every stage of the project because the bridge is located in a national, scenic riverway, next to a historic area, and in an area where threatened and endangered species live," states the MnDOT website. "Every challenge gave us the opportunity to meet or exceed established rules for protecting sensitive ecosystems."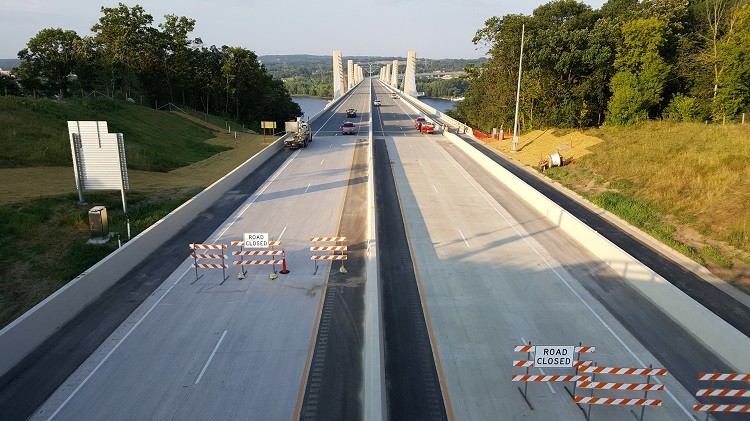 An environmentally-friendly design was integral to the project's success, a large part of which was the bridge's drainage system, designed to meet and exceed stormwater quality requirements. According to the MnDOT's website, the bridge "system features 16 ponds which filter stormwater—10 in Minnesota and 6 in Wisconsin" and "carries rainwater and snowmelt directly to the ponds to be treated before being released back into the river." Thus, through filtering materials (i.e. sand, sediment, gravel, and nutrients), the holding ponds benefit the water quality and reduce phosphorus in stormwater runoff by approximately 23 percent. In addition to sustainable stormwater management features, the design also took federally protected and endangered species into consideration. Mussels, for example, will eventually be placed in the St. Croix River and other tributaries, and thoughtful interchanges at Highways 36 and 95 were designed to avoid impact to a bald eagle nesting tree.