The vision of homeland security is to ensure the U.S.—the homeland—is safe, secure, and resilient against terrorism and other hazards. There are three key concepts that form the foundation of the Department of Homeland Security (DHS) strategy designed to achieve this vision: security, resilience, and customs and exchange. Hundreds of thousands of people from across the federal government, state, local, tribal, and territorial governments, the private sector, and other nongovernmental organizations are responsible for executing these missions.
The main focus of the DHS is to prevent terrorism and enhance security measures, manage borders, enforce immigration laws, safeguard cyberspace and ensure resilience to disasters.
For the Fiscal Year (FY) 2016, the President's enforced budget for DHS is $64.9 billion in total budget authority, $51.9 billion in gross discretionary funding, $41.2 billion in net discretionary funding, and $4 billion in discretionary fees. As part of total DHS funding, $6.7 billion for the Disaster Relief Fund (DRF) is provided, pursuant to the Budget Control Act of 2011.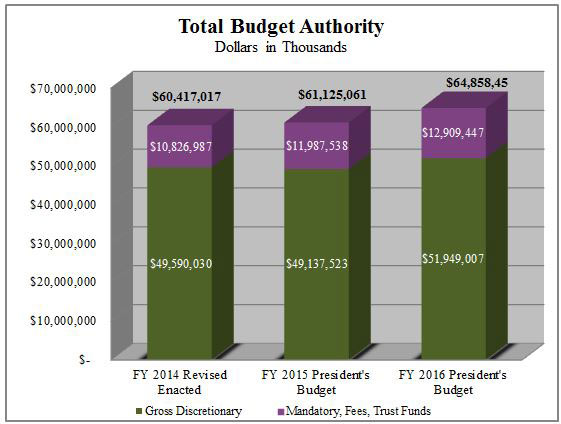 Since taking office in December 2013, Secretary Jeh C. Johnson has stated many times that counterterrorism must remain the cornerstone of DHS's mission. In a recent written testimony, Johnson said, "Safeguarding critical infrastructure and implementation of layered security on land, in the air, and on the sea are essential to combating any terrorist threat. The Department has prioritized investments in technology and risk-based, intelligence-driven programs … and in the assets necessary to carry out DHS front-line missions today and in the future."
Also, the DHS recently launched a platform that allows the government and private sector to exchange cybersecurity threat information with one another, part of a larger federal push to bolster cybersecurity, according to an article by the Wall Street Journal. The platform, which is voluntary, will ingest indicators from government and private-sector sources, automatically remove unnecessary personally identifiable information, then disseminate the indicators to participants.
The execution of the DHS requires the dedication of more than 240,000 employees in jobs that range from aviation and border security to emergency response, from cybersecurity analyst to chemical facility inspector. Their duties are wide-ranging, and their goal is clear – keeping America safe.
For more information visit www.dhs.gov