A Pipeline to Economic Recovery
Investments in water infrastructure would create jobs, raise wages and protect health
By Katie Henderson
Many Americans are paying closer attention to handwashing habits amidst the COVID-19 pandemic. But when they turn on the tap, most aren't worried about whether water will come out. The infrastructure, engineering and people keeping water flowing into and out of homes are often invisible forces in our lives that are taken for granted. But now, we face a growing crisis: the nation's water systems have been underinvested in for decades and are aging and deteriorating.
Last month, the Value of Water (VOW) Campaign and the American Society of Civil Engineers (ASCE) released a study that models the economic benefits of water infrastructure investment and the losses to the economy if current underinvestment trends continue. The Economic Benefits of Investing in Water Infrastructure: How a Failure to Act Would Affect the US Economic Recovery report shows investment in water would reinvigorate the economy, create jobs, raise wages and protect public health. But, if we fail to act, there will be staggering economic losses to GDP, jobs, wage and increased costs to American families.
As water infrastructure investment increases, it would create jobs for the sector and improve water reliability and quality.
The heart of the issue is that the nation is chronically underinvesting in water infrastructure. Many water and wastewater systems were built decades or even a century ago. Outdated pipes, pumps, storage facilities and treatment plants need billions of dollars for renewal and replacement, but the current investment levels are not keeping pace with the need. In 2019, the total capital spending on water infrastructure at the local, state and federal levels was approximately $48 billion, which represents only 37% of the total capital need of $129 billion—an $81 billion gap.
If funding needs and infrastructure investment trends continue, the annual gap will grow to $136 billion by 2039. Over 20 years, those annual estimates add up to a cumulative capital investment gap of $2.2 trillion, or nearly $6,000 for every adult and child expected to be living in the U.S. in 2039.
While the ledger of needed capital infrastructure projects has grown, the federal share of water infrastructure investment has dwindled, now accounting for less than one-eighth of what the federal government contributed a few decades ago. In 1977, federal investment accounted for 31% of total capital investment in water, and in 2017, 4%. Less federal investment means a greater financial burden on municipalities for ever-expanding capital needs. Those costs are often passed down to ratepayers, many of which already struggle to pay bills.
Leaks and service disruptions are increasing, and are costly in several different ways. Infrastructure failures cost U.S. households $2 billion in 2019. This estimate includes the cost of repairing structural damage, rehabilitation or cleanup, or temporarily or permanently relocating. If trends continue, U.S. households would pay $14 billion by 2039.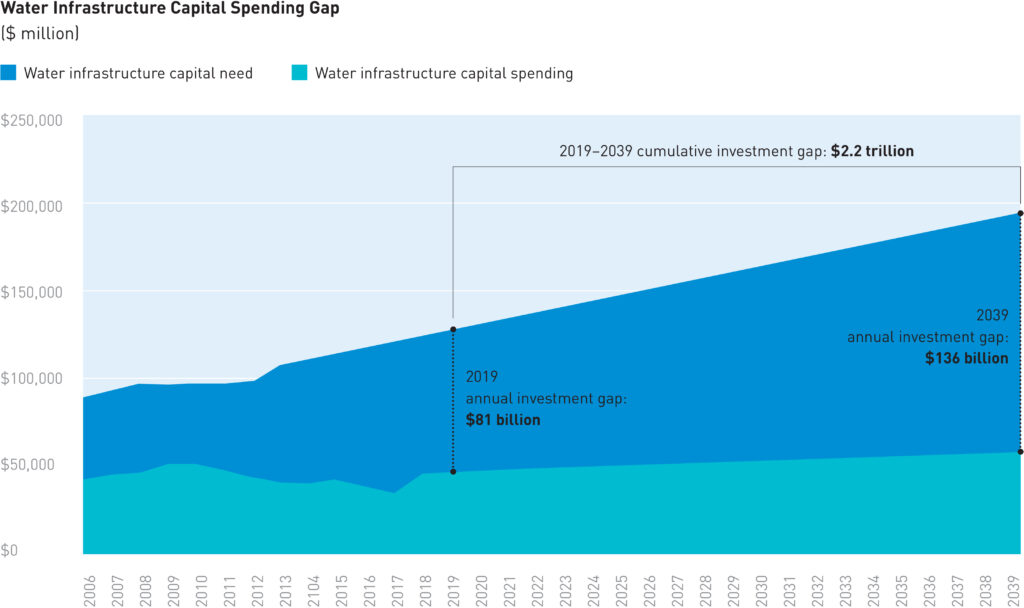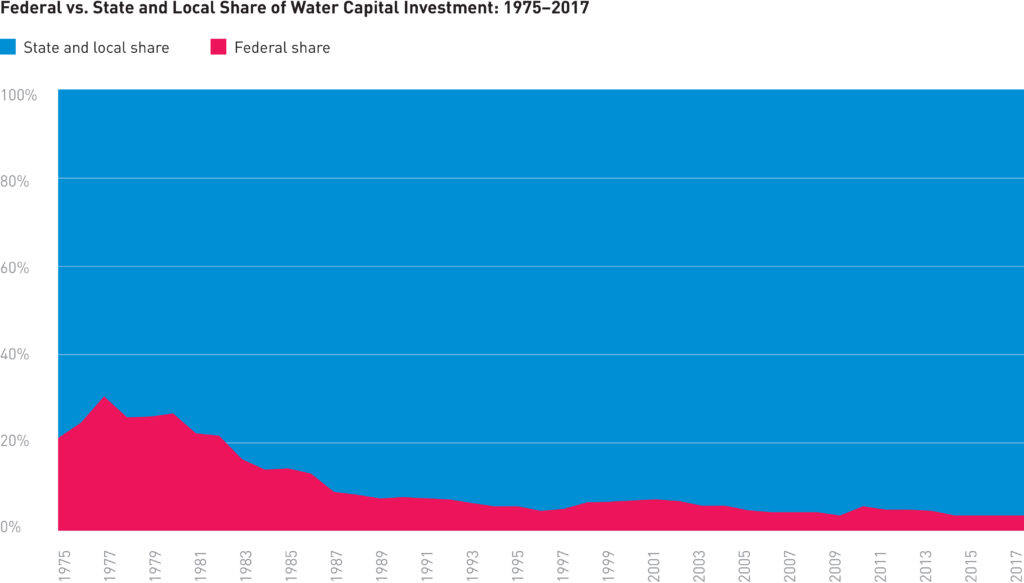 If water infrastructure continues to deteriorate, health and medical costs would increase from an estimated $262 million in 2019 to $503 million in 2039. Over 20 years, U.S. households will have paid more than $7.7 billion in cumulative medical costs for failing water infrastructure.
In 2019, water service disruptions cost the most water-reliant industries an estimated $51 billion. If trends continue into 2039, those industries will lose $250 billion from water service disruptions. When water service is unreliable, industries are less efficient and productive—effects that would ripple across the economy—leading to more than $4.5 trillion in lost business sales, a $2.9 trillion decline in the gross domestic product (GDP) and 636,000 fewer jobs.
The new Value of Water and ASCE report also models the effects on the economy from adequately investing in water systems. It found enormous benefits to GDP, job growth and disposable income.
As water infrastructure investment increases, it would create jobs for the sector and improve water reliability and quality. Reliable water service would increase productivity and efficiency, sales would increase and the national economy would gain $4.5 trillion in GDP. Improved economic conditions mean better wages: U.S. workers would earn more than $2.8 trillion in cumulative disposable household income over 20 years, leading to an increase of over $2,000 per household.
Capitol Hill legislators have been negotiating and passing stimulus and relief packages to offset the pandemic's economic consequences for months. Water infrastructure has been part of those discussions, including early negotiations of the CARES and HEROES Acts. So far, however, water infrastructure hasn't been in any final stimulus or relief bill. This research suggests that failing to include capital water infrastructure investment is a lost opportunity to jumpstart the economy when the nation needs it most.
If chronic underinvestment in water infrastructure continues, the economy will suffer. Inaction is a threat to public health and our economy. Conversely, if the U.S. closes the spending gap, the economy will gain $4.5 trillion in GDP by 2039. The nation needs leadership to step up and pursue policy and funding solutions that close the water infrastructure investment gap and secure a more resilient, efficient and reliable water future.
Katie Henderson is a senior program manager at the U.S. Water Alliance. Learn more at uswateralliance.org.