DoD Encourages Women Seeking IT Careers
Located in the Pentagon, the Department of Defense (DoD) is America's oldest and largest government agency. With its military tracing its roots back to pre- Revolutionary times, the DoD has grown and evolved with our nation.
Headed by Secretary of Defense James N. Mattis, the DoD is not just in charge of the military, but also employs thousands of civilians. With over 1.3 million men and women on active duty, and 742,000 civilian personnel, the Department of Defense is the nation's largest employer. Another 826,000 civilians serve in the National Guard and Reserve forces, according to the DoD.
The Department of Defense aims to provide the military forces needed to deter war and to protect the security of the nation. And while brave men and women are working towards that every day, it's worth highlighting one field under the umbrella of the DoD that is underpopulated — women in information technology.
Deputy Chief Information Officer (DCIO) for Cybersecurity and the Department's Senior Information Security Officer (SISO) is a woman – Essye B. Miller. As the DCIO for Cybersecurity, she is responsible for ensuring that the DoD CIO has a top-notch cybersecurity program. She coordinates cybersecurity standards, policies, and procedures with other federal agencies, coalition partners, and industry.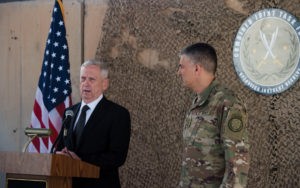 "The threat we face in cyberspace is constantly shifting and evolving," Miller said in an interview with CyberScoop. "To solve the problems we face, it will take innovation, creativity and agility – that can only come with a diverse force. And it's not just a diversity of race or gender – we need diversity of thought and viewpoints, different mindsets and the different experiences that a diverse force brings."
Women, especially women of color, are essentially missing from technology innovation. In 2016, 26 percent of the computing workforce were women, and less than 10 percent were women of color (five percent Asian, three percent African- American, and two percent Hispanic), according to a National Center for Women & Information Technology study.
In March, the DoD hosted an event to encourage women to pursue their careers in IT. Navy Vice Adm. Nancy A. Norton, director of the Defense Information Systems Agency, and Bonnie M. Hammersley, DoD's DCIO for resources and analysis, shared their paths to success with other women aspiring to succeed in the IT field, during a Women in the Department of Defense Luncheon hosted by the Armed Forces Communications and Electronics Association.
It's crucial for girls and women to pursue these interests as early as possible. There are plenty of resources for girls and women to educate themselves early on, for example, 'Girls Who Code.' In fact, 84 percent of Girls Who Code alumni said they were likely to pursue a career in technology, according to their 2016 annual report.
For more information, visit http://www.dod.gov.