The AI Interview: David Ige, Governor of Hawai'i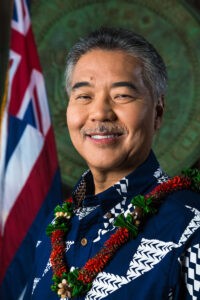 Gov. David Ige reflects on the state of Hawai'i's infrastructure and their path to post-pandemic recovery
American Infrastructure: As we make progress towards the end of the pandemic, talk about some things that the state did to provide relief to its citizens. 
Gov. David Ige: The virus changed every aspect of our lives, and we're working hard to be as responsive as we can to help people who are struggling. With the help of the CARES Act and American Rescue Plan, we have been able to provide additional funding for education, SNAP, child care and Medicaid programs, rental and mortgage assistance, public health programs, Native Hawaiian education, small businesses and nonprofits, and transportation. 
For education, we created the ʻOhana Help Desk, the nation's first statewide tech and multilingual support for students, while also providing student laptops, tablets, improved connectivity, and 2.6 million free grab-and-go meals for underprivileged families who were suddenly forced to transition to distanced learning. 
For our SNAP recipients, we introduced the DA BUX program, matching the donations of private-sector partners to double the value of SNAP benefits spent on locally grown vegetables, fruits, and proteins. 
For housing, we offered the Rent Relief and Housing Assistance Program, providing tens of millions of dollars in aid to renters and homeowners to avoid eviction during these challenging times. 
AI: Prior to the pandemic, Hawai'i had one of the lowest unemployment rates in the country and now it currently has the highest rate. How is the state planning to address this?
DI: As COVID-19 devastated nearly every industry in our state, we knew many families and businesses would be hurting, but felt it was most important to put the health and safety of our residents first. In crisis, the people of Hawai'i came together. Although there has been a recent surge in tourism, unemployment continues to persist, and we are at a pivotal moment to be able to redefine and reimagine our sectors for a more sustainable future. This begins with a demand for a more diversified labor force, propelling the creation of statewide programs to provide training, certifications, and opportunities for individuals looking to attain transferrable skills and increase their digital literacy. The Hawaiʻi Remote Work Pilot Project has helped residents find new career paths and still make their home in the islands, while the Remote Ready Hawaiʻi program has provided unemployed residents intensive training in remote business development, paid remote internships, and job placement assistance. 
AI: What sorts of protocols has Hawai'i taken to help expedite vaccination rollouts effectively and efficiently? Additionally, how has the state handled reopening of the economy? 
This vaccination roll-out may be the largest immunization campaign in the history of the state. In partnership with the Department of Health, the Healthcare Association of Hawaiʻi, and other key stakeholders, we have successfully administered vaccines to half of Hawaiʻi's adult population thus far. Earlier in the vaccination process, vaccine supply was limited, prompting us to focus on critical populations, including healthcare workers and kūpuna living in long-term care facilities. We strategically increased the scope of eligibility as the vaccine supply increased and quickly established 100 vaccination sites statewide. Even though we've never faced a crisis of this magnitude, our state created new systems in a matter of months to deal with the pandemic and help save lives. The closer we are to reaching herd immunity, the closer we are to a 'new normal.'  
For our economy, we've slowly welcomed more visitors to the islands without a major spike in COVID-19 cases, which tells us the SafeTravels program is working. Through this pandemic, it's been apparent that a lot of local businesses rely on tourists, so we have had to find a balance between safety and restarting the economy, and pursuing initiatives for more responsible, "regenerative tourism," that is respectful of native Hawaiian culture, the environment, and our public health. 
AI: You recently announced that travelers with proof of full vaccination (only in the state of Hawai'i) against COVID-19 would be able to travel between the islands without testing or quarantine restrictions. With Hawai'i being one of the world's top tourist destinations, can you expand on when we could expect a similar system for out-of-state travelers coming to Hawai'i? 
GDI: After this tumultuous year, the mayors and I wanted to figure out a way for Hawaiʻi residents to see their families without having to quarantine or do pre-travel testing, at least between the islands. We are continuing to monitor the rate of virus activity in our community, hospitalizations and fatalities here and abroad caused by COVID-19, and our priority remains protecting the health and wellbeing of Hawaiʻi's residents. Currently, we are in the process of creating a pilot project with CommonPass, a health information platform, that has access to a wide variety of testing facilities across the country to validate tests and vaccinations. Although we remain excited to welcome back visitors, we must be able to securely verify vaccination statuses of vaccinated travelers from other states before expanding the SafeTravels vaccine exception program to trans-Pacific travelers. 
AI: President Biden has proposed a major infrastructure bill in recent weeks. How would the newly proposed infrastructure legislation affect Hawai'i?
GDI: President Biden's proposal covers a wide range of physical infrastructure projects that would prove invaluable and advantageous to our state, including affordable housing, expanding broadband, repairing roads and supporting labor unions and providers of in-home care for older and disabled Americans. Hawai'i has one of the nation's largest aging populations, so we absolutely support creating new and better jobs for caregiving workers while providing home and community-based care for kupuna. Moreover, Hawaiʻi's roadways are among the most congested in the country, and additional funding revenues would go toward paving potholes, reducing the number of structurally deficient bridges, and mitigating these sources of congestion.  
AI: The President has made it one of his goals to implement sustainable initiatives to create a cleaner environment. Talk about the actions Hawai'i has taken (past and present) to move the needle forward towards a greener, more resilient future for its citizens and the environment. 
GDI: We know that we can dramatically reduce greenhouse gases when we change our behavior and business practices. During the pandemic, the air and ocean waters were cleaner than they have been in a long time. Through comprehensive planning that engages environmental, developmental, and other community interests, we have been able to design policies that aim to expand these important initiatives. In Hawai'i, it has always been a priority to accelerate green infrastructure, including better protection of watersheds and reefs, guarding against sea level rise, and working with the travel industry on reforestation to offset the use of fossil fuels. These are all opportunities to restructure the state's economy and accelerate our long-term goals, and I'm heartened by the ambitious targets President Biden has set for the country. 
AI: With nearly half of 2021 under our belts, what has been a main focus for Hawai'i in regards to infrastructure (roads/highways, bridges, public works, agriculture, water/stormwater management, climate, etc.)?
GDI: There is no better time than now, to invest in public works to expand and improve the infrastructure of our state, specifically projects relating to health, education, broadband, affordable housing, and environmental sustainability. The pandemic underscored why a steady supply of affordable housing is crucial for our families' well-being. We've achieved our initial goal of building 10,000 new homes by 2020 and have since adjusted that goal to include 3000 more units by the end of 2022. We invested record amounts for the state's Rental Housing Revolving Fund to provide that gap in financing the construction and preservation, to make affordable housing possible. Another critical part of pandemic recovery has been our efforts to combat digital inequity through various broadband infrastructure projects to connect rural communities to internet service. We're using the backbone of our state highways and county roadways to extend wireless connectivity into underserved neighborhoods, hopefully ensuring that the future of broadband is accessible and equitable for all. 
AI: You recently released $278 million for capital improvement projects across the state. What is the main goal of this action?
GDI: We're doing at the local level what President Biden has proposed for the nation: strengthening infrastructure, improving public facilities, and delivering good paying jobs for our state. Together, we are expanding opportunities and investing in the future of Hawaiʻi. The quality of infrastructure is indicative of quality of life for our state's kūpuna, keiki, and residents of Hawaiʻi. Since the onset of the pandemic, COVID-19 exposed our vulnerabilities and need for rejuvenation and reinvestment towards quality infrastructure. That's why we're releasing funds for these critical capital improvement programs that will contribute to building affordable housing, developing safe drinking water facilities, designing major renovations for our schools, financing new offices for local hospitals, and improving public safety with the installation of new siren sites and emergency operation centers statewide. These projects are just the beginning — we will continue to dedicate funds regularly in hopes of reinvigorating, constructing, and modernizing our state. It is now more important than ever to rebuild our communities while ensuring that disadvantaged groups previously impacted, don't get left behind.
"The quality of infrastructure is indicative of quality of life for our state's ku ̄ puna, keiki and residents of Hawai'i."
AI: What are some unique infrastructure challenges Hawai'i faces and how does the state deal with those challenges?
GDI: Native Hawaiians successfully fostered a thriving and flourishing society within the 'āina's ecological boundaries while nurturing a genuine affinity with the natural world, and our state strives to uphold these values through policy every day. However, with the rapid warming of our planet, caused by years of unregulated carbon emissions, there are many consequences that threaten the future of our residents and natural environment.  We are anticipating a sea level rise of 3.2 feet by 2060. The Coastal Lands Program supports sustainable alternatives for coastal erosion management, including programs for beach and dune restoration and regulations for other "soft" approaches to shoreline protection. To effectively manage and protect our watershed areas, the Department of Land and Natural Resources has established Watershed Partnerships that work collaboratively to maintain 2.2 million acres of vital forested watershed lands. With the challenges we're facing today, protecting our environment always remains one of our top priorities.
AI: In regards to renewable energy, what steps is the state taking to reducing carbon emissions? 
GDI: We're proud that we are the first state in the country to commit to 100% renewable energy by 2045, aligning ourselves with the goals adopted in the Paris Agreement. Through the Carbon Farming Task Force, we've been working to identify agricultural and aquacultural practices to improve soil health and promote carbon sequestration, potentially capturing and storing more carbon than we release through greenhouse gases. Additionally, there are major solar project partnerships in development to help Hawaiʻi become less dependent on fossil fuels while reducing pollution and driving down the cost of electricity for families and businesses. The Kawailoa Solar project uses nearly half a million solar panels and is the largest solar project in the state to date, located on former sugar cane farms owned by Kamehameha Schools. With a flurry of commercial solar projects in the pipeline and local homeowners' enthusiasm for residential solar power, we have been able to meet our 2020 energy goal of attaining 30 percent of our energy needs from renewable sources. We continue to aggressively engage in actions that will continue to de-carbonize our economy and make our environment whole.