Creating Means of Passage for the Country
From land, sky and sea, the U.S. Department of Transportation (DOT) serves the country to provide safe, efficient and accessible transportation systems. The top priorities of the DOT are to keep the traveling public safe and secure, increase their mobility, and have the country's transportation system contribute to the nation's economic growth. DOT employs almost 55,000 people across the country within its operating administrations and bureaus, each with its own management and organizational structure.
A major role of the DOT is maintaining the budget and performance of programs to properly assess needs and create investment opportunities for infrastructure and policies. Reports are created annually to provide the President, Congress, and the American people with information to share the DOT's progress and financial resources, and to determine the DOT's future transportation goals. The Department's budget is composed of approximately 20 percent discretionary general fund dollars and 80 percent mandatory trust fund dollars. For the fiscal year 2019 budget, The President is requesting $76.5 billion for the Department, $500 million less than fiscal year 2017.
Recently, the DOT announced the list of 41 recipients of nearly $500 million in discretionary grant funding for road, transit, maritime and rail projects through the Transportation Investment Generating Economic Recovery (TIGER) program. "TIGER grants are targeted investments for our local communities that will increase safety, create jobs and modernize our country's infrastructure," said Secretary Elaine L. Chao.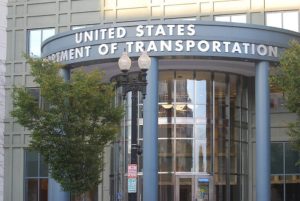 Secretary Chao understands the critical role of the DOT in ensuring the safety of our country's transportation systems. She is also keenly aware of the key role infrastructure plays in our nation's economic competitiveness, and in strengthening economic growth in both the urban and rural areas of our country.
More than 64 percent of this round of TIGER funding was awarded to rural projects, a historic number that demonstrates the DOT's commitment to supporting the country's rural communities. Tribal projects are receiving $39.18 million of this round of awards, the highest amount of funding since the first round of TIGER.
And when it comes to the future, the DOT is investigating the vision for driverless cars. The DOT held what the Washington Post called a "listening session" recently with auto makers and technology companies. "The department is holding this summit and taking other steps to gather information as we move forward on the regulatory front," Chao said.
"We are not in the business — we don't know how — to pick the best technology," Chao said. "We're not in the business of picking winners and losers. The market will decide."
For more information, visit http://transportation.gov.