Continuing to Build Back America
Texas' SH 45 Southwest Toll Road connects communities and considers the environment
By Brian Alvarado
When it comes to transportation in our infrastructure, our roads and bridges are a vital part of what make our everyday lives possible. While America was most recently handed a D+ grade by the American Society of Civil Engineers (ASCE), there have been a plethora of projects that have contributed to that the nation's seemingly neglected infrastructure.
For construction company McCarthy Building Companies, building America by constructing essential projects for communities has been its specialty since 1864.
One of McCarthy's most recent projects was the State Highway 45 Southwest Toll (45SW ) project in Buda, Texas, a part of the Austin-Round Rock-San Marcos metropolitan area. The innovative four-lane toll road is built on state property between MoPac and FM 1626 and is intended to bring relief to the rapidly growing area of northern Hays and southern Travis counties.
"This four-mile extension is a connection of communities, a quality of life project that has cut down commute times by 11 minutes over preconstruction commute times for those taking 45SW over local routes. Traffic on local routes has been decreased 32% since 45SW opened," said McCarthy Project Leader Chris Kelly. "Approximately 3.6 miles long, the benefit to the investment is significant."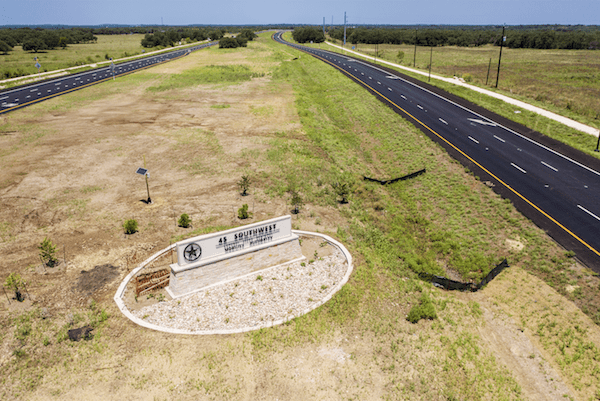 Along with Rodriquez Transportation Group as the engineer and the Central Texas Regional Mobility Authority (Mobility Authority) as the builder, McCarthy was able to help this blueprint come together as the contractor after years of awaiting approval.
"The initial planning could be represented as a decade long engagement followed by a couple who decided to elope," Kelly said. "The project was on the books for so long and then once the environmental issues were cleared, within days a Team mobilized and the entire 3.6 mile long site was cleared and zoned for construction."
One of the more intriguing aspects of the toll road project is its design and the consideration of the environment. What the Mobility Authority dubs as an "environmentally sensitive design," 45SW was allowed to proceed to final design and construction with commitments to protect the environment during its construction and operation. The three main commitments were water quality protection measures, green mobility challenge initiatives, and bicycle and pedestrian accommodations.
In regards to water, the project uses a combination of structural and non-structural Best Management Practices (BMPs) to avoid and minimize the amount of pollutants that flow off the roadway. A project over the Edwards Aquifer Recharge or Transition Zones would be required to remove 80% of the increase in Total Suspended Solids (TSS) loads generated from the project. For 45SW, actual removal of TSS loads is 98% over the Aquifer and 92% for the total project. When it comes to the green mobility challenge
initiatives, ideas that were incorporated into this project included native plantings that minimize maintenance needs and also improve wildlife habitat, as well as the alignment of the roadway to avoid impacts to nearby Edwards Aquifer recharge features to name a few. Lastly, 45SW also includes bicycle and pedestrian bridges over Bear Creek and Danz Creek.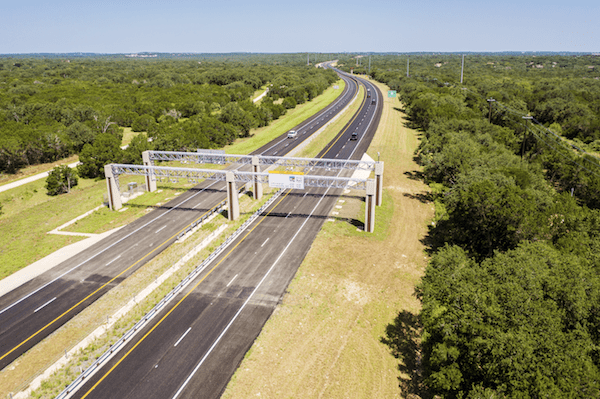 "The construction planning process was done with environmental concerns at the top of the list. Everything on the project was done with the environment and safety at the forefront and then everything was planned around those two items," Chris Kelly said.
With every project comes a set of obstacles that a team must overcome. One focus was to remove as little of the trees as possible through the heavily wooded corridor. The removal was limited, as much as possible, to the footprint of newly constructed items. This limited the amount of available space to set up cranes for beam erection at the bridges.
"The team worked closely together to come up with a crane and beam layout to minimize tree removal. This was accomplished by identifying the challenge early on in the project and working through a three to four month planning phase," Kelly said.
Additionally, the project was designed with a permeable friction course (PFC) of asphalt for final coarse of asphalt. The PFC adds safety to the project by allowing water to enter the PFC thus avoiding the likelihood of hydroplaning and also adds an additional measure of filtering water prior to it entering ditches and drainage structures.
Another significant aspect of construction was the reuse of material. The project guidelines did not allow for the removal of native materials from the project to reduce haul off. This caused for amending material that was unsuitable in its existing state. Example of this are blending high PI material with sand to bring the material to an acceptable PI and processing rock by crushing to achieve a size and material that could be used for fill purposes.
In total, the project duration spanned over 545 working days and cost $108 million to complete. Funding sources included a Texas Department of Transportation (TxDOT) Toll Equity Grant, a TxDOT Toll Equity Loan, along with contributions from Travis and Hays County.
As a result of the project, 45SW has been recognized with a National Association of Paving and Asphalt's Quality in Construction Award, as well as the International Institute's Collaborative Project of the Year Award.
The project is also adjacent to residential neighborhoods where the construction team coordinated with the TxDOT and the local home owner's association in advance to notify residents of major changes in traffic patterns through social media to minimize disruption.
"During the different phases of work, the team planned around school bus routes and built part of the project out of sequence to accommodate school traffic flow," Kelly said.
Locals have also received the project very well with many stating that it has been life-changing with the amount of time it's saved people on morning and evening commutes.
Other key players aside from Kelly for this project include Lloyd Chance (Mobility Authority Project Manager), Robert Carrillo (Rodriquez Transportation Group Lead Designer), James Kelley (Jacobs Engineering), Pradhumna Shrestha (Jacobs Engineering), and Cris Pena (RS&H).
"This project was a rewarding project to work on due to the attitude of all of the parties involved. Each issue was looked at by the entire team and solutions were achieved with everyone's input. This ensured everyone was on the same page and constantly working to a common goal. The team work on the project from all parties involved was second to none," Kelly said.
Brian Alvarado is the Editor at American Infrastructure Magazine. He can be reached at brian@builder.media.