Connecting the Dots: Building the Future We want for Our Kids and Our Communities
Wisconsin is working to bring our infrastructure into the 21st century and pave the way to a stronger future.
By Gov. Tony Evers
When I ran for governor in 2018, I promised I'd work to fix our crumbling roads and bridges. For years, Wisconsin failed to make the meaningful investments necessary to keep our roads, bridges and other transportation infrastructure in good repair. While other states invested in passenger rail and mass transit, Wisconsin lagged behind. I often talk a lot about connecting the dots, which is just a fancy way of saying that we have to understand how one issue facing our state affects all of the others—and infrastructure isn't just a connector for getting folks from Point A to Point B and products to market. It's at the center of how we make sure that everyone has access to our public schools, quality healthcare, affordable housing and a good-paying job.
That's why we've got to work right away taking our state in a new direction and working to reverse the cuts and underfunding in our infrastructure that defined the better part of the last decade in Wisconsin.
During my time as governor, we've provided more than $465 million in new funding for transportation projects—the largest dedication of new, ongoing revenue to the transportation fund in a generation—and we put that funding to use, completing 375 projects in 2020 alone. My most recent budget provided an increase of $19 million for state highway rehabilitation, more support for local governments' transportation needs, and $100 million for local road improvement. And while we continue the vital work of modernizing the highways that carry the bulk of our state's people and goods, Wisconsin is moving on other modes of transportation, too. From a new bus rapid transit system in Milwaukee, to an automated vehicle pilot in Racine, to expanding passenger rail service between Chicago and the Twin Cities, our state's transportation system is on the move.
As we work to bring our roads and bridges into the 21st century, we also need to make significant investments to catch up in other areas of infrastructure where we've fallen behind. We are hopeful we'll see significant infrastructure investments through the federal infrastructure package, which would enable Wisconsin to make significant new investments in many of the areas I prioritized in my budget that were ultimately removed such as funding for mass transit and electric vehicle infrastructure. But infrastructure is more than just roads and bridges. From lead service line replacement and clean water initiatives to climate resiliency, the federal package would also invest billions in the health of our people, the resilience of our communities and sustainability of our economy. 
Here in Wisconsin, my administration has already been working to ensure all Wisconsinites are safe from hazards like lead and that they can trust the water coming out of their tap. Although the Legislature rejected my plan to provide $40 million for lead service line replacement, the budget I recently signed still took important steps to improve our clean water infrastructure like funding to reconstruct contaminated water wells, increased support for farmer-led water quality efforts and investments in infrastructure to prevent soil erosion and runoff.
We're also working to ensure infrastructure is part of the conversation around mitigating and adapting to climate change, too. Extreme weather, like severe storms and floods, have not only endangered lives and livelihoods, it's presented new challenges to building resilient infrastructure across our state. This was a significant focus in my proposed biennial budget, which would have created a new chief resilience officer to help develop state and local climate resilience plans, and it included more than $30 million to help build more resilient infrastructure, restore wetlands to prevent flooding, and support farmers when their crops are damaged.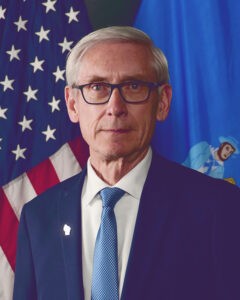 And when we're talking about 21st century infrastructure, broadband must be at the core of our efforts. This pandemic underscored—and in many ways exacerbated—the digital divide in Wisconsin and across our country. Our kids and educators turned their homes into classrooms and many Wisconsinites began working from home with a lack of access to reliable, affordable Internet  — a setback for kids, families, small businesses and rural healthcare access across our state. That's why I declared 2021 the Year of Broadband Access in Wisconsin. In addition to allocating $100 million of our American Rescue Plan Act funds to making broadband more accessible, I'm also proud that the budget I recently signed provided $129 million for broadband expansion projects—more than six times what was invested in the previous two biennial budgets.
As our state and our country continue to face challenges around the coronavirus pandemic, we also have a great opportunity to make sure we come out of this pandemic better and stronger than we were before it hit. We can do that by connecting the dots, and infrastructure is a great place to start.
Tony Evers is the 46th governor of Wisconsin.