Communities Can't Rebuild Without Skilled Workers
Investment in Infrastructure Job Training is Crucial.
By Kathy Maness
As Congress continues to move forward with the Infrastructure Investment and Jobs Act (IIJA) and the Build Back Better Act, we are on the precipice of historic investment in our nation's infrastructure. Local leaders across the nation are focused on how this infrastructure investment will be used on the ground to build, strengthen and protect critical infrastructure.
In my hometown of Lexington, we are experiencing exponential growth. With that growth comes an increase in traffic congestion and a mandate from our citizens to correct. One such project is the Crossroads Improvement in the heart of downtown Lexington. We are anxiously awaiting the passage of the Infrastructure Investment and Jobs Act to help fund additional phases of this project.
As cities, towns and villages plan to take on massive infrastructure projects, we are also very aware of the workforce reality that will affect our ability to get these jobs done. In September, the National League of Cities, an organization comprised of city, town and village leaders, focused on improving the quality of life for their current and future constituents, released a new report. The report, Hard-to-Fill Infrastructure Jobs: A Challenge to Building Our Future, highlights the importance of investing in skills training to ensure that we have skilled, trained workers to build and maintain our infrastructure assets.
The study found that jobs related to maintaining, building and operating infrastructure take much longer to fill than non-infrastructure jobs, and that a larger share of infrastructure jobs takes a very long time to fill compared with those same occupations in non-infrastructure-related fields.
Across the country, 3 in 10 infrastructure jobs take much longer to fill than expected. The Georgetown University Center on Education and the Workforce estimated that the IIJA will create or save 15 million jobs over the next 10 years. Based on NLC's analysis, if we do nothing to improve labor market outcomes for infrastructure-related jobs, we can anticipate that we will struggle to fill at least 4.5 million jobs nationwide.
Here in South Carolina's 2nd Congressional District, the statistics tell the same story – 30% of the available infrastructure jobs here are extremely hard to fill. In occupations such as transportation and materials moving and installation, maintenance and repair, we know that we are in need of hiring significantly more local skilled workers to meet current employer demand more quickly. And as we plan to invest at historic levels in our roads, bridges, water systems and broadband networks, we know that employer demand will grow exponentially.
Labor shortages, workforce systems not aligned with industry demand, insufficient access to career pathways and significant retirements of skilled and semi-skilled workers are continuing to severely affect infrastructure jobs. Unfortunately, these trends have also collided with disinvestment in workforce training overall and specifically in career and technical education. As an educator, I know firsthand the importance of exposing our nation's young people to careers and skills that will ultimately put them on a path to success. As a country, we must not miss this opportunity to educate our youth about careers that will drive our local economies and that will support and fulfill our residents.
Local leaders are already driving practical, local solutions to address these workforce needs, but we need a federal partner to help invest at-scale in training and education programs. The National League of Cities has been advocating for robust investment in workforce development to ensure the long-term success of the IIJA for our communities. These programs are necessary to connect more residents to high-quality jobs and to support America's response, recovery and rebuilding from today's challenges.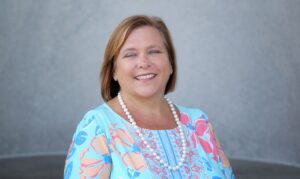 Kathy Maness is a Councilmember for Lexington, South Carolina and President of the National League of Cities. Her areas of expertise include education, finance and youth civic engagement opportunities.